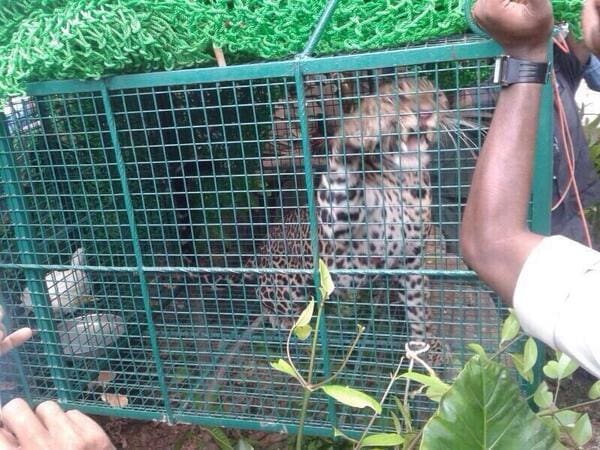 After Satya Nadella and Rajeev Suri, it is the Manipal Leopard that puts the town in news. Manipal leopard, which was caputured in the town a few days back, was appointed as CEO of Pilikula Zoo, Mangalore. The big cat was taken to Pilikula Zoo after it was captured and since then impressed the zoo authorities with its conduct.
The elevation to the role of CEO didn't come easy for the leopard. It had a tough competitor in another leopard that was captured in IIT Bombay and brought to the same zoo.
Both of them conducted themselves extremely well but what titled the dice in Manipal Leopard's favor is its survival in Manipal forest for two months evading the threat from Manipal Bug. In fact, it made a deal with the insect and lived with it in harmony before it got captured.
"I liked its survival instincts. It also has excellent managerial skills and maintains good relations with other animals in the zoo. I am sure it will not disappoint me in its new role as CEO," said Prakash Shetty, president of Pilikula Zoo.
Manipalblog contacted the Leopard via email. It has credited Manipal for what it is today.
"Manipal was the best time I ever had in life. A great place with wonderful people and fantastic memories. Those beautiful gardens at End Point, Potato Lovers at Snackshack and KMC Greens… I miss them. Without my stint at Manipal, I wouldn't have been the CEO today," said the Leopard.
Students of Manipal were visibly elated at the news. A huge flex poster was put up at End Point congratulating the leopard on its success. Also they named the junction at End Point after the leopard calling it 'Leopard Circle'.
The immediate task for the Leopard in its new role is to increase the number of tigers in the zoo. We hope the leopard achieves its target and lives up to expectations.
P.S.: All the facts in this article are made up. But you already knew that. Didn't you?