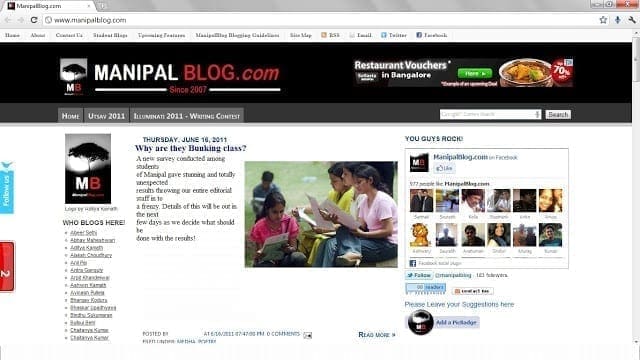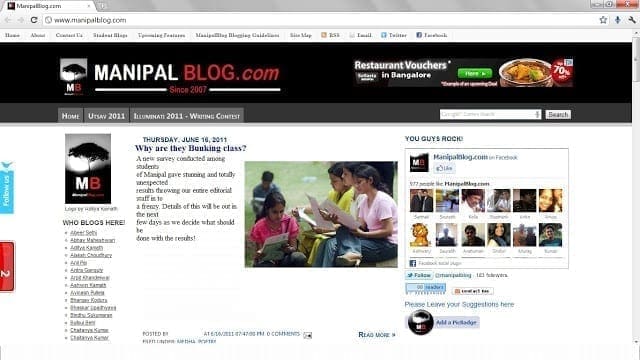 A Manipal based blog the ManipalBlog has today been thrown into turmoil following the revelation that they have been unwittingly encouraging students to bunk classes to come online. A survey commissioned by the blog had sought to prove what their readers already knew, that students bunk classes to head over to the nearest bar or cinema, but actually discovered that the main motivation for most students was their love for ManipalBlog.

One respondent told the survey the harrowing tale of her escape from the biochemistry class. 'I had just finished with a heavy afternoon meal and came to know we had a biochemistry class at 2 pm' she said. ' I mean biochemistry, with all those boring stuff about how my food would be digested into teensy weensy chemicals! I fled for my life, as I knew that there was light at the end of the tunnel, and if I could get online I would soon be reading a faking news section of the ManipalBlog every day, not to mention their excellent "The Manipal Experience" section'.
Another student who narrowly missed bunking her pharmacology class said 'I am due to sit through another two hours of Pharmacology practicals soon, where I face almost certain death, but at least I've had a couple of hours of the Thursday Traveller's section of ManipalBlog during the lunch break – it's so good to be able to day dream of all the wonderful places around Manipal during one of these boring lectures. It's made the one grand I spent on that shitty BSNL broadband connection entirely worthwhile.'
Many respondents spoke of their decision to read ManipalBlog, rather than many of the other Journals and Talk Nets. 'I had been a huge fan of the Journal,' said one, 'but it just wasn't enough. So I scoured the Net in Manipal for 26 hours last Sunday before I could load the front page of ManipalBlog. Now my life is much better. The ManipalBlog's coverage of the Summer is really second to none. The summer in Manipal may have ended 2 weeks ago, but that doesn't stop ManipalBlog. Plus I also get to learn how to avoid getting caught doozing in class.'
The blog's editors now face a serious dilemma. 'By rights we should be running the headline 'ManipalBlog to blame for Poor attendance' on our front page, but that would probably just confuse our readers' confessed Editor Vishaal Bhat. 'Alternatively we could close ourselves down, which would cut the number of students who bunk, which is at the end of the day all we ever wanted.' However, they may be let off the hook by the 'discovery' by one of their reporters that many of the students are currently on Vacations. 'We'll probably just run with that instead' admitted Bhat.