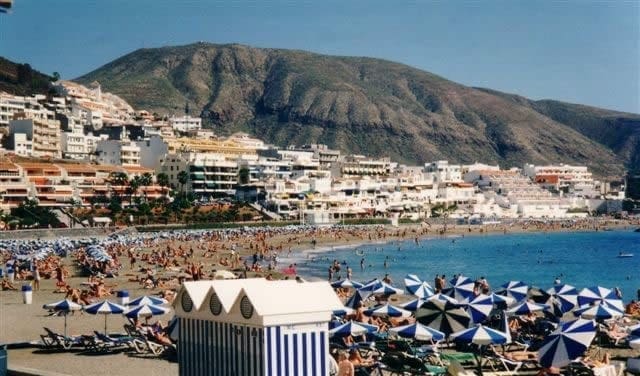 First Impressions
A surfeit of restaurants, cafes, ice cream parlours and bars spill their tables and chairs onto the palm and bench lined promenade and into the narrow streets behind the seafront. The blindingly white church sits in its plaza, chiming the hour and acting as focal point for fiestas and concerts. Shops provide everything from groceries, cheap cigarettes and souvenirs to fashion and property, satisfying the needs of those already here and beckoning ever more ex-pats to a new life in the sun.
And everywhere you look, the sea dominates the life it spawned here; the daily ferries to the other western islands dwarf the fishing boats in the harbour; ticket offices entice trips to see dolphins and whales, go deep sea fishing or gaze through glass bottom boats; fishing boats unload and string mackerel portside and sailing boats, kayaks and pedalos tack across the horizon.
A former fishing village, the bustling, colourful harbour is still the beating heart of Los Cristianos, placing it at the doorway to the islands of La Gomera, El Hierro and La Palma and lending it its touch of Canarian character, absent from its newer and shinier westerly neighbours.
As late as 1955 Los Cristianos was a hot, dusty fishermen's shanty with just 1,200 residents. Then a Swedish broadcaster suffering from MS discovered the curative properties of its climate and within 40 years its population had grown tenfold and Los Cristianos found itself firmly on the mass tourism map.
In deference to its roots, wheelchair access is still high on Los Cristianos' agenda making it Tenerife's most disability friendly resort.
Accused of looking a little tired compared to her upwardly mobile neighbour, Los Cristianos is tidying her skirts and re-doing her face; the plastic chairs are being replaced by rattan, the torn umbrellas by straw parasols and the recently extended promenade is elegantly landscaped and furnished.
With newfound style and a Canarian culture, Los Cristianos might just have found a winning formula.
The Right Climate
It's in the south of Tenerife, so you can pretty much say goodbye to rainy days for most of the year; the weather here's like a cross between Antonio Banderas and Jack Dee – hot and dry.
A Good Night's Sleep
In the Thick of it – Hotel Reverón Plaza (4*) Stylish good looks, elegance and charm come together in this centrally located piece of Los Cristianos' history. If being woken at 8am by the sound of the church bells is not your idea of quaint, ask for a room on the other side of the hotel.
(0034) 922 757120; www.hotelesreveron.com; double room and breakfast from €100 per night)
Room with a View – Hotel Oasis Moreque (3*). The somewhat dated looking exterior of this hotel doesn't do it any favours but the rooms are big and bright and if you request a sea facing room you can enjoy ringside views over the harbour and romantic sunsets over the enigmatic La Gomera.
(0034) 922 790 366; www.h10hotels.com; double room and breakfast from €114 per night)
The Quiet Life – Arona Gran Hotel (4*). Set at the southern end of the bay, the Arona Gran offers luxury, style and tranquillity from the moment you step into its cavernous lobby dripping with foliage. (0034) 922 750 678; www.springhoteles.com; double room with breakfast from €172 per night)
Sun Loungers
At Playa de Las Vistas great swathes of golden sand have been imported from the Spanish Sahara, cleaned, filtered and pressed to create a beach so big that only half of it gets used. Rows of sunbeds and umbrellas hug the water's edge leaving a desert of hot, golden emptiness behind them beyond which an oasis of ice cream parlours and restaurants shimmer in the heat haze waiting for their bronzed, coconut oil scented clientele.
There are lifeguards, showers, toilets and full facilities for the disabled including sunbathing terraces, amphibian chairs and the Red Cross on hand to ensure that this paradise remains barrier free.
In the centre of the resort alongside the busy port is the equally golden but smaller Playa de Los Cristianos which has all the same facilities as Las Vistas and a well used beach volleyball court which provides spectator sport for those who break a sweat just watching. Behind the beach, the long promenade provides no end of playthings including amusement arcades, crazy golf and petanca courts.
The further along Paseo Marítimo towards the Arona Gran Hotel you go, the smaller and less crowded the beaches become until you reach Playa Callao whose sand is rock strewn and unkempt for those who prefer their beaches a little more 'au natural', which is also what some of the sunbathers are apt to be.
Wine & Dine
Special Occasion
French cuisine is always reliable for adding that extra je ne sais quoi when you're after something a little bit special. The eponymous Alain of Le Bistrot D'Alain (C/Del Valle Menéndez, 23; (+34) 922 752 336; closed Monday) performs magic as a culinary cupid, combining herbs and sauces with unlikely partners and creating matches (quail and pear, chicken liver with honey and apple) made in gourmet heaven; French flair at its finest.
Going Local
The place in town to mix it with the locals is La Tasca de Mi Abuelo (CC San Marino; (+34) 922 794 466; closed Monday). A wonderful tapas menu includes mushrooms wrapped in Serrano ham. You might even get treated to some live music courtesy of the owner…if he's had enough to drink.
Camerones and cervesa (shrimps and beer) are the perennial favourite in Tenerife's fishing villages; La Taberna del Puerto (C/Dulce María Loainz, 12; (+34) 922 796 277) serves this and other classic tapas dishes in inviting voguish, rustic surroundings.
Family Friendly
Italian restaurants are always a good bet to please all the family and Los Cristianos has so many that visitors could be forgiven for thinking they're in a province of Italy rather than Spain. One of the oldest and most dependable is the Little Italy Taberna (Paseo Maritimo; (+34) 922 792 570) overlooking the beach and harbour. There's a good choice of dishes to keep the adults happy and, more importantly, they're child friendly.
Meat Free
With a menu as diverse as Tenerife's scenery, The Olive Garden (El Carmel, 5 (+34) 922 791 115) delivers a truly international range of choices whether you're vegetarian or not. Owners Sally and Rob initially tested the water with a few vegetarian additions to the menu and the response was such that they've extended the veggie menu to rival that of their meat and seafood dishes. The 'wicked Italian veg-balls' are…well, wicked.
After Dark
Los Cristianos has a reputation for being a bit of a quiet wallflower compared to its exuberant neighbour and whilst this holds an element of truth, accusations that there's little nightlife to be found in the resort are somewhat inaccurate.
Roll back the years and head along Paseo Marítimo to the bars around Chicago's where the likes of Billy Idol and Rod Stewart imitators perform nightly; the eighties will never die as long as tribute acts remain popular.
Mestizo's in the same area and Groucho's in the centre of town provide more bohemian sanctuaries to those who view cabaret bars as an anathema.
However, it's in C.C. San Telmo where the resort's dark nocturnal heart starts beating a heady rhythm as the night progresses and those who head for home before midnight might never know what they're missing. On one side, wide terraces belonging to wine, tapas and cocktail bars overlook Playa de Las Vistas, whilst on the roadside, tables and chairs ranging in style from chrome retro minimalist to rich chocolate coloured rattan chairs and leafy ferns give San Telmo's arched terraces a 21st century Colonial aspect.
Bonus Points
The Monkey Zoo is where you can get up close and personal with the primates. You can buy dried food at the ticket booth but they much prefer fresh fruit so stock up on grapes, bananas and apples and make new friends in an instant. Don't wear your best T shirt though; potty training is still 'work in progress'. (0034 790 720; www.monkeypark.com)
Water sports. From hands-on to passive observer, the Los Cristianos coastline offers as diverse a range of sea-based activities as there are fish in the Atlantic. Choose from whale and dolphin watching, deep sea fishing, sailing, kayaking, diving…the list is endless.
Ferries. Really take advantage of the fact that you're based at the crossroads to the Western Canary Islands and take an early ferry to spend a day exploring the capital of La Palma, La Gomera or El Hierro where life moves to a very different rhythm.
In the Shopping Basket
The Sunday market next to the Gran Arona Hotel is good for picking up some interesting knick-knacks. Because the town has a resident Canarian population, it has some 'real' shops where prices are friendlier than those in ones aimed purely at the tourist market; good news for self-caterers. Avenida de Suecia has a range of independent clothes shops with styles which actually deserve the designer label tag.
R we there yet?
Only a fifteen minute drive from the south airport, so there's no worry that you'll nod off on the coach journey from the airport and start dribbling over your new holiday clothes.
Suits You, Sir
Some cruel soul suggested that Los Cristianos should be renamed Los Crustianos because it's favoured by more mature British visitors. It has a less frenetic feel to it than Playa de Las Américas which is part of the reason it attracts people for whom partying isn't the be all and end all. Once again that's only part of the picture; the town also has a young resident Canarian population, so it isn't all Saga in the sun.
Living Tenerife's Star Ratings for the Resort of Los Cristianos
Accommodation: 3 stars – A surprisingly small selection of hotels for such a prominent resort with no five star option available and one or two establishments in need of a makeover.
Restaurants: 4 stars – There's a good choice of cuisines from around the world, including plenty of traditional establishments, so even the Victor Meldrews out there will struggle to find something to complain about.
Beaches: 5 stars – Playa de Las Vistas is probably the south's best beach. Add to that the Los Cristianos beach and the resort's wonderful 'access for all' policy, and the stars stack up easily.
Nightlife: 3 stars – There are bars to suit those who want 'Stars in Your Eyes' type entertainment and there are stylish haunts for anyone seeking something more sophisticated; there's just not a lot of either.
Lasting Impressions: 3 stars – Sun, sea and sand at a gentler pace with some great restaurants and some genuine Tinerfeñan character. The lasting impression is definitely the busy and colourful port.
And the downside… like spiders on a web, the timeshare touts lie in wait; they'll take "no" for an answer, it's just that you get heartily tired of saying it.