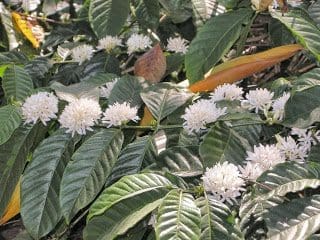 Chikmagalur, also known as 'The Younger Daughter's Town' is located in the South Western part of Karnataka, snuggled in the Baba Budan hills. It has various pilgrimage spots and is associated with stories of epics such as the Ramayana and Mahabharata folklore. Even its name has a rich historical background.
Chikmagalur was part of the dowry gift of the youngest daughter of Rukmangada, who was a famous chief of Sakrepatna. Chikmagalur is famous for its coffee, but there is much more for the tourists in the form of tranquil charming forest reserves, trekking and hiking trails and places of religious interest.

The weather in Chikmagalur is pleasant all year long, however, it is best visited from the months of September through March. For nature lovers there is an assortment of sites to visit. Kemmannugundi is one of these and is located a pleasant 45 kilometer drive from Chikmagalur town.
One of the many nature scenes in Chikmagalur – Source: Melagiri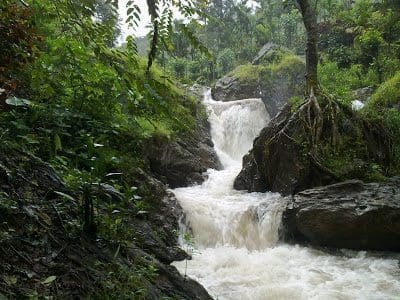 This was a small waterfall in "Nature Nirvana" – Source:Vikki-Pedia
The pristine waters and peaceful mountain capes are sights to be treasured forever. There are also the Kalahasti and Hebbe water falls which are very nice picnic spots.
About 1894 metres above the sea to the South west of Chikmagalur is a secluded hill station famous for its erstwhile iron ore mines – Kudremukh. This area is now slowly being reclaimed by nature and the vast flora and fauna, caves and buried old civilisations left to nature, untouched by human curiosity is an attraction for trekkers.
The Bhadra and Mutthod wildlife sanctuaries are a must see for nature and wildlife enthusiasts.
Chikmagalur also caters to religious devotees who can have an equally enlightening and memorable experience. The Dattatreya peetha is a well known shrine for both the Hindu and Muslim communities. In Shringeri the main attraction is the 12 Zodiac pillars of the VidyaShankara temple – The sun's rays fall on a particular pillar corresponding to the month. The Kaleshwara temple is dedicated to Lord Shiva. There is also a temple for the goddess of food – Goddess Annapoorneshwari.
By road, Chikmagalur is 251 Kilometers from Bangalore and 170 Kilometers from Mangalore. From Manipal it is about 140 Kms via Karkala and Kudremukh. The nearest rail head and airport is at Mangalore.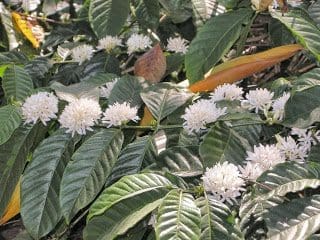 Flowers of Coffee which smell like Jasmine – Source:
Travelling in India
Oh! One last thing, do taste a locally brewed cup of coffee. It gives a taste of heaven before you head back to the hustle and bustle of civilization.
For more information visit these links of first hand travel experiences and Photos: