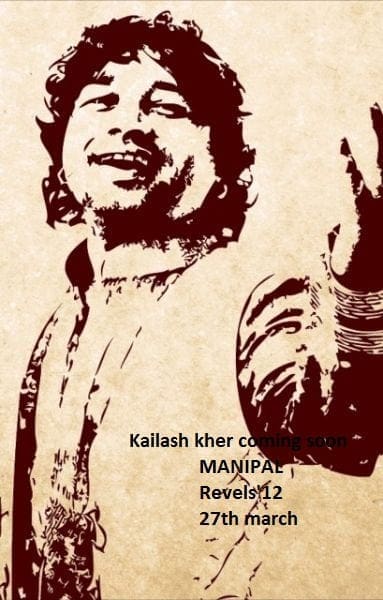 It's March, the summer has still not reached its zenith, and it is getting hotter and more humid every day in Manipal.  Students in the University town are busy with their college fests and various cultural events, that are to culminate in the grand finale – Utsav 2012 in April. But before all that, it's time for Manipal Institute of Technology's Revels 2012!  Every year it turns out to be bigger and better than previous year but this time it is going to be best.
It's been a month since Salim-Sulaiman visited Manipal, as part of T.A.Pai Management Institute's Atharva –2012, and set the standards and level of expectations higher for the future events. Manipal is in "entertainment" mode and waiting for bigger,better and more popular entertainers to perform at the upcoming events!  Tis' being the Pre-Utsav time, most of the colleges have finished with their sessional exams and the academics have taken a back-seat for the time being,especially so in MIT, Manipal. Every MITian, every music crazy person, KMCite and every other  person  on campus is looking for a change from the routine monotony of college life.
Revels 2011 had performances by three different bands; MIT's own Zehen,  and popular Indian bands, Them Clones, and Faridkot. Last year, Zehen  put up a  fantastic opening up with Dev D's famous song "Emotional Atyaachar" taking away much of the kudos for their performance and driving the girls crazy. Despite a cosmopolitan culture, the 1000 odd people who turned up at KMC greens Manipal, preferred the Hindi songs played by Zehen over Them Clones and Faridkot! Them Clones and Faridkot didn't live up to the pre-event hype, promotion and marketing, and probably owing to them not being that well-known, the KMC Greens,with a capacity for about 8000 people, was not even half occupied. People who bought passes for the event also didn't show up and many of the enthusiasts who did attend the concert, came back with a not so pleasant taste in their mouth.
Contrast this with the Salim-Sulaiman concert earlier this year and it is not a surprise that big names pull bigger crowds. Keeping this in mind, the Student council of MIT and Manipal University have roped in none other than Kailash Kher for this years Revels Pro-Show! Kailash Kher, Oh, Yeah!!  He's known to thrill his audiences with soulful renditions of Sufi and soul! When it comes to College level concerts, he does know how to catch the  pulse of the crowd and he is quite popular among most of the students in Manipal!
The criterion of "known to many" is well satisfied. The only glitch, that may come in the way of  a huge crowd attending the function may be that passes are priced slightly higher at Rs.300 for a Non-MITian (well for a student away from home especially a resident of the Manipal Hostels, at the end of the month, Rs.30 carries a huge value, leave alone Rs.300!) and for MITian Rs. 100 (pretty decent). However, the crowds may yet build up, because Kailash Kher is a big name and his popularity among the Manipalite's may just see the student sacrificing dinner at Atill,and do a resourceful financial juggle to attend the concert! b
Most students would definitely be like to a part of "Kailasa" the Pro-Show for Revels'12.  Zehen will again be opening along with the Pre-Revels:Battle of Bands winners " Wait for It".
This is a Guest post by Vivek Ahuja. The article was edited by Dr.Vishaal Bhat.