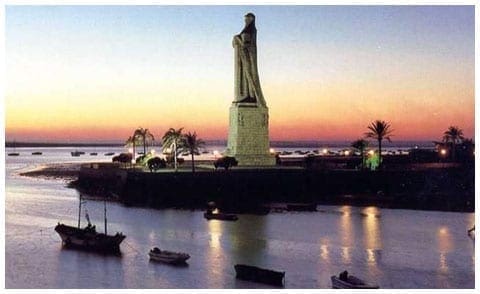 The province of Huelva may not be the best known part of Andalucía among foreign visitors, but it has a lot to offer
The province of Huelva lies at the west of Andalucía and stretches from Seville Province to Portugal. Huelva boasts the Marismas del Odiel and the history of Christopher Columbus. Close to Huelva city, the Puerto de Palos shows an impressive museum where a perfect replica of the Admiral's fleet seems to be still ready to weigh anchor to America.
The capital of the province is a modern and active town, the heart of its administrative and cultural life. Tartessians, Phoenicians, Greeks, Romans, and Arabs were in this area, and the old Latin "Onuba" is still a name used for the inhabitants of Huelva (who are known as "onubenses").
British influence is from the 19th century when companies started to work in the ancient copper deposits on the open air mines of the Rio Tinto, reputed to be the oldest mines in the world. In 1892 the business community was flourishing so well that they celebrated, with pomp and ceremony, the Fourth Centenary of the Discovery of America. A colonial style hotel called Casa Colon (Columbus House) was built for the occasion and is used today as a congress centre. At the beginning of this century, the British also built the Barrio Obrero Reina Victoria (Queen Victoria Working Class Area) in a classic Victorian style.
The British also created the Huelva Recreation Club nowadays called the 'Recreativo de Huelva', and the first Spanish football team. People know the Recreativo as the "Decano" (the Senior-older Club of the Spanish league).
The Marismas (Marshes) are omnipresent in the capital and reminds us of the ocean's proximity and local traditions.
Latin America is the other big topic in the local identity, as the onubenses feel they are a bridge between Europe and the new world and this is reflected in many activities such as the yearly world famous Iberoamerican Cinema Festival, where is possible to view the best Latin American and Spanish productions. Huelva is a varied province that has so far escaped mass tourism.