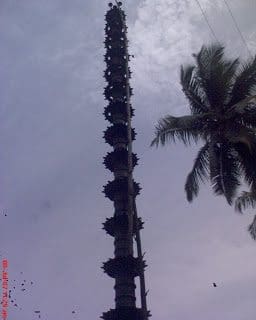 As Dr. Ashwin has said in previous a previous post, Mangalore is known for its spiritual richness.
One will find a lot many historical temples there.We, PG's of pharmacology dept- visited 2 of them previous Sunday.
One was Abhishek-temple in Kadri area.It was v big and probably the oldest of the temples.One of the sculpture of god-Trilokeshwara is of 968 a.d.Initially I denied visiting temples as I was in a mood for beach fun.However, rainy season and rain-destructed roads were highly unfavourable factors.So we dropped that plan.
But believe me when I entered in the abhishek-temple I felt too good and relaxed. Dr Vishaal and Dr Ashwin took us around the temple and explained us everything in and about the temple.The snap below is of v tall lamp-stand in the compound of the temple.See its almost as tall as coconut tree beside it!!Tall bamboo attached to it is used for climbing.In a mega-function whole of the lamp is lightened and it looks extremely beautiful.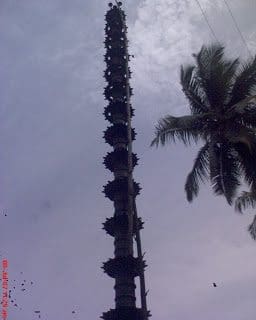 Snap below is of the temple we visited next named-Shree Manjunatheshwara.
Elephants on the sides of the main entrance of temples reflects typical Indian tradition.this elegant elephant with gold painted gadgets is no exception.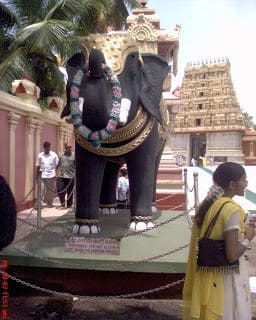 Same temple.The same gold painted temple tops and borders.It looked beautiful.Well , another thing I wanted to be appreciated in both snaps below is two standing-high sculptures of Lord- Shiva in corners of a small pond-like.This is actually a fountain that is turned on after 6 pm.High and handsome flow of water comes from the hairs of all 4 sculptures.(There is belief in Indian mythology that Lord-Shiva's hairs are the origin of the great river-Ganges).All 4 flows meet high above in the sky exactly in the center of the fountain!because of time constraints I couldn't see it but still I am quite confident about its beauty after 6pm.I can surely say that hight factor is v significant contributor to the amazements that we see around us.(I am 6.2 feet tall!!)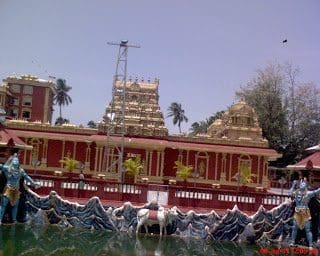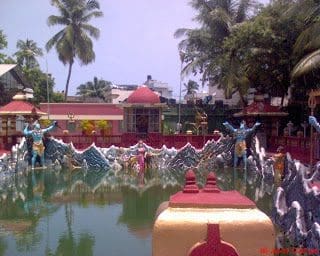 The great Dr Prabhav with his friends Madhusudan and 'narnaul don gupta'.Snap is taken at Sultan Battery at the outskirt of Manglore.It was made by the great king Tipu Sultan.Batteryies are made at the end of the rivers by kings of the respective areas.They usually keep some guards loaded with distant range weapons for protection from the attacks or penetration of other rulers.