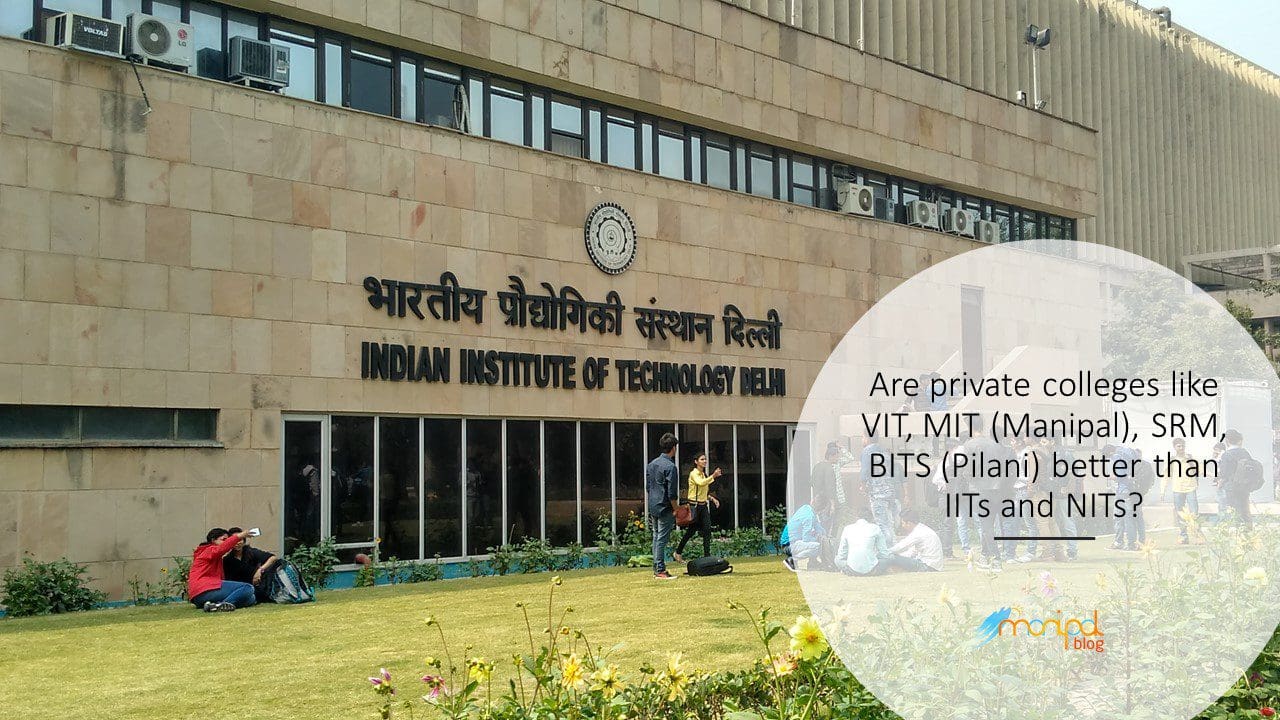 With more and more aspirants engaging in the technical aspects of the world, the competition has somewhat increased. However, this competition is not restricted to students themselves. Institutes are competing for superior knowledge and credibility too. They not only want to provide students with the best exposure but watch them grow into a remarkable accessory of the world.
If you are confused about whether to choose a private college or an IIT or NIT institute for your Bachelor's, then here is a guide to making your decision on the subject easier.
About Private Colleges
Some private colleges, like BITS Pilani, do not have a reservation system and are internationally renowned. Thus, it constitutes those who get into it based on fair competition. Other than that, VIT, MIT, and SRM are all alike when it comes to cultural and academic exposure. These colleges form the top strata of pristine engineering colleges in India and are naturally hard to get into. They frolic in the field of research and have their research institutes and laboratories that often arrest the attention of those who want to pursue a career in research.
About IITs and NITs
IITs and NITs have gained an upsurge for admission due to their superior quality of fests, academia, and teaching staff. Their campuses are especially recognised with their laid out structures flaunting their appearance. However, their recent reputation has made them a hallmark of success. They require a higher concept of clarity, focus, and attention. They conduct workshops with renowned celebrities and reputable engineers from all across the world, thus providing a cumulative and all-encompassing exposure to the aspirants.
IITs/ NITs or Private Colleges – A Fair Comparison
On a fair scale, private institutes are better than IITs or NITs for multiple reasons:
They do not compromise for labels
When it comes to NIT institutes, then only four come to mind – Trichy, Suratkhal, Warangal, or MNIT Allahabad. These are the most redeemed of all of the other campuses, and the case is same for IITs. However, this is not the case with private colleges.
With the advancement in technology, companies like Yahoo, Google, Microsoft, and Apple are not restricting themselves to the elitist walls of IITs and NITs but expanding. This has offered an equal, if not better, a route to placements when it comes to private colleges.
With increasing demand, the teaching staff at IITs has grown exponentially. They are hiring employees who are pursuing their PhDs or M. Tech. Degrees, which in turn affects their performance. Private colleges have qualified teaching staff with better knowledge and years of experience.
IIT tag is great, isn't it? That is how all of us have been brought up, making admission into IIT our life's goal. But if you see the bigger picture (which will automatically unravel in front of you as you move forward in college), the name tag doesn't do justice to itself later on in life.
However, it does not wholly depend on the institute how much you decide to flourish and expand your thinking. Life is not academia all alone but being in the moment. Be it private colleges or IITs; your growth lies in your hands. Getting in is not the end but the beginning.
There is more to life than just tags and names. Going abroad and meeting people there teaches you that they do not care if you come from IIT or Manipal (Though most likely more chances they have heard of Manipal), they care about what you, as a person, have to offer to them and their cause.
BITS Pilani is far better than half of the IITs and 20 NITs, It competes with top5 NITs and 4-8 ranked IITs. It's an outstanding institute. Except for BITS Pilani, I would place above mentioned colleges with some of NITs (20th-30th ranked & 5 IITs from Bottom). Life is not about getting into IITs/NITs, but having a good time there and performing accordingly as well. So, before joining any college make sure that you are compatible with climate, food, and language, and so many other important aspects. Choose a college based on what you want to extract from it. I believe Manipal, as a private university has more to offer in the larger scheme of things.