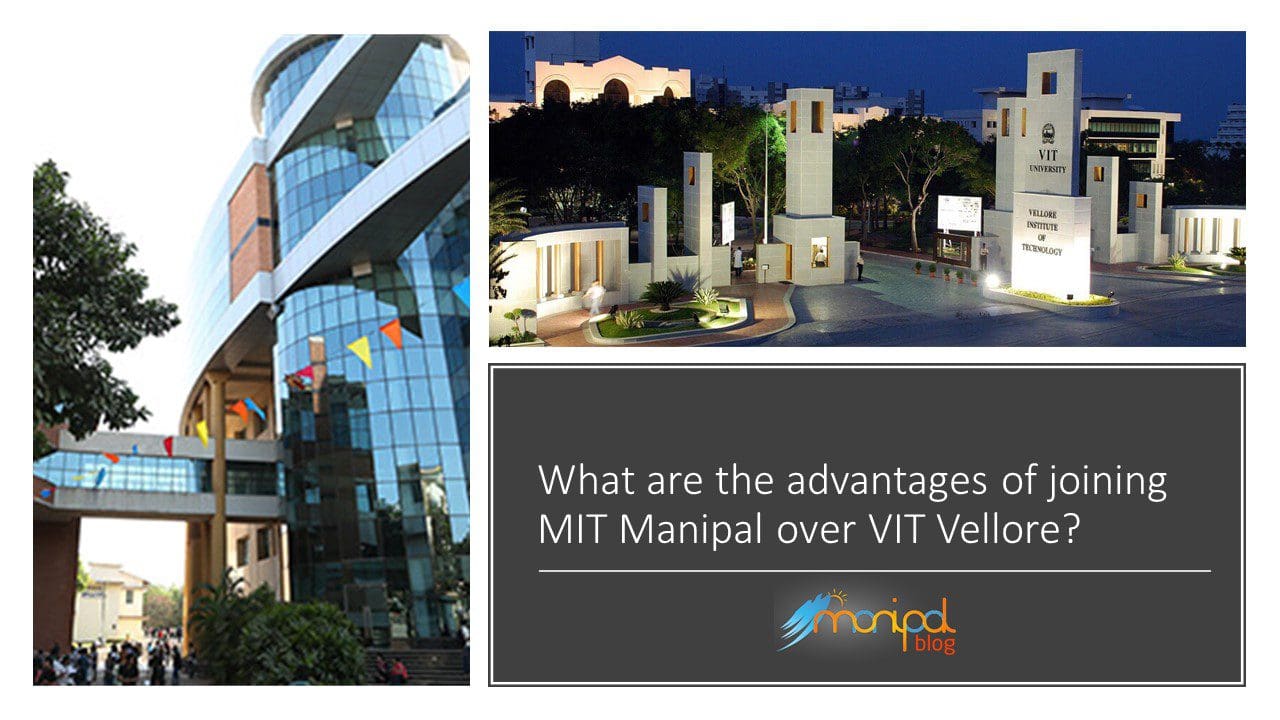 MIT Manipal and VIT Vellore have been the two conflicting options for any student who wishes to study and move forward in the IT sector. Comparing these two institutions would entirely depend on the personal experience one has had in that particular institution. Someone might have had a better experience at MIT Manipal, while the other would find VIT Vellore better. Studying both institutions on a common ground is what will help us get the answer to this question.
Manipal University (MIT Manipal)
Academics
The course structure of MIT Manipal is not flexible, as stated by most students. There are certain subjects defined for each course, and then an add on for electives. There's a major and a minor subject for any student, and that is all that they get to study.
Faculty
The range of professors that MIT Manipal has is very varied. They all are either alumni or visiting faculty currently working as well. This is a good way of exposure for the students.
Collaboration
The number of companies that MIT Manipal has been able to contact in the country is amazing. Most of them come for recruitments at the end of the year, which becomes a very beneficial aspect.
Life at MIT Manipal

The setting around the university is excellent for students to explore, and there are really no restrictions from the university for how students live around campus. A very liberal atmosphere can be experienced by any student around MIT.
Fees
Manipal has a standard fee structure, which is almost equivalent to any of the private universities out there.
International programs
MIT gives many opportunities through IAESTE and AIESEC to its students. There is a semester abroad program as well, under which students can go to partner universities at MIT.
Vellore Institute of Technology (VIT Vellore)
Academics
The course structure at VIT Vellore usually keeps students busy throughout. There is a full credit system that is followed by the institution for its grading. The most significant benefit at VIT  Vellore is that students can have a double major, which allows them to study more subjects than usual.
Faculty
The faculty at VIT Vellore goes from mediocre to good as there are more permanent faculty and less of visiting faculty, which is working in the IT sector already.
Collaboration
The presence of VIT Vellore across the country is comparatively less, as compared to all the IT institutions that are there. Certain companies have collaborated with the institution, but the number is still less.
Life at VIT Vellore

The VIT campus is rigorous and has many restrictive rules, especially for the girls on campus. The institution takes maintaining discipline very seriously.
Fees
VIT Vellore has many categories under which students pay their fee, and it is lesser than most IT institutions in the country. These categories are based on the family income of students.
International programs
VIT Vellore has a semester abroad program under which students can join the university of their choice and fees etc. has to be taken care of by them only. There is an opportunity that is given to its students under DAAD scholarship, which helps students conduct research in a German university.
The Verdict
Both universities fare well in many segments, but MIT Manipal has more presence, which is what matters at the end. If the students are looking towards working in a country with great companies, MIT can be his/her choice without a second thought. VIT Vellore comes ahead with its fee structure and opportunities abroad. The decision will definitely be personal depending on what matters more for the student himself.