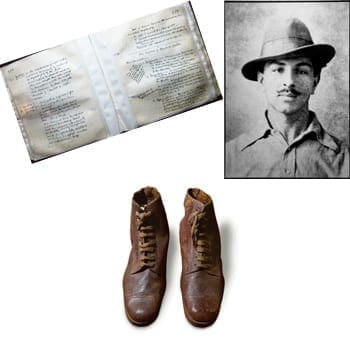 "Crush your individuality first. Shake off the dreams of personal comfort. Then start to work. Inch by inch you shall have to proceed" – words of a revered young blooded man, still ring in my ears, sending goose bumps across the body. 23rd March 1931, a date which underlines a page in the history with blood and sacrifice, is a day when the three great martyrs chose their end mocking at the deafening death.
Beginnings : A father finds his young kid sitting on the fields of Lyallpur. When encountered by his father, he says, "Look father, I shall grow guns all over the field." Once when he was with his friends and asked what he would do when he grows up, he said "I'll drive the British out of India." He had some stunning grades all through his academic life. Bhagat Singh, a name which later came to become synonymous to the word – revolution. It was the year of 1919, when the country mourned the tragic event of Jalianwala Bagh massacre; it stirred the revolutionary in him. He had his ardent faith rested in Mahatma Gandhi until an event in 1922 occurred. Some uncultured troublemakers locked up twenty two policemen and burnt the house alive at Chauri Chaura. The National Non-cooperation movement was thus abandoned by Gandhi. This made Bhagat Singh extremely disappointed as he believed there were millions supporters to be considered than a few who did the mischief. To add on, Kartar Singh , a 19 year old revolutionary, when he was hanged and none of the non-violent activists came to the rescue, his faith in non-violence weakened. He developed his own style of revolution, seen later in his life which made even British feared by the ideas and actions of his and his companions. He reeked intelligence and fear.
Turning Point : In 1923, he joined Hindustan Republican Association. To avoid getting married by his family, Singh ran away from his house to Cawnpore. In a letter he left behind, he stated: "My life has been dedicated to the noblest cause, that of the freedom of the country. Therefore, there is no rest or worldly desire that can lure me now."
Assembly bomb case trail:
In 1929, the Central Legislative Assembly met in Delhi. They met to present bills doing harm to country's interests. To raise a protest in this, Singh and Batukeshwar Dutt, decided to throw two harmless bombs and get arrested. They said "If the deaf are to hear, the sound has to be very loud." When he was called to court for trials, he saw to it that he spoke on the issues of freedom and unjust done to Indians so that the newspapers covered and printed the same. He said what he could do at a low level out of the court in terms of his ideology dissemination, a case on him gave him national reporting. As a management student I study about marketing management. The kind of mileage he envisioned for every move he took to raise the awareness of freedom and incite patriotism, like every marketer for his product, Bhagat Singh was a man of intelligence.
Lessons I learn:
By crushing individuals, they cannot kill ideas:
What he means by this is no matter what one does to deter the soul of a determined person, when he's focussed and dedicated, no matter what come may, the spirit cannot be undermined with which decide your victory.
Love always elevates the character of man. It never lowers him, provided love be love.
This lesson teaches the youth about drawing the line. A thin line between setting priorities. You got to make your objectives in life clear. Rank them. Without ranking, you never know when you are getting into an objective which never mattered.
Bhagat Singh once said, "Revolution does not necessarily involve sanguinary strife nor is there any place in it for individual vendetta. It is not the cult of the bomb and the pistol. By 'Revolution' we mean that the present order of things, which is based on manifest injustice, must change." This belief which he always had with him of bringing about a change, a change in people and processes of how he went on with different ideologies and therby contributed immensely towards the freedom struggle with his companions Rajguru and Sukhdev. Amidst people sharing about trivial issues on social media, we share the remembrance of these three lost souls too, the least what we can do. Inquilab Zindabad. !!