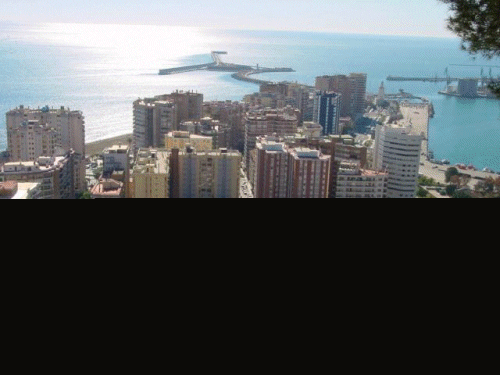 Art, history, cathedral, monuments, bla bla. Tonnes of cities have all this, but few have the festive atmosphere; cheap seafood fresh from the sea to your place, and where else does a tavern stop everything and break into song because you left a tip. Oh, and it sits on the sea shore.
Malaga doesn't tend to top lists of must-see cities in southern Spain. Seville holds its head high as the capital of Andalusía; Granada has a great student atmosphere plus the Alhambra for crying out loud—who can compare with that!
Málaga has the sea setting, but it also has something else that no other city can quite match… Some locals attribute it to the light: "The sun just shines differently here," the locals often say. Maybe it's because of the extra sunshine that Malagueños are so quick to laugh, quick to tell a joke, and quick to include you in the fun. One eleven-year-old Malagueña gave me her explanation, "Es que llevamos el flamenco en la sangre", (it's that we carry Flamenco in our blood). Whatever it is, if you are in Spain, don't miss Málaga…and decide for yourself what it is that holds this city's magic.
Places to See
The Alcazaba
At night, from the Plaza de la Merced, the weathered stone walls of the Alcazaba loom above. The ancient fortress is a strong reminder of Málaga's Islamic past and the best preserved Alcazaba in all of Spain. Its construction began in the 8th century and it was not completed until the middle of the 11th when itserved as a royal palace for Islamic city governors until the Muslims surrendered the city to the reconquesting Christians in 1487, and the Alcazaba appropriated by Ferdinand and Isabella. Inside purple bougainvilleas, lush green plant varieties, and orange trees growing freely. The highest point has a great view of the city. A lift runs from Calle Guillen Sotelo. (1.95€, runs 9:30-19:00).
Attached to the Alcazaba are remains of a recently-uncovered ancient Roman Theatre that dates to the Augustan Age in the 1st century A.D. First discovered in the 1950s, it was not fully recovered until 1995 due to the Casa de la Cultura which stood on the site. Archaeologists are still working today to completely unveil the final remains of this historical site.
The Gibralfaro castle
If you hike up, around, and back down from the Alcazaba you may be frustrated to know that you have to go all the way back up again (plus a little more, well, a lot more) to get to the 14th century Gibralfaro Castle that sits at the city centre's highest point. It isn't disappointing. Named from Gibel-Faro (rock of the lighthouse), the castle was preceded by a Phoenician Lighthouse. If the ruins of the castle itself don't appeal to you, the view of Málaga from the top will.
Picasso Museum
155 paintings, sketches, graphics, ceramics and sculptures all made by, you'll never guess. The pieces here were donated by Picasso's daughter-in-law and grandson after he passed away and include works from when he was very young until the years leading up to his death. This museum is located around the corner from Málaga's main plaza, The Plaza de la Merced, where ostensibly Pablo Picasso's childhood home still stands today, though some doubt this. The Fundación Picasso is a five-story building library for art historians and the foundation headquarters. Inside the rooms of the home is another collection of Picasso's sculptures, ceramics, and engravings.
The Cathedral
Due to a dearth of funds during the creation of this Cathedral (built between 1528 and 1782), the original plan to have two towers fell through and just one tower was built. Thus its nickname is La Manquita: slang for "one-armed woman."
Beaches
La Malagueta – Malaga's beaches are a great vacation spot for all ages and desired ambiences.Right off the city centre, this is a man made beach, created by sand from the Sahara desert. It's a great location, though being a city beach means the sand is course and litter is problematic. Located nearest to the city centre, and the main historic attractions, it's a favourite among both locals and tourists, and is especially popular among the student crowd. Lots of Malagueños take advantage of th boardwalk along this beach; it's great for biking, running and rollerblading. With the waves to your right and the breeze in your hair, it's a great, cheap…and healthy! way to spend the afternoon or romantic evening.
Las Acacias/Pedregalejo – The sandy beaches of the Pedregalejo neighborhood are cut into separate peaceful coves by enormous rocks that act as break walls. These separate little coves stretching down the coast are very busy in the summer months. If you plan on getting a spot near the water you should head out early as these beaches fill up fast. The boardwalk area behind the beach is packed with stands, bars, and restaurants. There is plenty of seating outside where you can relax with a glass of wine or some fresh seafood.
El Candado – This popular family spot is one of Málaga's best-kept beaches. The beach front offers excellent facilities as well as plenty of recreational and water sports activities. Adventure-seekers come to El Candado for snorkeling, diving, windsurfing or sailing. Make sure you plan for lunch at El
Tintero – a favourite beachside dining spot for locals. Prices range from 5 to 10 euros. It's sometimes a bit chaotic, but always lots of fun. Servers roam the joint carrying huge trays filled with paella, fried fish, shrimp and much more. Watch out for the fish that still have their heads! You'll hear servers calling out whatever it is they carry, and if you want a plate, you have to raise your hand, shout, do whatever is necessary to call their attention. At the end of your meal, your tab is calculated based on the plates you have at your table. When you're ready to pay, listen for the man walking around with a pad of paper and pen singing, "Yo cobro! Yo cobrooooo!"
More beaches
Baños Del Carmen: The Cultural Association of Friends of the Balneario of Carmen, fights to preserve this precious jewel. It's a small pebbly piece of shore—Málaga's only natural beach and only beach facing west. Part of the space includes a worn cement platform extending from land out into the water several meters with an old bar/café and lots of red plastic tables and chairs. It's a spot that offers a break from the rhythms of the city, and here people of all kinds come together: families, students, hippies, even brides and grooms who choose the spot as a backdrop for their wedding photos (as many as four or five different wedding parties may pass through on any summer afternoon); locals are naturally drawn to this spot for its beauty, but they also come because the Balneario is a place held very dear to their hearts. The city government has been talking for years about turning the area into yet another artificial beach for tourists, against the wishes of defending loclas. The place captures the spirit of Málaga—not rich and fancy, yet possessing a magical, quiet beauty. If you do nothing else while in Málaga, you must catch a sunset from this spot, looking back west toward Málaga as the city lights begin to twinkle and the sun settles behind the mountains.
Paseo Maritimo Antonio Banderas: The beach and boardwalk to the west of the city centre were recently redone (and named). The beach is clean with swing sets and the like tends to draw families.
Eating Out
Pepa y Pepe is a great, affordable place. Located on Calle Caldereria 9, just outside the main tourist area, it draws locals and makes a fun, authentic experience. It's small place with limited seating inside and out; the best bet to get a table is to go early for lunch.
La Campana (the bell) is so-named because every time someone leaves a tip, the cooks and servers stop what they are doing and sing a boistrous song in appreciation. Don't miss it if you like seafood. Choose from the list of options on the wall—muscles, clams, squid, shrimp, etc. You'll spend about 10 to 12 euros. The place is popular and often crowded, and the atmosphere is always one of good humour and fun. Calle Granada 35.
If you are a student, or on a student kind of budget, a great place to go is El Beato. There you can eat your dinner ordering a couple drinks and choosing cheap, tasty tapas to go along with them. They also offer filling combination platters for 10 euros. El Beato has a great atmosphere and the food and the servers are described by fellow Malagueños as "100% malaguita".– pure Malagueño. Calle Beatas.
Another good place to eat at a decent price is La Taperia Delicatessen. Come here for a quick bite or a full lunch. Most items on the menu range from 3 to 10 Euros. The portions are a good size which makes it a good deal. This place is known for their outstanding bocadillo's. Calle Granada 60. 952-603-429
El Chinitas is a very good restaurant to sit down for tapas or a three-course menu del día. The seafood here is mouth watering and not too costly. The shrimp along with a few of their other seafood items are caught daily right off of the coast of Málaga. The main courses come in large portions and are between 7 and 14 euros. Calle Moreno Monroy 4-6. 952-210-972
www.chinitas.arrakis.es
Shopping & Entertainment
Málaga is home to countless trendy clothing stores, as well as authentic family-owned shops. For designer-wares the most popular street is Marqués de Larios. For lower prices, handmade goods, authentic jewelry, and other souvenirs unique to Spain, there are plenty of small shops scattered throughout Málaga. One of the most popular areas is along the Plaza de la Constitución.
Cafes:
Once you're done with shopping, check out these great places to stop, enjoy a cup of coffee, and relax. Cosmopolita is one of the oldest cafes in Málaga. It sits right on Calle Larios and has both indoor and outdoor seating. Grab a seat outside for some great people watching. Café Madrid is another classic spot located not far from Calle Larios on Calle Calderería. This place is very popular among locals and is often crowded. Café Madrid is known for its Madrid-style churros which are long and skinny. That being said, if you've got a craving for chocolate and churros, definitely don't miss Casa Aranda in the Plaza de Félix Sáenz, where the churros are fat and the chocolate is deliciously rich. This is another place that gets crowded, so you might have to wait a minute or two for a table. While you wait, peek in and watch how they make the churros!
Nightlife:
Málaga also has plenty of entertainment for all ages, including hip young discothèques, funky live jazz bars and all night flamenco – no night is dull. Some of the best spots to hit up at night include:
Vista Andalucía – Night-long flamenco starting at 10:30 and not ending until 6:00A.M
Olé! Avda de los Guindo
95 223 1157
El Jardin – Located around the corner from the Cathedral, this is great area for people watching at night. For a small cover charge you can head inside to enjoy live music on a regular basis. On Thursday nights check out Latino skirt-swirling. Calle Cañon, 1.
ZZ Pub – This is a funky late night club very popular among the student crowd. Always jam-packed, you may have to use your elbows to get around, especially on Monday and Thursday nights when live bands take the stage. Calle Tejón y Rodriguez, 6
Getting There:
Plane: Málaga's airport is 8km west of the city centre. Iberia runs many direct flights. From the airport, take bus number 19 every half hour, right to the Alameda in the centre.
Train: From Madrid about 6 trains depart daily. It takes around 4.5 hours. From Seville 4 or 5 trains head to Málaga everyday. For schedules and fares check Renfe.com.
Ave high-speed train: The AVE only takes two and a half hours from Madrid. There are 11 departures daily Monday-Thursday, 13 on Friday, 9 on Saturday, and 11 on Sunday. Regular ticket prices start at around 68 euros, with a 20 percent discount for buying roundtrip. You can call 902 24 02 02 to make a reservation.
Bus: Bus is best from other cities along the Costa del Sol. Southern Spain has an extensive bus system. The main companies are Alsina Graells Sur, Automobiles Portillo, and Los Amarillos S.L. If you are travelling around cities such as Málaga, Torremolinos, Marbella, or Nerja you won't have any problem just showing up at the station and grabbing a ticket as coaches between these towns run very frequently every day. Even if you're coming from Madrid, the cheapest option is bus. There are usually eight buses daily with the last one being an overnighter. 18€ one way, and the trip takes six hours—can you survive that! However, they show two movies while en route and stop for a mid-way rest break so you can get out, stretch your legs and buy a snack. Once again, if you are planning to travel roundtrip, it's a little bit cheaper to buy both tickets at the same time versus buying each leg of the trip separately.
Getting Around:
On foot: Malaga is bigger than most other cities along the Costa del Sol, but even so, most of it can be seen easily on foot. The main historical part of the city is all quite concentrated (the Alcazaba, Gibralforo Castle, and Cathedral) so there is no need for public transportation.
Bus: Inside the main part of the city the narrow streets make it difficult for buses to get around. However, the transportation system is very helpful if you need to cross the bridge or reach some of the beaches located further from the city centre. While these areas are still accessible on foot, if you want a break from the heat, or if you just want to save some time, each ride is one euro. Pick up a map of the bus routes from the tourist centre in Plaza de la Marina, right next to the Alameda where all the buses have a stop.
Sleeping over:
The Melting Pot Backpackers Hostel, Paseo de Salvador Rueda, 9
This hostel is located in the beachside neighborhood of El Limonar. This hostel only has mixed rooms but is among the highest rated hostels on Hostelworld.com. The Melting Pot is only ten minutes away from the city centre by foot. Free WIFI anda barbecuing area.
La Casa Matas Backpackers is also another great place to stay. Located at Calle Molinillo del Aceite 5 La Casa Matas is also about a 10 minute walk from the city centre. This hostel is very popular with the younger crowd. The room types range from single privates to 6 bed shared with very reasonable prices.