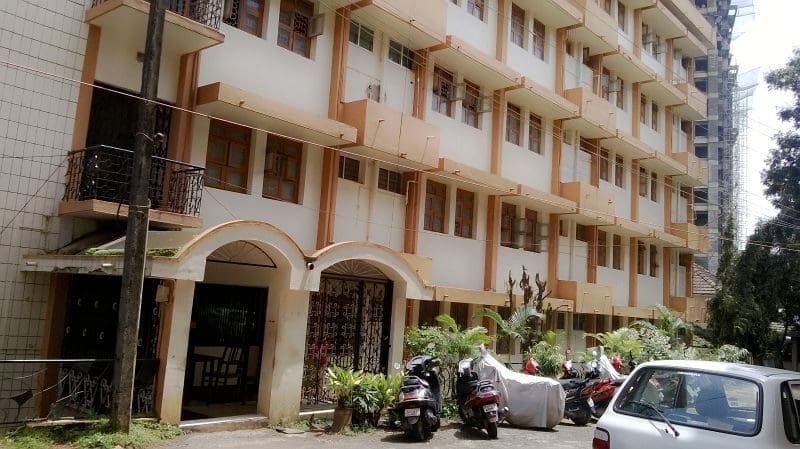 The lavishly furnished "New B Block Bejai Girls Hostel" and "New A Block Bejai Boys Hostel" situated in the tranquil environment of Bejai aiming to set a strong foundation for the upcoming professional journey was indeed a year cherished by everyone here at KMC and MCODS. No place can be better than Bejai to fix the infliction of leaving our loved ones and ease our 'fitting in' with the new domain. Then comes the end of the first pre-clinical year and all the free-wheeling times at the Bejai campus. It's time for the senior hostels-Nandgiri for girls and Kaprigudda for boys. Nandagiri Ladies Hostel, L.H.H Road— First impression: (While shifting my stuff from Bejai after first MBBS)-
It's a Cage-everywhere grill-packed, no free space, no playground, no terrace.
It's so Confusing-North Block and South Block; SB with 7 floors and NB with 8 floors with both connected at some floor, and then an underground mess in NB and an underground reading and 'so-called' gym room in SB.
 It's Creepy underground-when my cartons were carried to the first floor, I got that canny feeling seeing the dark narrow corridors with clothes all hung sideways making it even narrower to walk and rooms all crammed together in those corridors.
The only thing I liked that time was the Mess- (well excluding the food factor) it was the lighting and perhaps the bright orange-painted ceiling that attracted my attention with an LCD featuring some music video as a background while we had the evening tea.
Now: Well its been almost an year here and yes, to a certain extent that impression still holds true.
Cage-yes, no doubt! I miss those late-night sneaking into the Bejai terrace! 😉
Confusing-well no more? I guess!
Creepy- YES, many a times!
Rooms- very difficult to divert the mind from the 'Bejai 5-star world-class rooms',  anyways time heals the wound and you get used to the red floor in  here.
No more seeing only those familiar 'classmate faces' as everyone is scattered in different corners of NB and SB. Seniors are now your neighbours, even roommates serving as your guide to know the course, college and city better
Well in the end, whatever be the hostel- Nandagiri or Bejai, we transform it into a crazier and a wilder place with all our midnight birthday parties, loud stereo funny 'item-numbers', master-chef dinner, horror night plans, lazy sleepy Sundays, terror exam days, gossip days, bitching days and all other frantic normal days. Nandagiri is an ever-lasting fun-filled phase of our life where every heart here sings the same tune- "Dil chahta hai, hum na rahein kabhi yaaron ke bin  Dil chahta hai, kabhi na beetein ye chamkeele din". Finally, I realised that it's useless to waste time in complaining about the negative aspects here, instead concentrate on the bright side and enjoy the precious moments because "life may not be the party we hoped for, but while we are here we should dance."  Right? 😀
Send me your experiences, comments and contributions to be featured on air at [email protected] or [email protected]