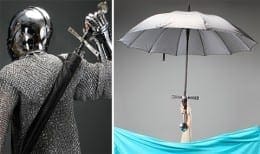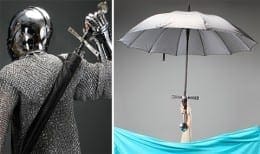 Finally! There is something that actually tensed a Manipal shopkeeper. Mr. Boss was living a life of luxury with his wife Mrs. Akka, the reason being their shop, which was running quite successfully till the arrival of monsoon. How are monsoon and their shop connected? Flummoxed? : Let me explain.
Mr. Boss is not a bossy person and is usually very jolly and interactive with the students, who have been paying him more than the MRP of each and every commodity. It was during the month of May when he placed a large order of umbrellas, which sell like hot cakes in Manipal. But picture abhi baaki hai! Till now he has managed to sell only eight umbrellas (yes, you read it right)! He is much tensed as his bulk order is rotting in the temporary godown at his home (he actually never felt the need of a godown, to be very honest).
The reason of such an extraordinary occurrence?
The rains were less this year? NO! 'It is raining Cows and Pigs in Manipal, cats and dogs are for normal places' said Kanwar Singh in one of his FB updates.
So what is the reason!!
Mutual understanding between the students of Manipal.
In a survey conducted my ManipalBlog.com 'the' question was asked to over a hundred people at Tiger circle and Kamath Circle: What do you do when your umbrella is lost (read: stolen)?
90% of the female students and 95% of the male students did not even pause for a second before they said, "Every umbrella in Manipal is everyone's umbrella, never hesitate to grab one". The other responses were 'I am too scared to steal another one though I'd love to that' or 'I do not steal!' and one response was something like this 'I walk in the rain so no one can see my tears' (hearing which we laughed until we had tears).
So the conclusion is that the students of Manipal have almost stopped buying crap umbrellas from Mr. Boss because there is already an abundance of those in our M-town! People have become more practical and hence they have restrained themselves from buying new umbrellas.
Mr. Boss said, "If this situation continues then we'll have to put up an offer of buy one and get one free"! That actually sounds good!
So, all the students (old or new) please follow this ManipalBlog Quote very carefully: 'In Manipal it's not about going to the library with your umbrella, it's about coming back with it.' By hook or by crook. Cheers!