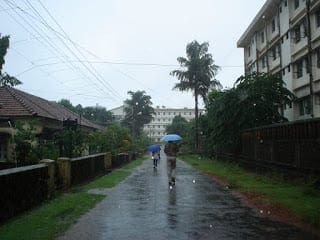 When it Rains in Manipal!!
When the first drop of rain falls from the divine abode above,you just cant help drinking in the beauty !
Can you smell the dirt turf raise with the further fall of the drop s and the aroma that fills the air ? It exactly feels like a pretty maiden's myriad of emotions out-poured in a matter of seconds. The wet roads resplendent with the leaves that look washed all again. The colorful places around manipal look even more colorful with the damp skies as the background.But not to mention the mood brightening up with fall in temperature 🙂
There I see a couple walking silently with hands held together.They hold an umbrella unopened till the rains start creeping between them insidiously. Everyone runs for shelter while they open up their umbrella. Instead of holding it against the rains,they hold it against the passersby.The kiss they exchange seems to bring even the sweet rains to a transient halt~~~
There goes another couple fighting nudgedly as they walk. The girl seems to cry out in open while the guy just looks on.She slaps him hard and its evident that its the guy's mistake for he remains mum 😉 yet we know that the guy is gonna convince her with his sweet charm.He simply gives her a hug,while she pretentiously pushes him away. He kisses her softly and wipes her forehead and cheeks off the wet drops. He takes her arm into his and pinches her cheeks and pulls them to a smile.Now she hugs him back,tighter than he did!!
Everyone who gets to see the scene just cant help smiling at the beautiful gestures exchanged…they walk along till they are off your sight !
Aren't the monsoons really romantic !! <3