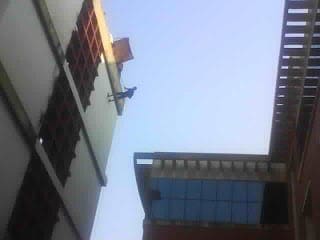 If you were wondering why people were standing
outside
the library and staring at the sky on a sunday evening, the Red-x club of Manipal, organised two exciting, and thrilling events Wall Rappelling and River Crossing as a part of their 'Vertigo'.
Wall rapelling from the lib terrace
Five floors up, cables secure, and with plenty of eyes watching intently, the wall rappelling participants were all set to descend from the terrace of the MIT library. Tough though the task was, the participants found the event exhilarating and awesome.
The other event which was conducted the evening was the river crossing, where the guys were to do a balancing acts of sorts, from one end of the Academic Block-1 to the other. Since the participants couldn't actually be taken to a river, the same effect was created by tying a rope.
The river crossing between the two ends of AB-1
The participants were charged 120 for the members, and 150 for the non-members. The event turned out to be quite a success both to the adventurists and the organisers as well.