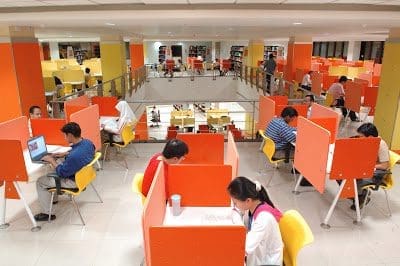 The library with beautiful chairs and beautiful girls. Who would not want to read here?
The university building with the library building.
Futuristic Manipal!
Truly inspiring architecture.
The food court! the NRI's and students from abroad relish this place. The Vegetarians among us do not have that good a time here though! 🙁
The view from the front of the food court. It adjoins our department.
The various corporates that have set up shop at the food court. Truly a wide variety of food is available here.
This is the KMC Greens. A huge lawn where the annual college festivities take place.
This is the view from our department entrance. I believe we have the best view in the entire college.
Another view of the KMC Greens. The building at the opposite end is the basic sciences building housing the Biochemistry department. It was formerly the KMC hospital before the present one was built.
The Shirdi Sai Baba cancer hospital. It is very well set up and has a good input of patients from Dakshin Kannada
The lecture hall in the "Interact" building. This is a fully centralised air conditioned building and we prefer the lectures here to beat the heat.
Tags: University, Campus, College