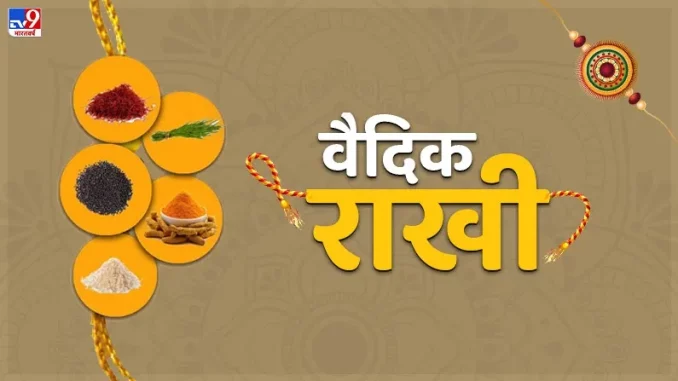 Raksha Bandhan is the thin thread of tradition that forever binds you and your brother in a secure bond of love and joy. One of the most profound emotions shared between a brother and sister, Raksha Bandhan, or Rakhi as it is called, is one of the most important festivals celebrated in India. The thread that the sister ties around her brother's wrist is a special bond of protection, a vow that the brother takes to protect his sister from any harm that can befall her. Ancient Vedic traditions described Raksha Bandhan signifies that the strong must protect the weak from all that's evil.
The market is flooded with the various types of Rakhi a good month before the festival. All rakhi serve only one purpose: to strengthen the bond of love between a brother and a sister. But have you ever thought of buying a Vedic Rakhi for your brother? Did you know that a Vedic Rakhi, apart from adorning your brother's wrist, can also have various beneficial effects on his life because of the sacred stones and beads used in them?
Yes, it is true that our Vedic traditions believed in using sacred seeds and beads in the rakhi thread that had the power to protect and heal. Mystical Vedic and sacred seeds, Sphatik crystals, and potent symbols are a part of traditional Vedic Rakhis that are known to correct the aura of an individual, ward off evil, increase happiness and contentment, and help one reach one's goal in life. Humble elements have been transformed and reinvented by our skillful craftsmen into pieces of art that are useful in the traditional rakhis.
Specific Vedic seeds and beads like the Tulsi seeds, Rudrakshas, Sphatik Crystals, Sandalwood, Copper, Rudrani, Coral, and recycled beads representing the navagrahas have been beaded in these sacred threads to protect your loved one and fill their life with happiness and contentment.
Rudraksha is the sacred amulet known to be ruled by Rudra, Lord Shiva of Hindu mythology, who is bestowed with Divine Shakti (power). It is said that the wearer of this sacred seed is directly blessed by the Lord and his Shakti. This sacred seed is also known to attract positive energies.
Tulsi Beads are known to have specific physical and medicinal properties, and the Tulsi plant's wood is considered powerful enough to protect one from negative influences.
Corals are known to promote inner strength and peace of mind. This sacred stone is a symbol of joy, prosperity, and abundance. A coral is also known to promote mental stability and protect one from any kind of negative influences.
Sphatik crystals are known to bring the wearer success, good luck, and prosperity in life. In ancient times, Vedic sages used the Sphatik Mala (rosaries) for meditation purposes. The powerful Sphatik crystals have been beaded in these sacred threads to protect your loved one fill their life with happiness contentment, and promote a sense of calm and peace in their lives.
Rudrani Beads are rare to find, and these beads represent the energetic qualities of Divine feminine power. Also known as the female part of the rudraksha, the rudrani beads are known to attract positive energies, and the wearer of this bead is blessed directly by Lord Shiva and the Shakti. The rudrani adorns many a pooja room along with the rudraksha because they are known to represent the totality of the Shiva – Parvati jodi.
Cowrie Shells In the ancient Ayurvedic texts, the cowrie shells were viewed as symbols of womanhood, birth, and fertility. Cowrie shells also represented wealth and prosperity.
The beautiful colored beads used in the rakhis represent the body's seven chakras and the navagrahas that help promote calm, peace, and prosperity to the wearer. So, make this Rakhi a special one by gifting your brother the purity of a Vedic Rakhi that he will cherish forever.