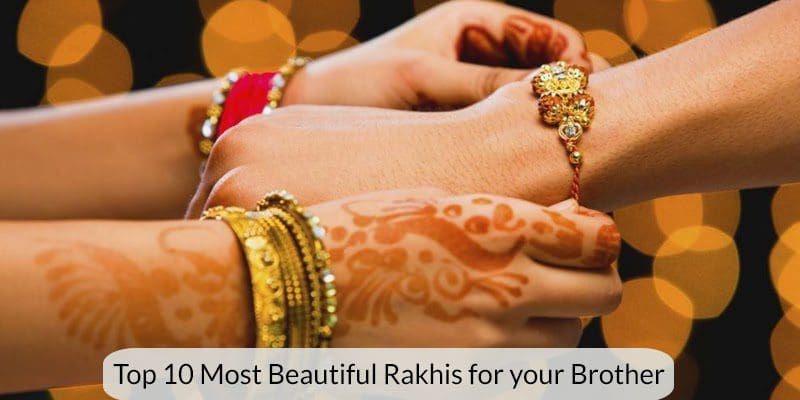 Finding a perfect Rakhi for your brother can be a hectic task for you, sisters. That is why we have come up with this article where we have got you top 10 Rakhi designs for your brother for the upcoming festival of Raksha Bandhan. These distinct Rakhi designs are unique, and I am sure your brother will love them. We have got you all covered; from your fashionista brother to your baby brother, we have the top Rakhi designs in store especially for you. Have a look!
Auspicious Rakhis
Raksha Bandhan is an auspicious festival that is all about celebrating the unbreakable bond of the brother-sister duo in a ritualistic manner. On this day, sisters pray for their brother's long life filled with happiness and, in return, tie a Raksha Dhaga on their brothers' wrists. With this concept in mind, we have come up with tying an auspicious Rakhi (such as Ganesha Rakhi, Rudraksha Rakhi, Krishna Rakhi, etc.) to your dearest brother.
Traditional Rakhis
Raksha Bandhan brings us closer to our rich Indian tradition and culture by tying a traditional Rakhi on your brother's wrist. Celebrate the diversity of our Indian culture and tradition by tying traditional Rakhis such as Kundan Rakhi, Chandan Rakhi, Navratna Rakhi, etc., on your brother's wrist.
Quirky Rakhis
With changing tastes and preferences, there are several quirky Rakhi designs available for you which bring about uniqueness and are pretty trendy. So, without any further delay, venture out with the various quirky Rakhi designs (such as PUBG Bhaiya Rakhi, Veera Bhaiya Rakhi, Alphabet Rakhi, etc.), which can make your special day even more precious to you.
Personalized Rakhis
How do you feel when someone gives you a personalized gift? Special, right? Then why not make your brother feel special by tying your brother a personalized rakhi this Raksha bandhan. A personalized rakhi would have a dial with the image of your brother and yours, and it would be a great style statement. Isn't it?
Kids' Rakhis
If you are lucky enough to have a baby brother in your life, then you must be looking for a lovely Rakhi for your little brother to bring a smile to his face. Little ones won't like traditional or auspicious Rakhis, but you do not worry as you can find a wide range of cartoon rakhis, toy rakhi for your brother, such as Spiderman Rakhi, Led Rakhi, Toy Rakhi, Musical Rakhi, etc.
Hand-crafted Rakhis
Why not celebrate this festival with a touch of auspicious rituals and modernity. You can find many Rakhi designs which are blended with both the modern touch and Indian feel. One such option available to you is hand-crafted Rakhis. Sounds excellent, and your brother will cherish it forever. So, if your brother loves to wear Indian accessories, then a hand-crafted Rakhi will be a fantastic choice for you.
Ethnic Rakhis
With time, everything is changing, and so is our lifestyle, which is even reflected in Rakhi designs. In the 21st century, modernity has changed everything but, with the concept of ethnic Rakhis, the tradition and culture of India are still there.
Designer Rakhis
In this society, where the trend is of designer sarees or designer bags, then why not have a designer rakhi for your brother. Classy, right? We are present in a generation where designer accessories garland with premium stones, crystals, and pearls look supremely classy and elegant and buying a designer Rakhi for your brother will make him feel great.
Leather Rakhis
If you are reading this article, I am sure that you are putting in a lot of effort to find the best Rakhi for your brother as a sister. Nowadays, a Rakhi is no longer only a sacred thread, but it is a style statement too. A leather Rakhi for your brother with a rustic look will be a good choice for you to make your brother's wrist look trendy and different at the same time.
Floral Rakhis
Last but not least, we have floral Rakhis up in line for a new fashion statement this rakhi season. Brothers who do not want to accessorize with the same bracelets and watches, kind of a look, then there could be no better option other than buying a floral Rakhi for your fashionable bro.
About the Author – Shristi Biswas is a final year student at Manipal Institute of Communication.