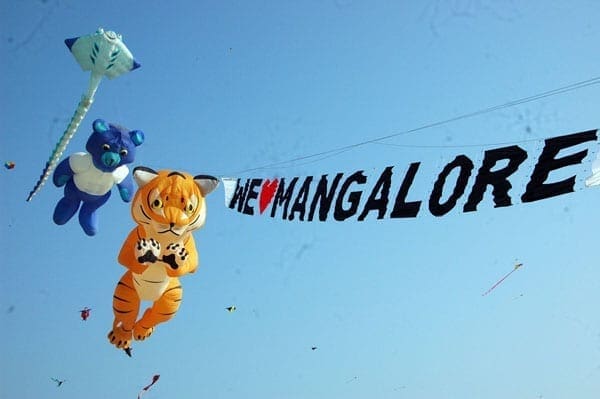 Mangalore is a place full of energy, drama, rain, beaches and students. You come to Mangalore and I bet, the beauty of the beaches will mesmerize you. Not only that, the people over here are so friendly, they will help you out in the best possible way. It doesn't really matter if you are dumb at the local language, most of them can speak Hindi. Pay your visit to the Port-city of Karnataka and drench yourself in the shower of love, affection, beauty and food of course!
So here I mention some known & unknown facts about Mangalore to make you a bit more familiar to the place and culture.
Known as Kuḍla in Tulu, Maṅgaḷūru in Kannada, Koḍiyāl in Konkani, Mangalapuram in Malayalam or Maikāla in Beary bashe.
Mangalore derives its name from the local Hindu Goddess Mangaladevi. 'The Mangaladevi Temple' at Bolara in the city, situated about three km southwest of the city centre.

The Mangaladevi Temple

The city has a tropical climate and lies in the path of the Arabian Sea branch of the South-West monsoons. "Monsoons"- The lime-light of this place, bringing greenery as well as mud! Jokes apart, this place experiences only two seasons as a whole-Summer and Monsoon.

Monsoons of Mangalore at its extreme this year 2013

According to The Urban Development Ministry survey, Mangalore was placed as the eighth cleanest city in the country, after Mysore. So, so, so, you will be coming to one of a garbage-trash free city! Hope it matches to your expectations!
In the epic Ramayana, Lord Rama ruled over the region, while in the epic Mahabharata, Sahadeva, the youngest of the Pandavas, governed the area. Amazing indeed, right? You live in the area where ages ago, Ramayana and Mahabharata's platform were set!
The 'Light House Hill tower' in Light House Hill, Hampankatta, served as a watchtower for the British Navy.

The Lighthouse

The city's major enterprises include Mangalore Chemicals and Fertilizers Ltd. (MCF), Kudremukh Iron Ore Company Ltd. (KIOCL), Mangalore Refinery and Petrochemicals Ltd. (MRPL), BASF, Bharati Shipyard Limited and Total Oil India Limited (ELF Gas).

The Mangalore Refineries

The four main languages in Mangalore are Tulu, Konkani, Kannada, and Beary basse; with Tulu being the mother tongue of the majority. Malayalam, Hindi, Urdu and English are also spoken in the city.
A resident of Mangalore is known as a Mangalorean in English, Kudladaru in Tulu, Kodialghar in Catholic Konkani, Kodialchi or Manglurchi in Goud Saraswat Brahmin Konkani, Manglurnavaru in Kannada, and Maikaaltanga in Beary basse.
The Yakshagana, Pilivesha (tiger dance), Karadi Vesha (bear dance) – folk dances unique to the city, is performed during Dasara and Krishna Janmashtami.

The famous Tiger Dance of Mangalore

Paddanas, kolkai, unjal pat (traditional lullaby), moilanji pat, and oppune pat (sung at weddings) are few traditional songs sung during various occasions and festivals.
When it comes to food, Mangalore with its diverse culture also has many cuisines unique to the place like Mangalorean Fish, Kori Rotti (dry rice flakes dipped in gravy), Bangude Pulimunchi (silver-grey mackerels), Beeja-Manoli Upkari, Neer dosa (lacy rice-crêpes), Boothai Gasi, Kadubu, and Patrode.

Neer Dosa

Mangalorean Fish

Education over here is one of the best in Karnataka and definitely diverse, starting from famous engineering colleges like National Institute of Technology (NIT-K), College of Engineering & Management, Adyar, Mangalore Institute of Technology & Engineering (MITE), Bearys Institute of Technology, P.A. College of Engineering,  Canara Engineering College, St. Joseph Engineering College.
Medical colleges like Kasturba Medical College, KS Hegde Medical Academy, A. J. Institute of Medical Science, Father Muller Medical College, Yenepoya Medical College, Srinivas Medical College and Dental colleges like Manipal College of Dental Sciences, A. B. Shetty Memorial Institute of Dental Sciences, A J Institute Of Dental Sciences, Yenepoya Dental College & Research Institute are the well-renowned colleges of India.

The Mangalore Skyline
So if you see Kannadigas boasting about Mangalore, being so much proud of it; have thousands of meanings to it. These glories of Mangalore will flourish throughout India as well as the globe.
Stay tuned for more of such important information and keep blogging! Send us your contributions– [email protected] or [email protected].