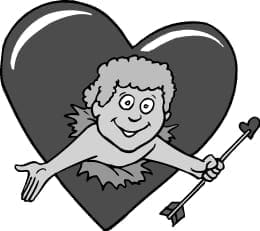 Well, after those mushy letters & covert gestures, she is that sweet looking, candy eyed girl who makes you go weak in the knees. But looks can be deceptive. So you decide to take her out on a date.
For each one of us, the first time is always cherished, be it the 1st day at school (even for people like me with memory lapses of all important days) first day at Junior college or first day at Manipal University! Therefore in tradition of "Firsts", your first date should turn out such that your grand children would love to listen to it.
First decide where you are going to meet. Select a good place. The world's an extremely small place & you are quite likely to bump into your dad or mom's best friend or even your "All India Radio" neighbour. Well, if that happens, your date has ended before it even began ! If you are the type, bring along some flowers for her. But don't expect her to preserve the decaying stems for months as a sign of your affection; you may find them in the trash the following day. To save some of the money you've put in the box beneath the bed, (you may require it later, as you will soon see), you could pick the flowers from a nearby garden.
The traditional date includes going for a movie followed by a snack, always a safe thing. But you might plan a musical treat at home with the song you've been practicing in front of the bathroom mirror for months. Do ensure that on the chosen day & time, your parents are away & your pesky little sister has her exams ! But if you beat the crows hands down well …….. If you can cook, it'll be a delightful treat, if not, attempts in the kitchen for the 1st time usually end in accidents. Take it from me, that burnt sandwitches+bitter coffee + a messy kitchen = a really disappointing date. And she wouldn't rave about your cooking skills either. !
So , if you've made up your mind on the movie take her to a horror show, with the sound effects & the scary scenes. There is sure to be some chemistry between you ! After the movie you are sure to be ravenously hungry. So, go tuck in at the scheduled place. You could eat slowly, ensuring you spend more time together.
This is why I emphasize on the double – place dating. You see, if it's the time of the year when there are no horror movie or she doesn't appreciate the bang-n-boom action of the action movies, the 2nd half is where,having profusely apologized first, you attempt to break the ice.
Please don't begin the conversation with the lie that she is the first girl towards whom you've ever felt this way. Instead you could ask her why she agreed to go out with you. But be prepared – answer could range from the delightful "I was just waiting for you to ask" to ones that plunge from cloud aback down to earth. For e g :- "I didn't know what to do with my Sunday, so…" or " my dog just died & I wanted to get my mind off that …" Cardinal rule : Do not talk about your earlier crushes (especially the one on her best friend !) conversation topics are endless. Start with the weather & then move on to more relevant & interesting
things like your hobbies, friends, pets, sports, your college traditions. Don't mention the "commitment word" — It's strictly reserved for later use if you are lucky & successful enough.
When it comes to paying the bill – if you have the cash, spend it ! But if she insists on going Dutch – allow her, after all it's her date too ! Utilize your mathematical abilities to sort out the additions & subtractions (deduction) & you should have no trouble at all in convincing her that she's dating a genius.'
But remember what Amir khan says to Ajay Devgan in the movie "Ishq"- "Never run behind trains, buses or girls – one goes & another comes." Aaj pooja to kal koi dooja! So don't give up- keep looking ! Till you find the right one, enjoy the art called dating. !
P.S. – I am happily married to my first date.. so have no experience dating a lot of girls ;). So what are your tips!!