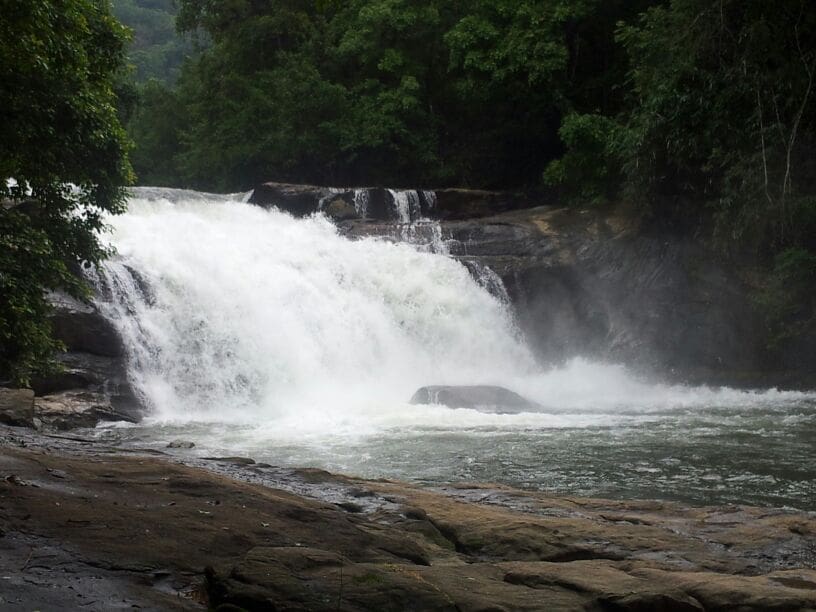 We had plans to see 'Idukki dam'- the biggest arch dam in Asia. We started early in the morning from our house and reached Ernakulam in an hour at our family friend's place. There were 7 of us. I and my friend sat in the front. Dad and uncle took turns driving the car. My brother, mom, aunty and uncle/dad (whoever didn't drive at that point of time) sat behind.
We sat chatting and enjoying the keralesque scenery – lots of trees, bridges above rivers, people busy crossing roads, crowds in a stall, speech on the roadside with no listeners and beautiful fields. We took aid of the direction board and took the road leading to Idukki. On our way, when we reached Thodupuzha we came across a sign board as we stopped to ask the way. The board read Thommankuthu water falls. We made a sudden decision for a short visit. None of us had any idea what was waiting for us. We reached a gate and saw a small water fall – the height of a table. Did we take this long ride from main road to see this?! Dad and uncle entered the gate to enquire, came out and asked us to enter as well. We entered the forest. On our way we saw giant millipedes, shiny black ones. My friend was scared. The security guard and all the elders assured us it was harmless. I was fascinated by the size, the normal ones we saw were so tiny. This was some 10 – 15 cms in length. And maybe about 3cm in diameter. We were warned about leeches when we entered.
We had no idea that we were going for a trek when we entered the thick forest. After large rocks, wet dried leaves, many arthropods, ants and millipedes we came to an area with lots of wet dried leaves. The scenery was beautiful. Water flowing – clean clear water, trees and marshes in between. That was when we first saw a leech. We were busy clicking pictures. And there was something brown on uncle's leg. About 3 – 4 cms length, slender worm. When we stood wondering, the security guard said us it was a leech. Shrieks and alarmed faces. Uncle took that away with a key.
We were advised to keep walking to avoid leeches. Leeches were hidden under the wet dry leaves. When we were standing we saw a leech, its head like an antennae popping out under a leaf, turning here and there with a to and fro movement. We didn't even stand there for a second. We kept walking fast, between the trees, along the narrow trails. I saw one leech getting on to my mom's leg. I asked her to take it off. She screamed and jumped. The leech got scared. Many small waterfalls, with greenery around. The water was clear and cold. The lush green trees, some trees bending so much that it looked like it was fallen. A tree with hanging roots, the roots tangled to make a swing. The not so thick roots could carry weight of three people ( only 3 of us tried getting on it).
We couldn't capture many beautiful scenes because the leeches kept us running. We were tired after the long trek and took an easier path on the way back. We climbed up a watch tower made of bamboo as it was drizzling and sat there for a while. On the way a big ant bit me and aunty, we couldn't stay to relieve the pain. Mom called out "If you stand there the leech will suck your blood".
We reached the car and we were still doubtful of leeches on our hands or legs. I wrote the feedback "treat for eyes except for the leeches" as we were asked to.
The authorities have hiking trips during summer. If you are lucky you can spot animals too. A security guard accompanies a group since beginning, he guides you, or else you are sure to get lost in that thick jungle.
We were tired and hungry, we had biryani from the first hotel we saw. And we restarted our journey to Idukki dam.
About the Author: Sara Showkath Ali is a second year student at Kasturba Medical College, Mangalore.