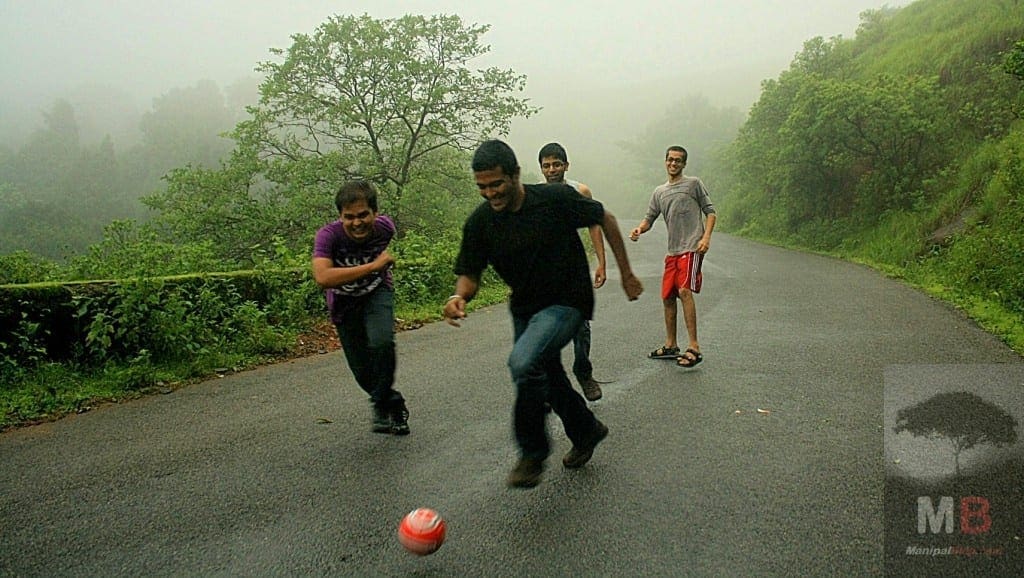 This was one of the rides that will have the purists, the operationally efficient, the OCD possessed, the travel paranoid go nodding their head in savage I-told-you-so nods.
It had been a while (we didn't realise amidst the rushed lives of turning into corporate conformists). Just decided, will step out and was trying to beg, borrow or steal some form of transportation. Succour came in the form of the ever-volatile, Mr Maverick , Azhar. The famous white josh machine, the sedan, the Ikon was ready to vroom. Picked up similar minded other members, and luggage included a change of clothes if and when the need arose
It rained, the time allowed to us to actually see and explore the waterfall was woefully less. The security personnel were not very  amiable, we didn't get a chance to bathe in the pristine waters, the rain and spray from the fall put the camera into potentially much risk, there were pot holes and broken trees and no pretty girls for Azhar to impress with his driving skills. Huh! So what?!
Poohing the purists aside, a road-trip will win hands down. The roads continued to weave their fascinating spell on us all, and as we glided up the winding roads, we unwound and relaxed. There was good music, there were wild screaming, there were mid-road sprinting and impromptu football and aerobic moves and swagger and moves and lot of bad clicks. We stopped wherever we wished and played and ran about; carefree and with a freedom that was most befitting the place.
The trip was a classic case of the journey overwhelming the destination. The roads that we travelled through really won the prize on that day. Finally stopped near the ( now legendary) Swiss Slopes . Slowed down, counted our blessings and headed back, our comradeship restored, strengthened.
For more pictures :
https://www.facebook.com/mohanty.sk/media_set?set=a.10151003872299329.445804.767804328&type=3