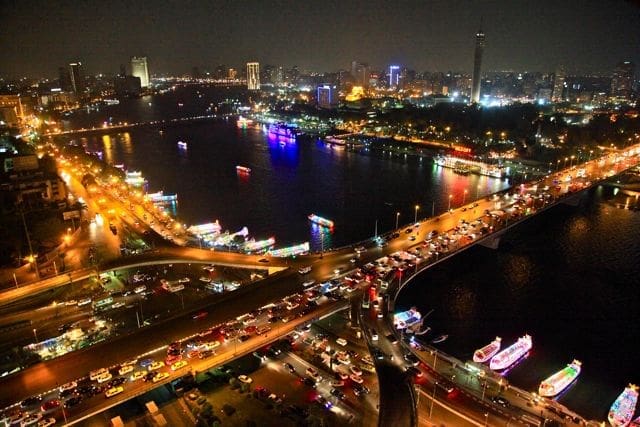 Egypt is famous for many things, not just the Pyramids. Egyptian cotton, perfumes, the papyrus (the ancestor of paper) are Egypt's prized possessions, which are popular all around the world.
We were taken to a perfume shop where the owner gave an amazing explanation of the history of Egyptian perfumes and gave us a list of 60 perfumes, each in a small bottle worth $40. Most of the famous French perfumes have many of the base ingredients similar to the Egyptian perfumes. The names of the perfumes are also unique like the Key of Life, Midnight Secret, Ramses II etc.
Then we were taken to a papyrus shop where we were given a demonstration of papyrus making-first remove the green parts from the stem of a papyrus plant, do vertical cuts, cross-connect to make a sheet, place it under a heavy press for 5 days to get rid of the moisture, soak it in water for 5 days to get rid of cellulose,  then dry it under the sun – the water is changed every day to get 'white paper' and  reused to get 'brown paper' – no chemicals are used. The papyrus paper is quite strong. Paintings done on papyrus were put up on sale but it's pretty expensive.
Later in the day, we visited the local markets (called souks in Arabic). The moment they saw Indians, the shop keepers started calling out to us in Hindi, like "Kaisa hai, T-shirt hai." The markets sell a variety of items ranging from clothes to furniture. The Egyptian cotton clothes are really good. Souvenirs can be bought cheap from these markets. As we walked through the market, the Egyptians seeing Indians started singing Hindi songs like Yeh Dosti Hum Nahi Chodenge, Meri Sapno ki Rani and they are big fans of Amitabh Bachchan and Shah Rukh Khan.
In the evening, the Nile cruise was arranged. The cruise was from 7PM to 9PM, with dinner buffet and live-entertainment. The river Nile is throbbing with life on either side of its banks with big hotels and cruise boats. Live entertainment consisted of belly dancing, folklore music and dancers, and other shows.
Overall, I couldn't have asked for a better trip. Every moment of it was enjoyable. Do send in your comments, articles and photographs to [email protected].