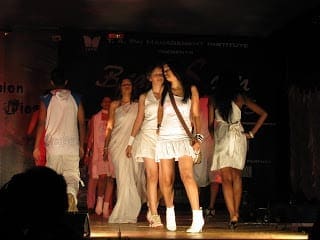 Here are the style trends that you will see on the shelves for women's and men's wear.
For Her
Watch out for summer dresses in pastel shades with halter or strappy bodices.
Jeans get really tight and the leggings are still very much there but in bright colours like orange, red, brown, green to add excitement to the tops.
Blouses are either lean and very figure hugging or utterly feminine with frills and flounces on neck sleeves and down the front.
Formal wear is glittering with gowns and cocktail dresses in black satin making a statement.
Knits are bright with prints, slogans or graphic art in colour blocking or patchwork.
Sporty tennis dresses are great summer options as the mini is the best length for the hot days.
Capris are now a permanent part of the women's wear wardrobe.
For Him
It's the era of the checks in large and small sizes and in bold colour combination's all the way and the Wild West look comes in for men's shirts. But the look is lean and short with shirt tails on the outside to give that relaxed summer look.
Trousers are really fitted and low rise and almost resemble fitted leggings.
Jeans are very much in with different washes and colours to add to the summer look.
Knit wear makes a big impact in bold prints and colours. Watch out for detailing like patch pockets with flaps epaulets and also contrast lining for cuffs and collars.
Ties are as narrow as they can get, without looking too stringy since they have to match the lean shirt silhouette.
Sportswear turns into casual wear with sweat shirts and pants getting stylish from most of the sportswear brands.