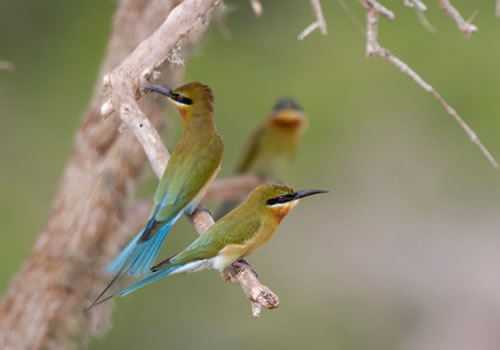 By Rashomi de Silva
Yala  is the second largest wildlife reserve in Sri Lanka. Situated in the south eastern part of the country, Yala spreads over 129,700 hectares.Depending on the vegetation and biodiversity Yala is divided into five blocks (I-V), a strict national reserve (SNR) and three sanctuaries, Kataragama, Katagamuwa and Nimalawa.
Situated in dry and arid zones Yala receives rain mostly from North-East monsoon. Although long dry spells are common in Yala, it is well supplied with water form Kumbukkan oya, Menik ganga, and other streams that flow through it.
Most of the these dry up during the drought seasons (August to November) but Kumbukkan oya and Menik ganga except in exceptionally dry seasons, flow throughout the year.
A fair number of watering holes and rock pools (known as kemas) are located throughout the Yala park.
Usually watering holes dry up during the dry season, but kemas such as Galge Sithulpahuwa Kibulgala remain as the main source of water. Despite the high temperature and scanty rainfall, low, humid conditions creates a comfortable atmosphere even in the driest months.
Although at present more than three-fourths of the park is covered with dense forest, it is believed Yala had once held a cherished civilisation. It's rich cultural heritage is still evident from the ruins of ancient dagobas and other places of religious importance.
Yala possesses several soil types, reddish soil type being most prevalent. This soil type in optimal phosphate condition together with a suitable irrigational system is said to give high yields. Especially for tropical cereals.
Neglected wewas (inland reservoirs) in dilapidated conditions are proof of the rich agricultural civilisation during the ancient Sinhala kings.
The multifaceted ecosystem ranging from moist monsoon forest to dry monsoon forest, thorn forests, grasslands (open parks and pitiyas) fresh water habitats, lagoons, and other marine wetland, sand beaches, coral reefs are rich in biodiversity.
Block I & II and strict national reserve having similar climatic conditions show more or less similar vegetation and distribution patterns.
In open and dense forest dominant trees consists of Weera, Palu Divual and Lunuwarana. Weera and Palu are the prominent species. Palu makes the emigrant layer or the open canopy. Whilst tall Weera makes the main canopy tall under growth of Gandapana, Kakuruman,Patassa and ground growth of ferns, cypresses and seedlings of the other species can be seen through out the forest.
In the open forest canopy is rather open hence the undergrowth and the ground growth are enhanced. Scrub forest consist of tall shrubs and other low growing vegetation.
Pitiya grass park's and open parks consist of buffalo grass, mana Illuk and other herbs. Grasslands known as Yala well of block II is believed to be a once fertile and paddy fields abandoned later.
Block I and II have larger animal population compared with the rest of the park. Lovely spotted deer are the commonest of the large mammals.
Herds in search of land to graze upon is a common sight in block I and II but is rare elsewhere. The Sambur too is a rare species. This threatened species is a member of the deer family. It has a lovely tanned neck and strong slender legs.
Buffalos being very much dependent on water and grass, can be observed in open parks and pitiyas close to water sources. Wild pigs are quite common in Yala and can be found everywhere in blocks I and II .
Block II is a paradise for leopards and jackals. Sloth bears, several members of mongoose family and wildcats and jungle cats are fairly common. Black-naped hare is another common animal.
Foraging hares can be seen during evenings and early hours of the night are distributed evenly through out the park. Elephants are the main tourist attraction. It is estimated out of 450-500 elephants inhabiting Yala, 125-150 elephants are in block I and II
These inhabitants are relatively non-aggressive. Because elephants love salty lagoon water, those roaming in other parts too visit costal belts of block I and II frequently. Several non-residential herds visit Yala seasonally.
Reptiles are abundant in Yala and are evenly distributed. Crocodiles, lizards, pythons cobras, vipers and many more reptile species can be viewed in suitable time.
Residential and migrating bird species make the Yala park even more enchanting. According to a survey carried out in 95/96 , 136 resident species and 36 migrating species were identified.
Imperial pigeons, blue faced Mal kohas, jungle fowls, hornbills, paradise fly-catchers, peacocks and many other endemic and rare species have made Yala their habitat.
Among all national parks the Yala receives highest number of visitors annually.