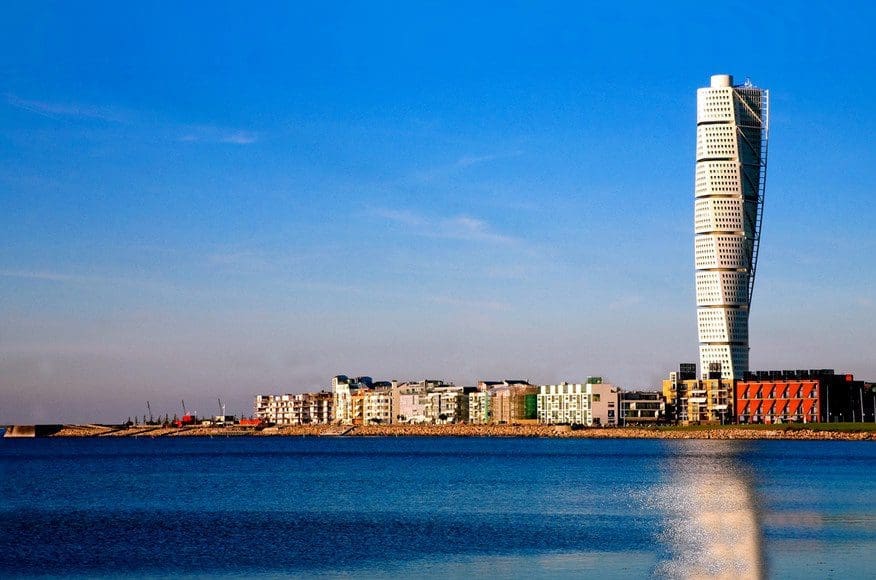 Completed in 2005, the Turning Torso in Malmo is a landmark that's hard to miss. With a height of 54 stories or around 190 meters (623 feet), the Turning Torso skyscraper is the tallest building in Scandinavia. It was selected as one of the 7 wonders of Sweden.
The Turning Torso is also quite interesting to look at – the design was based on Santiago Calatrava's "Twisting Torso" sculpture and Malmo visitors immediately notice the creative 90-degree twist in the entire building.
Does the Turning Torso actually move?
No, the building doesn't move or turn. The residents on the upper levels would probably get seasick.
Is the Turning Torso one of Malmo's attractions?
The Turning Torso is definitely Malmo's most popular landmark. Lots of visitors take pictures of the Turning Torso and it's found on many postcards in Malmo. However, it's not an attraction you can enter, sorry. On the inside, the Turning Torso houses offices and apartments, so they can't allow sightseeing tourists inside.
Where can I find the Turning Torso in Malmo?
Actually, the Turning Torso is hard to miss – you will see it as soon as you get close to Malmo. From the sea, the Turning Torso is found on the Swedish side of the Öresund strait.