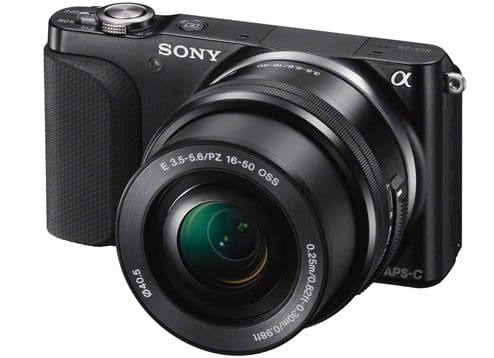 Hello guys! Its festive season again!
It's been seven months since I started doing my internship, and have been saving money for a special thing which I wanted to buy since quiet a long time. So this festive season I decided to treat myself with a brand new Camera!
Whenever you are going to buy a camera, there is a huge confusion because there are so many brands, so many models and markedly varying price ranges. So, after spending about a day and a half researching on the internet, and keeping all variables in mind, I decided to go for the wonderful Sony Alpha NEX-3N.
It's a Mirrorless camera and comes with 16-50 mm f/3.5-5.6 PowerZoom lens.
Ever since I started doing photography, I was waiting for the right time to buy an advanced camera. In fact, there is no right time to buy a camera because whenever you think of buying a camera, the new models are popping up from everywhere and then you decide to wait for some more time. But the wait is never-ending because till the end you are not able to make up your mind and that is why, if you are thinking to buy a camera, "Now" is the right time.
You might think why I chose this camera instead of a SLR. Well, firstly, I don't like the bulk of dSLR camera and it becomes quiet heavy to tug it around with you at all the times. Also as you grow, the number of lenses you own tend to increase and it makes the package more heavy. Secondly, The mirrorless from Sony doesn't compromise on quality in any aspect, infact the sensor(APS-C HD CMOS) is superior to many dSLRs in the market.
So after deciding the camera I wanted, I went to buy the camera from the store and guess what! The Sony exclusive store didn't have the camera in stock. So, I started looking in few other stores but no luck. Finally one store owner told me that he can get it within two days if I place the order now.
As I write this, I am very excited to get it tomorrow. I will be updating you next week with some amazing photographs from my new camera. A new era begins for me!
Here is the link for the camera, if you want to learn about it more:
http://www.sony.co.in/product/nex-3nl
These are few clicks from good old Canon PowerShot A2200 :
https://www.facebook.com/nitishgarg/media_set?set=a.1093381541873.2014408.1446585053&type=1
If you need any help with selecting a camera for yourself, you can contact me and I will be glad to help you. Thank you for reading! Keep clicking!
If you have any comments, you can post in the section below. Any queries/suggestions/contributions can be sent over to [email protected] or [email protected].