In addition to being a great tourist spot in general, Ho Chi Minh City is also a must-visit for all foodies. Indeed, one could even describe the entire city as a sprawling alfresco restaurant. This is thanks to the many food stalls that populate some of the city's strategic streets. What's more, these places even have their own specialties, allowing for plenty of exploration opportunities for adventurous food crawl enthusiasts.
If you're looking for great places to help you start your journey, there are a few streets that we can genuinely recommend. In no particular order, here are three great streets to try while you're on a hunt for the best street food in Ho Chi Minh City.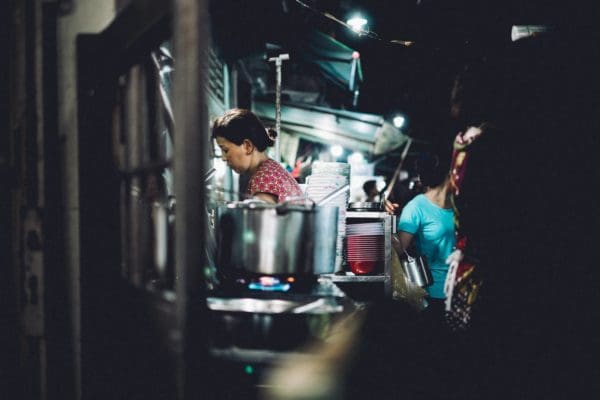 Phu Nhuan's Phan Xich Long Street
Beyond its famed collection of coffee shops, Phan Xich Long is also home to various small eateries and food stalls. Indeed, you'll find samples of great food from everywhere in Vietnam in this stretch of street. It doesn't matter if you're looking for a bowl of bun bo (a local form of beef noodles) from Hue or some pho kho (or dry noodles with ground pork and spices) from Pleiku. You'll definitely find a place that serves delicious servings of these and more along Phan Xich Long Street. And as one of the city's fastest-developing districts, you can also easily enjoy the area's tasty food by staying at a nearby hotel. Getting a good deal is even as easy as a quick Google search (with locals getting the best results by putting in a search for "Khách San Phan Xích Long")
District 1's Tran Khac Chan Street
Being in the city's central district, Tran Khac Chan Street has most of the elements that are typical of a busy Vietnamese street. Even at night, it's a place to hear the distinctive cacophony of vendors calling out to the many locals and tourists—in addition to the din of cars and motorcycles traveling along the road. Indeed, around 50 food stalls are closely competing for the attention of the many pedestrians along Tran Khac Chan. This should give you many options on what to eat while you're there. One of the area's specialties is banh canh cua, which is a rice-noodle based dish with crab and a thick yet mellow-tasting soup.
District 10's Nguyen Tri Phuong Street
Despite not having plenty of tourist hot spots, Ho Chi Minh City's District 10 has its own great eating spots for both locals and foreign travelers. This is thanks to the area's collection of schools, universities, and hospitals providing food vendors a healthy amount of potential customers. And with Nguyen Tri Phuong Street, in particular, you get a good sample of places to eat that's far from the busier parts of the city. The street has a fair share of Vietnamese restaurants and food stalls. While you're here, don't leave without having a taste of the che tai or sweet fruit soup (or fruit cocktail). Depending on where you're ordering it, you'll get a mix of various tropical fruits that include durian, jackfruit, sapodilla, and many others.
The great thing is, the above streets are just some of the places where you can enjoy great Vietnamese food in Vietnam's largest city. If you ever find yourself in Ho Chi Minh City, do your best to explore, find more great places to eat, and have your own fun gastronomic adventure.