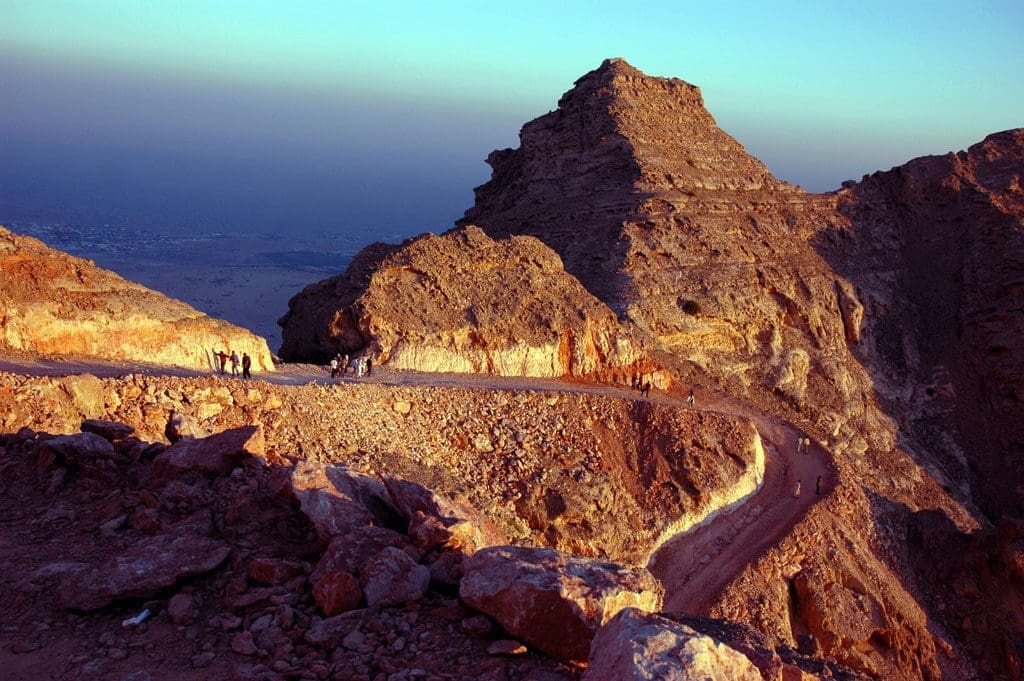 Keeping up my promise from last week, this post will be the post where you will get all the details you would want on the places to visit in Al Ain.
1.       Jebel Hafeet:  Like one reader mentioned in a comment on my previous post, Jebel Hafeet is the place you must know about and must see in Al Ain. It is true that most people identify Al Ain with Jebel Hafeet. Why? Only because Jebel Hafeet is the second tallest mountain peak in the whole country. Towering over Al Ain at a height of close to 1250 meters, the peak offers breath-taking views of the city.
At the base of the mountain is the Green Mubazzarah, which boasts of a lake, hot water springs, swimming pools and chalets to stay in. The Jebel Hafeet Mountain Road in itself is a major attraction – it is considered as one among the greatest driving roads in the world. Hotel Mercure Grand is located at the top where you can recharge yourself after having admired the sweeping panorama of Al Ain.
2.        Al Ain Camel Souk: One of a kind, the Al Ain Camel souk is the place where you will get to see camels being traded by their owners. Sheep and goats sales also occur here. It's a place where you can click great photographs, but do ask permission prior to clicking. Bear in mind that nothing comes for free.
3.       Al Ain National Museum: The oldest museum in the U.A.E., it showcases various items and artifacts which give the tourist an understanding of the life and culture of the people in U.A.E.
4.       Al Ain Zoo: Housing over 4000 animals, the Al Ain Zoo is a site of interest for many who visit Al Ain. Certain endangered species can also be seen in this zoo. There are spots for picnics and playgrounds where you can rest and refresh yourself. Activities recently introduced in the zoo include giraffe feeding, camel riding and feeding the domestic animals in the Elezba petting zoo.
5.       Al Ain Palace Museum:  The Al Ain Palace Museum was the former residence of the late Sheikh Zayed Bin Sultan Al Nahyan, founder of U.A.E. Paying a visit to the museum would give you an idea about the history of the ruling family of U.A.E and their lifestyle.
6.       Al Jahili Fort: Steeped in history, this fort was once the residence of the ruling family. Having served military and residential purposes in times of distress, it now exhibits the work of Sir Wilfred Thesiger, the English explorer famous for his crossings on the Rub'al Khali or the Empty Quarter– the largest sand desert in the world.
7.       Hili Fun City: A must visit, especially if you have kids. As I said in my last post, Hili Fun City has all sorts of rides that are guaranteed to thrill kids and adults alike- and the memories of them last long (as in my case).
8.       Al Ain Oasis: After a tiring day out exploring Al Ain, this is the place where you got to go to rejuvenate yourself. A 3000 year old Falaj irrigation system (where water runs through channels dug in the earth) is what gives life to the palm plantations you see in the oasis. It's ideal for a peaceful stroll, but it's good to have an idea of where you are going since it's easy to get lost there.
That's it from me, folks! Do visit these places if you ever plan on going to Al Ain. Write in about your experiences too, to- [email protected] or [email protected].