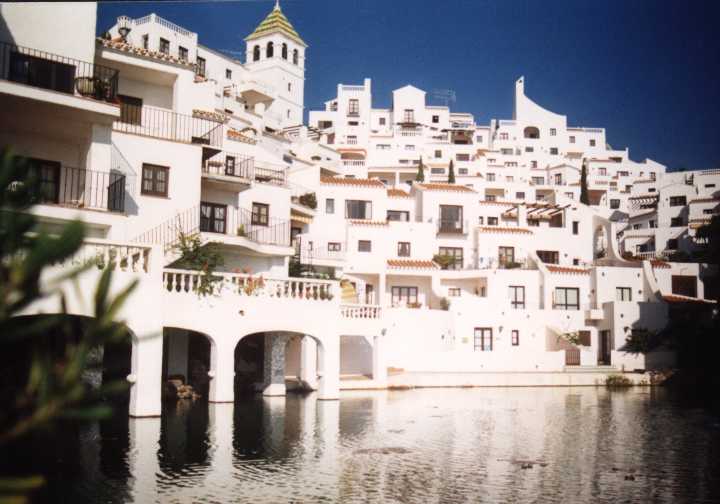 For most of its life it was a sleepy fishing village but now it's a growing cosmopolitan seaside destination. But is it still worth a visit?
My grandfather bought his holiday home in Nerja about 25 years ago, when I was a mere slip of a 7 year old. Things were very different then. "I remember when Burriana beach was a mud heap," he told me recently as we wiled away the afternoon on his sunny rooftop terrace." There were tiny, raffiaroofed shacks with caterpillars hanging from the rafters. Underneath where the Hotel Monica is now was a haven for wild cats and goats. And there was a colony of gypsies living there making pegs and basket work and selling them along the beach. It took about three hours to drive from Málaga to Nerja in those days, along the old coastal road which was broken away in parts. It was quite scary.
Fast forward 20 years or so and Málaga is a mere 40-minute drive away, while Nerja has gone from a back road fishing village to a retirement paradise for rain-weary Brits to what it is today: difficult to pin-point. But one thing is certain: Nerja is changing.
A newspaper article in the Costa del Sol News recently reported that Nerja had finally been recognised as an official tourist resort by the Junta de Andalucía.  Quite what the authorities thought the village had been all these years is anyone's guess, but with the title comes better infrastructure and money to improve on its finer assets. You can knock the ravages of mass tourism all you want, but it accounts for 12 per cent of the country's gross domestic income.
Nerja is growing up and settling into its new clothes as younger expats move in. It's also embracing a gay scene as the Sitges of the south, and as Málaga rises gloriously to become Spain's fourth largest city, the vibe in Nerja, dare I say it, is becoming increasingly cosmopolitan. Not always entirely appropriate for a small town, but in this case it's just what the doctor ordered. Sprawling urbanizations and an ever-swelling population mean that its charms as a fishing village are lost forever, but that doesn't mean it has to sell out to the terrible tack and high rise hotels of the western Costa.
The "mud heap" of Burriana has been gradually transformed into a smart promenade lined with mainly English-style restaurants serving the odd microwaved paella and full English breakfasts. The last time I visited there was a notable trend towards upscale cocktail bars and Polynesian lounges like H2O and Copacabana. The mood was younger, relaxed and a little more refined. No doubt about it, Nerja was attracting a better class of traveller and a more visionary business owner.
This became increasingly evident as I strolled along the Calle Carabeo that runs along the cliff top to the east of the village, where several town houses have been spruced-up for rent as luxury villas, ready for the wealth of interior features that must surely follow. In the heart of the village,Hostal Miguel, once a lowly backpackers place, has been transformed by current owners Matthew Rideout and Natalie Gray into Nerja's first bargain boutique.
But the first to spot the potential of a new, cool Nerja was probably Giles and Tara Tye who fled the familial restaurant (the California down the road) to pursue their own ideas. This led them to create Scarletta's (named after their first born), a revolutionary restaurant when it opened in 2002 with all low-lighting and candles, cocktails in the lounge bar and romance on the terrace. The first time I visited, I felt I'd found Nirvana. It was the only place in town that came close to satisfying the cosmopolitan hunger us city dwellers sometimes crave. Giles also cooked a bloody good fillet steak, as his head chef still does. Tara meanwhile moved on to founding a drama school which now casts for many of the production companies looking to shoot their blockbusters in Spain.
Meanwhile back on Burriana, the Nerja de Nerja—a fun, Belgian-Spanish family run joint specialising in mussels—had taken the radical step of employing the fabulous Julio Vega (think of him as a Spanish Julian Clary) who delights the crowds with his own unique style of flamenco that culminates in a near full-on strip tease. It's cheesy, it's cheap and it's the best night out in Nerja.  My Granny loves it.
Make no mistake if you're looking to fulfil a real Spain fantasy this is not the place.Then again, this is the real Spain, warts and all.  Well served by public transport from Málaga there's little to see or do here so you don't feel guilty about not doing it. Probably the thing I love most about Nerja aside from the caves, which against all odds are among the most visited sights in Spain, there are no pesky must-see sights, though an evening stroll along the Balcón de Europa which juts out into the Mediterranean is essential. Likewise a classical concert at the caves can be a real treat.
What it does have is sun and fun, sand and sea, a charming old town and an extraordinary choice of beaches from El Salón with its lone fisherman's cottages to the Cantariján nudist beach a 15 minute drive east from the town centre. It's also a brilliant out-of-season destination when it's cooler, quieter and a perfect base for exploring the Axarquia and the wonderfully secluded villages that date back to the Moorish occupation.
 Nerja may not be the next Saint Tropez but neither is it resting on its laurels wallowing in the Costa crash.
Eating Out
Scarletta's (c/Cristo 38, 95 252 0011) for romantic surrounds, a well-heeled clientele and great cooking ranging from Thai curries, prime Irish steaks and gambas pil pil. The Nerja de Nerja (Playa Burriana, 95 252 0928) is one of the friendliest joints in town and serves superb mussels and excellent house wine, but it's the entertainment that elevates it to loftier heights.Alternatively Casa Luque offers designer tapas just off the Balcon de Europa.
  Sleeping Over
Sea views: The Parador de Nerja (c/Almuñécar 8, 95 252 0059, www.parador.es ) has the appearance of a not-terribly-successful 1970s apartment block from the outside, but once within its clifftop clifftop perch with private access to Burriana beach, bright rooms and a swanky piano lounge it becomes a seaside paradise.
Old town: Hostal Miguel (c/Almirante Ferrândiz 31, tel: 95 252 1523. Mobile: 661 228 250 www.hostalmiguel.com ) is laid-back and lovely, each room simply decorated with natural fabrics and cool, Mediterranean colours. The best rooms have balconies and the roof-top terrace with sea and mountain views is a bonus for breakfast and sundowners.
When to go
Romería San Isidro for the procession of horses and Spanish costumes on May 15. Festival Cueva de Nerja in July for flamenco and classical concerts.October 8 to 12 for the Feria de Nerja, where a series of pavilions in the centre play host to day-long drinking, dancing and general mayhem.