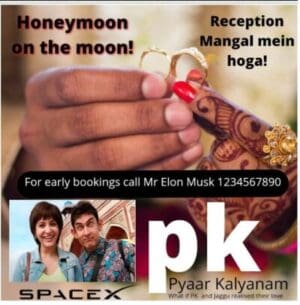 The following is a continuation of the script parody of the 2014 blockbuster PK. The story has wholly been murdered, and apparently, Jaggu and PK are in marriage talks.
Scene 5
[P.K. returns to Jaggu's father and now always dresses in whites.]
Mr. Sahni: Ab kyu aaye ho?
P.K. : Ji, hamara naam Dr. Pranav Kapoor hai.
Mr. Sahni:  Tum aur doctor?! Ye kab hua?
P.K. : Sab hua Jaggu ke liye. [Punchhh]
Mr Sahni: I know you cheated and became a doctor.
P.K. : Uncle chill karo, Kaise hua vo important nhi, hua vo important hai. I have many degrees from foreign universities and an M.B.B.S. and M.D. I have a 6-figure salary. And a villa in Bandra, which is under construction. Can't you see, Mr. Sahni, I am overqualified?
[Jaggu cracks a small smile.]
Mr. Sahni: Tumhare maa baap? [Where are your parents]
P.K.:  Hamko sirf maa hai.
Mr. Sahni: Where is she?
P.K.:  I will take you to meet her.
Mr Sahni: We'll all go together to meet her.
P.K.: Yes, I will take you all in my spaceship. Be prepared within 2 days.
Scene 6
All the wedding preparations have begun. Rajjo and Shobha (Jaggu`s Aunts) gossip about their niece`s husband-to-be.
Rajjo: Kya naam hai Pranav !!! [Fantastic name Pranav]
Shobha: Doctor bhi hai
Rajjo: Gora bhi hai bilkul Bollywood actor ki tarah. [Racism left the chat]
Shobha: Bandra me khud ka bangla bhi hai. He will be able to take care of Jaggu.
Rajjo: I wish he had a brother. Mai apni beti ke liye bhi dekhti fir. [Visionary]
Shobha: I hope my sister can pay the dowry properly.
Rajjo: How much are they expecting.
Shobha: Doctor hai, Spaceship hai, Bandra me bangla hai 6-digit salary hai to kam se kam 1 crore to kahi nahi jaa rahe. [At least 1 crore considering his worth]
Rajjo: But it is a love marriage, na. He is an alien, but how did Jaggu meet him?
Shobha: Arey alien wagera kya hota hai. We are going to meet his mother tomorrow, no?
Rajjo: If my sister gets a son-in-law who is a doctor and interplanetary enthusiast, then kam se kam, I should marry my Pankhuri to Elon Musk. [Viru Sahastrabuddhe from 3 Idiots was right when he said life is a competition.]
Shobha: Arey wo Spacex wala? Par wo Christian hai. Log kya kahenge
Rajjo: SpaceX ka koi Indian staff hai kya?
Shobha: Arey duniya ke har corner pe there is a Punjabi. Don`t worry, Rajjo, we will see. [I suggest starting your search from Canada.]
Rajjo: First, let`s get Bharti married. She has just got a job and become independent, no? I hope we can get Dr Gajodhar married to her.
Scene 7
In the desert, people are waiting for P.K.`s spaceship to arrive. The spaceship arrives quickly, and the whole family gets in.
Rajjo: I am so excited to meet Pranav`s mom. She might be the queen over there.
Shobha: Pranav, what is the name of your mother.
P.K: My mother`s name is Piyali.
Rajjo: Piyali Kapoor?
P.K: She has many surnames.
Rajjo and Shobha look at each other in confusion.
Several galaxies away, the spaceship lands on a very colourful planet with oxygen levels similar to Earth. As P.K. walks, we can see several nude men surrounding the family, and everybody starts screaming, and the husbands blindfold their wives with their hands.
P.K: Arey chinta mat karo ye sab humara bhailog hai. [Don`t worry they are all my brothers]
Mr Sahni: Arey tumhare pass kitne bhai behen hain [How many Siblings do you have]
P.K: Iss gole pe sab hi mere bhai hain. [He took "All the Indians are my brothers and Sisters" too seriously.]
Rajjo: Itne besharam bhai tumhe kaha se mile?
P.K: Sabko mere maa ne banaya
Mr Sahni looks angrily at Jaggu. Jaggu looks at P.K.
Jaggu: PK ye sab kya hai?
P.K: Hum tumka kaha tha Jaggu humare gole me koi kapde nahi pehenta kyonki hamare yaha aaisa koi vidhi vidhan nahi hai. [I told you, Jaggu there`s no concept of clothes on my planet.]
Jaggu: Theek hai, theek hai. Let`s go to meet Piyali Aunty.
P.K: Yeah, yeah, let`s go!
Shobha [whispers to Rajjo]: Ram Ram kam se kami iski maa to kapde pehnti hogi na?
Two aliens blindfold them
Rajjo [shouting]: Pranav!! Ye humko pareshan kar rahe hain.
P.K: Nahi nahi Aunty ye Delhi nahi hai. Aapko hum sabka aaise dekhna ma takleef ho raha tha na isliye aaise kar rahe hain. [It`s not Delhi Aunty; they are helping you counter awkwardness.]
Shobha: But you didn`t say anything. When did you talk with them?
P.K: Humare yaha communication man se hota hai hamare yaha koi bhasa nahi hai. [Soulmates basically]
Shobha: Dekha Jaggu. He does "Man ki baat". Usko Prithvi pe political connections bhi hai.
Chalo chalo let`s meet Piyali ji.
The family reaches a massive cave in the middle of the planet from which energy is pumped outside in the form of colours. They go inside to find a humongous tree from which little aliens hatch every second.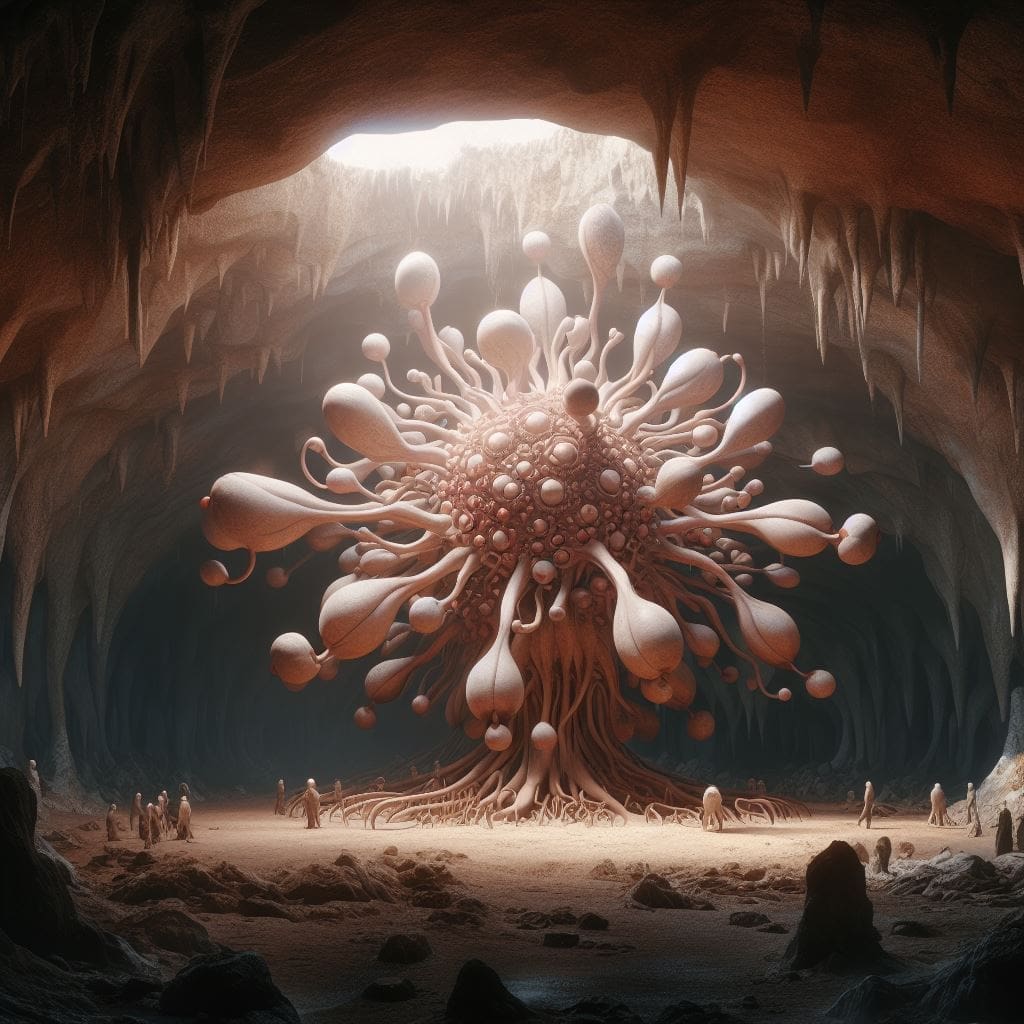 P.K: Mai ghar aagya Maa
Shobha: Ye pedh tumhari Maa hai??!!
P.K: Yahi humare Mai Baap hai. [She is my everything]
Everyone is shocked, looking at each other in disbelief.
P.K: Jaggu tum pair chunne ke baare me kuch kaha tha na? Agar tum chahat hai to chuu sakat hai. [P.K took 'sanskar' lessons very seriously]
Mr Sahni: Are you fooling around? Everything is a joke to you, right? You became a doctor at City Hospital within a day and are introducing a tree throwing out babies as your mother.
Do you think we are fools?
P.K: I think all of you are fools because there is nothing called 'Shaadi" in my place. We just love each other unconditionally because we are brothers. The only person I saw who resembles the virtues taught by Piyali is Jaggu.
Shobha: How dare you compare my niece to a tree?
P.K: Iss pedh me kya gadbad hai. Tumlog bhi ta iska Puja karta hai. Isse shaddi karta hai. Piyali humari Maa jaisi hain. [What is your problem with the tree? You guys worship it as well; she is like my mom.]
Mr. Sahni: Bas karo ye bakwas! I will not tolerate any more of this nonsense. This wedding is over!!
Jaggu: Papa Please.
Mr. Sahni: Even if he is the Prime Minister of this planet, I will not let you marry him. Oyee nudists! Take us back home. [Hmmm, direct attack]
P.K: Dekho, I have the same eyes, nose, and external body as you. I have something like a heart as well. With that heart, I loved Jaggu unconditionally. These requirements were imposed by you, not even her. First, ask everyone on Earth to mind their own business. We are both adults and know exactly what we need from each other.
Mr Sahni leaves without saying another word as P.K.`s brothers escort the family back to Earth.
Scene 8
P.K. sits alone in his villa that has finished construction. Jaggu visits him and starts crying.
P.K: Calm yourself, Jaggu. It is not the end of the world. We can still love each other. Who can put a stop to that?
Jaggu: But society will always see you as an outsider, though you have a bigger heart than them.
P.K: Let them tell whatever. Humare saath jeene se unko sandesh jaega.They will change. Someday. [At the end of the day, it`s all about leaving with a message.]
Jaggu: Yes, let us hope. You will be there for me, right?
P.K: Yes, Jaggu.  Always.
P.K's doorbell rings. It is Bharti, Jaggu's younger sister Bharti.
P.K. welcomes her and gives her some coffee. Bharti feels like opening up about a problem with her family.
Bharti: P.K., I know how you and Jaggu feel. I completely understand. My family is trying to get me married. They have stopped trying for Jaggu. But I have a confession to make. I am not ready for marriage.
P.K:  Do you love someone else, Bharti?
Bharti: Yes, I do. But if I pursue that, I feel like an alien in my own society.
Bharti proceeds to break down, and P.K. consoles her as she comes out as a lesbian and states that she has a girlfriend from America who works in her office.
P.K: To isme dikkat ka hai? Agar tum use sach me pyaar karat hai aur tumko pata hai ki tumhra dil kya chahat hai to tumko andhera me rehna ka kya zarurat hai. [What is the problem with that? If you know you love each other, what is the need to live in darkness?]
Jaggu: It`s not that easy. In India, thousands of cultures put a leash on how we want to live our lives. Once, our parents were called by the school principal on a complaint that Bharti was giving love letters to a girl on Valentine`s Day. As a result, our parents took Bharti to the doctor, thinking that it was a defect.
P.K: Bharti ek aurat hai, aur usse bhi pehle ek insaan. Usko apna faisla khud karne ka haq hai. Usko khud ke liye jo pasand aaega waisa hi karegi na baaki dusra kon hota hai isme bich me aane wala. Kidhar jaata hai tumlogo ka qualifications jab tumlog 10-10 saal ke bachon ka shaadi karata hai. Kya tumlog puchta hai ki kisko kitna poem aata hai? Aur abhi jab do log ek dusre se pyar karta hain to tumlogo ko duniya bhar ka dikkat aa raha hai.
[Bharti is a woman and, most notably, a human being; she can do what she likes; who are others to say anything in between? Do you talk about qualifications when you marry two 10-year-olds? Do you ask how many poems they know? So, what is the problem here when two people are in love with each other?]
Bharti: I feel like an Alien in my own house and in my own society.
P.K: We are all aliens in someone`s mind. It`s all about the set of rules and regulations that have been imposed on us. At the end of the day, Bharti, it is all about the perceptions; nothing is accurate, and everything is permitted. It`s just what we choose. Being an Alien is better than being a spineless Yes Man.
P.K., Jaggu and Bharti all come together to embrace each other with high emotions.
P.K. packs his bags as the spaceship has finally arrived. They hug for one final time before P.K. bids adieu.
P.K: Badlega badlega sab kuch badlega.
Scene 9
P.K. arrives with an army of his brothers.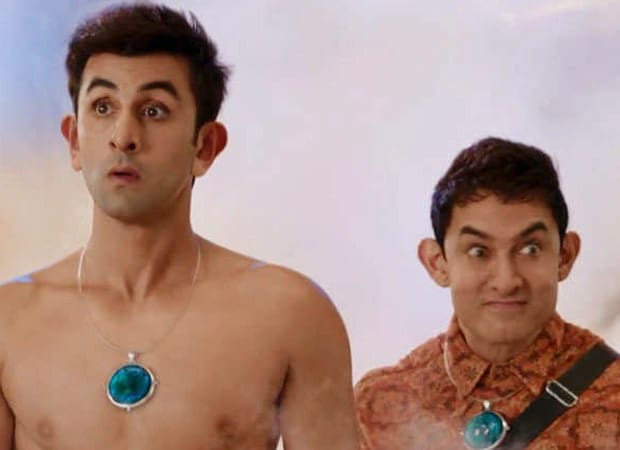 P.K: Mere bhailog, Aaj humlog ek bohot hi bade bimari ko thik karne jaa rahe hain……… Chalo shuruat India se hi karaenge. Go to any dancing car and take their clothes. I have called for a union meeting of all the beggars in Delhi; they will help us with our monetary needs. We have our goals set, aane wale saalon me har ghar me ek Alien damad hoga. Fir dekhunga ki humare bich kaise antar karenge.