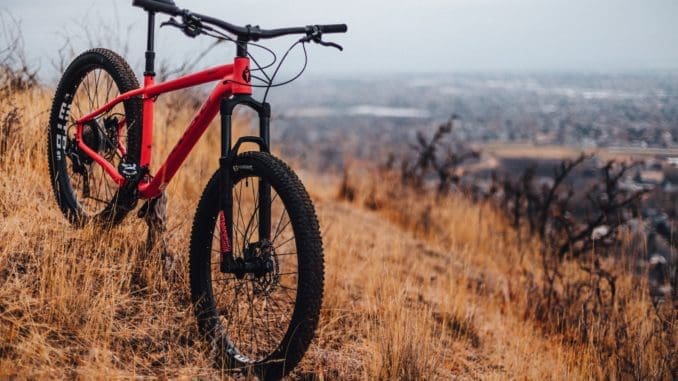 Sometimes shopping for an MTB or Mountain Bike can be pretty overwhelming. There are a large number of bikes out there, and if you don't know what you are looking for, it can be quite a challenge.  Because riding styles and equipment have evolved to suit different terrain, deciding which bicycle is right for you will be easier if you know the terrain you intend to ride.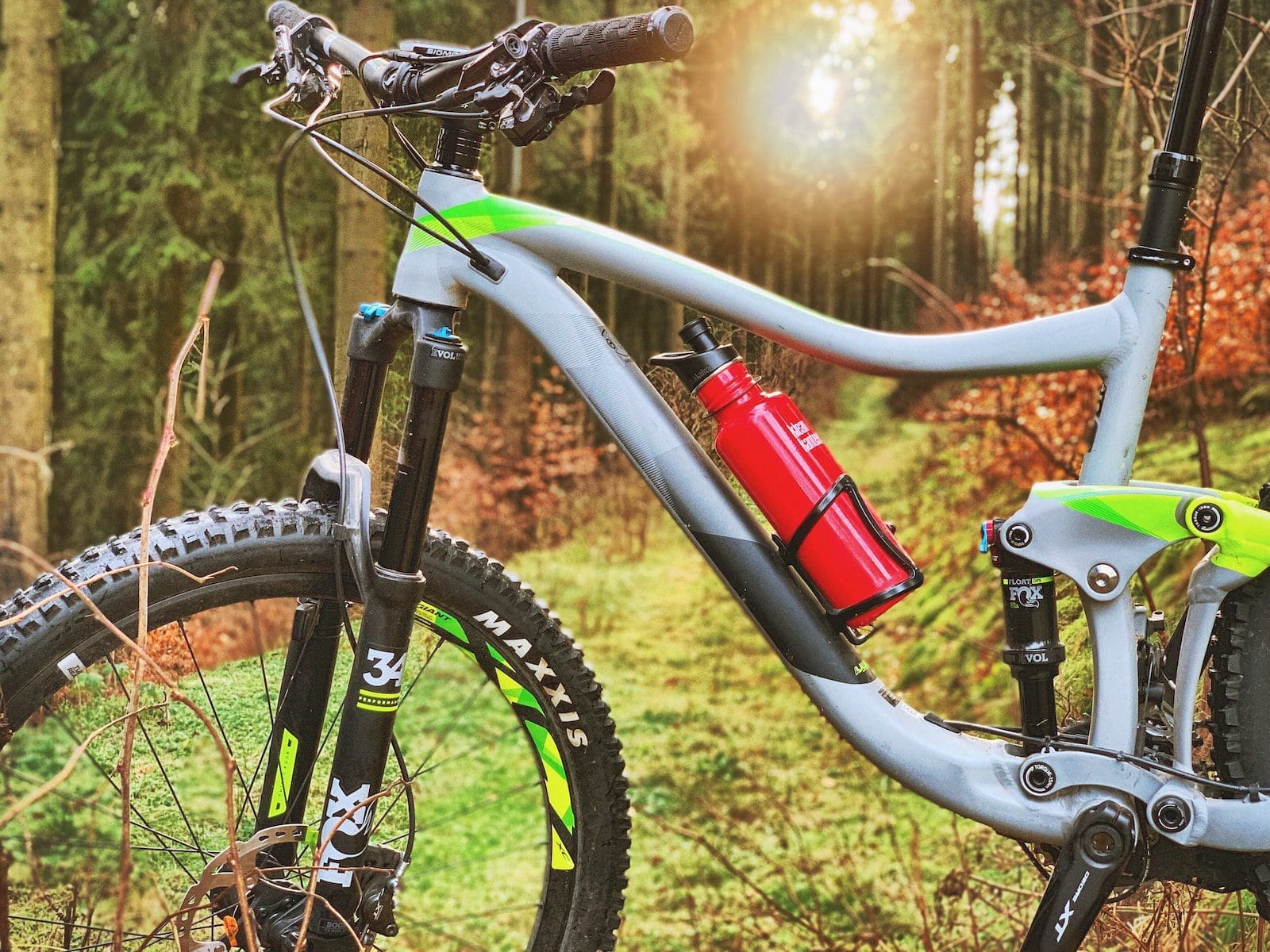 A common misconception is that a new rider needs more suspension because of the added control. While the added suspension may instill confidence in some technical sections, the relaxed geometry is often not suited to less experienced riders.
On the other hand, it is just as hard to avoid the temptation of the ultra-light bike. The benefits of lightweight are undeniable, but a novice rider will find XC racing bikes can be challenging to control when the trail gets rough.
Avoid Department Store Mountain Bikes
Some people are tempted to go to a department store or big box store and buy a less expensive bike than they would find at a traditional bike shop. This is something that is not recommended because the quality of those bikes is not suitable for any type of extended riding. They may work fine initially, but eventually, the components will start to have problems if the bike is used often. Most of these bikes will end up abandoned in the garage because they are heavy and do not run well.
To elaborate, when I worked at a bike shop, we always had people bringing in those department store bikes to be tuned up. They would always be in horrible condition, and the repair costs almost equal what the person paid for the bike. So you should avoid buying those department store bikes because they will be more trouble than they are worth.
In addition, the department stores do not have a maintenance shop for a bike that is bought from them.  By buying a mountain bike from a traditional bicycle shop, you can take the bike to them for routine maintenance.  Most bike shops offer a free tune-up program for a while after purchasing a new bike, which is an added value that the department stores do not offer.
The Budget
Here is a rundown of what sort of bike you can expect at the different price points. You should be aware of what kind of riding you want to do in order to know what sort of bike and price point you are looking at. Expect to pay at least $350 for your bike because, for any type of mountain biking, you will want a quality bike, not a cheap bike that will take the fun out of riding!
The $350 Price Point
Some people are simply looking for a bike that will easily get them around town. A mountain bike is excellent for that because it has a comfortable riding position, and the larger tires also give it a more cushy ride. Most people who use a bike for this purpose would not be riding on rugged trails, maybe some gravel roads, but nothing too tough on the bike. You would be looking at a $350 minimum for a bike like this. This is the type of bike that is really made for use on the streets.
The $500 Price Point
At this price, you are looking at a bike with decent components that will last quite a while. The bike is good enough to be taken off-road and on some trails. It is also suitable for riding around town because it is not too expensive to be really attractive to a thief. If you are just starting out and thinking that you are going to be into mountain biking, then this is the least amount you should look at spending. At this price, you will most likely get a nice aluminum frame and some long-lasting components that can take some moderate off-road riding.
The $ 700 Price Point
At this price, you get a nice overall bike for consistent mountain biking. This bike will be lightweight, have good components, and probably last many years. You will get some nice upgrades at this price with the disc brakes, an aluminum frame, and some excellent quality components.
The $1000+ Price Point
Up from this, you get into nicer bikes that are lighter in weight, and the components have a more efficient feel to them. If you want to go into the $1000-$1500 range, you will get a really nice bike that is worth the money if you know that you will definitely be riding a lot. Once you hit around $2000+, you start getting into what are considered racing bikes.  Racing mountain bikes are lightweight and have very nice components, but sometimes they are not as durable over a long time because they have been engineered to be as light as possible.
You Can Always Upgrade your Mountain Bike

Something to keep in mind is that if you really get into mountain biking, you can always upgrade the bike that you have.  Most bike shops have nicer components that you can upgrade to, and they will install them as well.  Sometimes it makes sense to sell your old bike and start out fresh with a new mountain bike with all the upgrades you want.
Visiting The Bike Shop
Once you have established the budget that you want to spend on your first mountain bike the next step is to visit the bike shop. This article focuses on how the mountain bike should fit you, why you should take the bike for a test ride, and things to consider when comparing bike shops. These tips will help you buy the right mountain bike at the right bike shop.
Make Sure the Bike Fits You
This is the most critical aspect when buying a bicycle of any kind. Getting the right fit for you will give you the most comfortable ride, which translates into having the most fun! The basic rules of thumb for fitting a mountain bike are: make sure you can lift the front wheel 2 to 3 inches off the ground while standing over it, and make sure that the handlebars are in a comfortable position for you.
For recreational riding, the handlebars can be in a more upright position. If you plan on riding more technical terrain, then a lower handlebar position will give you more control. A more in-depth explanation of bicycle fit will be covered in another article, but for now, these are the basics.
Go Take a Ride!
One of the best ways to determine if a bike fits you and to compare bikes is to take a test ride. A test ride will help you determine the different riding styles of mountain bikes that you are considering. Some bikes have a quick handling characteristic, while others have more relaxed handling.
By test-riding different kinds of bikes, you will get a feel for which style is best for you. If you can, take the bike out on some gravel or other uneven terrain to get a feel for how the bike might react on the trail.
If a bike shop rents bikes, you can try out the different types of bikes and find out which one you feel the most comfortable with. This is an excellent opportunity for you to take the bike out on a trail and ensure it is the bike for you.
Evaluating the Bike Shop
Not all bike shops are the same. It is a good idea to determine which one you want to buy the mountain bike from because they may also help you in the future with maintenance or upgrades. Here are some things to consider when evaluating different bike shops.
Are they Reputable?
You will want to choose a reputable shop to buy your mountain bike from. An excellent way to do this is to simply ask around. Ask friends or people in your area that are into mountain biking; chances are they know of a good shop to go to.
What kind of Maintenance Program do they offer?
You are also going to want to check their maintenance program. Some of them will offer a tune-up schedule, and I have even heard of some shops offering a lifetime basic tune-up for free, while others will just offer the 30-day tune-up.
Is the Staff Knowledgeable?
You want to ensure the staff knows what they are doing, so feel free to test them. Ask them a few specific questions about the different components of the bike. If they are selling you your first mountain bike and maintaining it, you really want to be sure the staff is knowledgeable and up to that task.
Are there any Upcoming Sales?
This does not deal with the shop's quality but is more for you. This will allow you to get a good deal on a mountain bike. You can even find out if they have models from the previous year that they are selling at a discount. You may get a great bike for much less than you thought if you ask the right questions.
Are There Any Package Deals Available?
This is separate from sale prices or out-of-date models. Some shops will offer you a discount if you purchase accessories for your mountain bike at the store; others will throw in some goodies for free if you ask them. Many things like the helmet, water bottle and cage, and other safety gear are things you are going to need anyway, so check on getting a discount by buying everything at the same time.
Check the Different Components of the Mountain Bike
It is essential to know a little bit about the different components of a mountain bike so that you are familiar with your options when selecting your mountain bike. The following is a good overview of what you should know and look out for when picking your first mountain bike.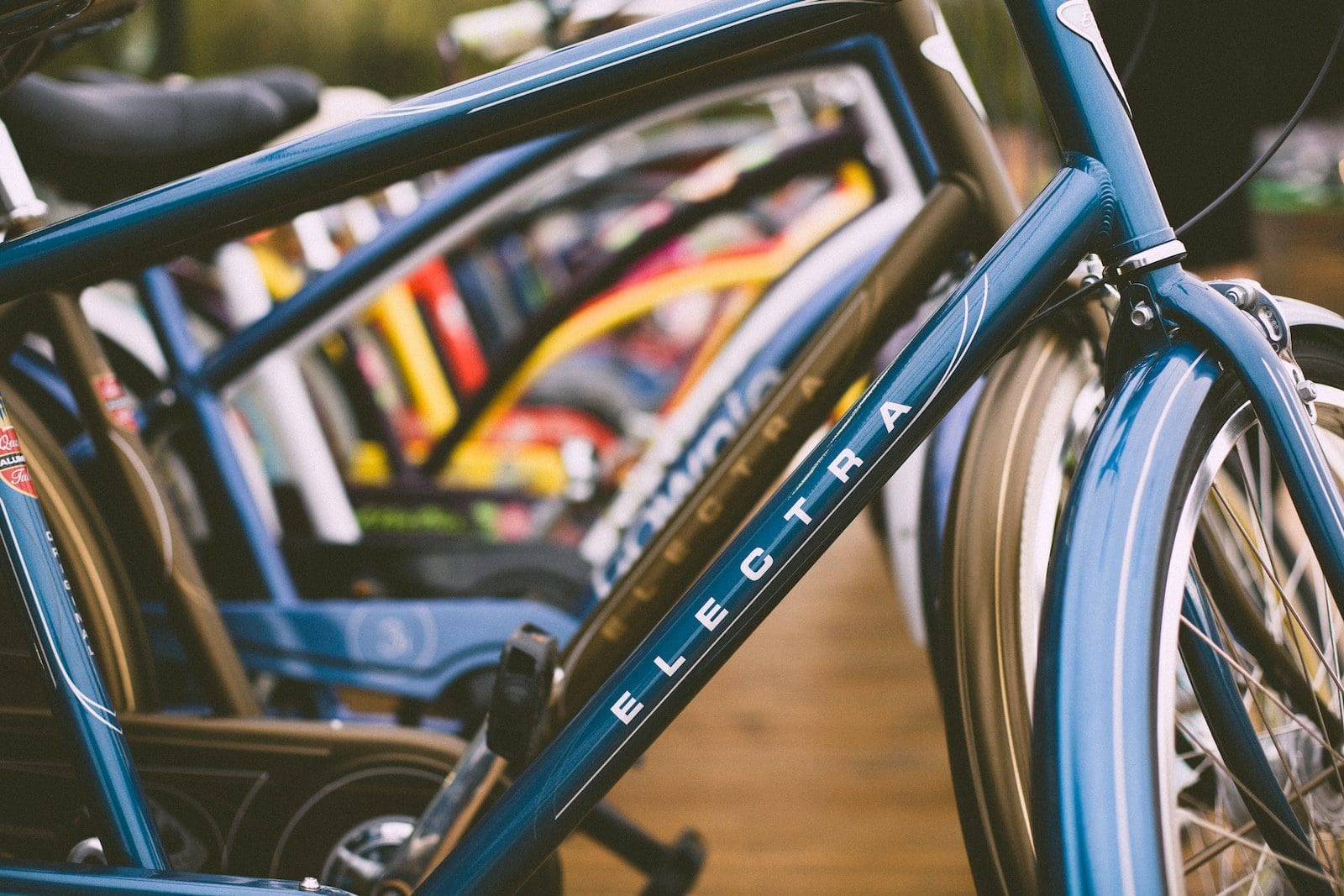 The Frame
If you buy a mountain bike in the $350 to $1000 price range, you will most likely get a chromoly frame (steel) or an aluminum frame. Currently, it seems like many manufacturers are using aluminum frames. There are advantages and disadvantages to both types of material.
Chromoly frames tend to be a bit heavier but are a little more durable over the long run. These frames have a lively feel and give a little more of a supple ride, which is noticeable. These tend to be at the lower price points of bikes, but there are also some very high-end custom mountain bikes that are made out of Chromoly. This is personally my favorite frame material.
Aluminum frames, on the other hand, are known for being lightweight and relatively rigid. Aluminum bikes will have a little more of a responsive ride (quick acceleration), but they tend to be a little rougher. Aluminum is a very rigid material that transfers your energy through the frame nicely but also transfers bumps from the trail to your body the same way. If you choose a full-suspension bike, then this doesn't really matter because the suspension will take out most of the bumps for you.
At the higher price points ($1000 +), you may be looking at two additional frame materials. These are carbon fiber and titanium. They are excellent materials and have their own "coolness" factors, mainly because they are high-priced luxury bikes.
Carbon Fiber frames can be very lightweight and offer a bit of a supple ride, which is similar in some ways to a chromoly frame. In the past, carbon fiber frames tended to crack if they were hit hard with a rock or other obstacle (i.e., during a crash), but most modern carbon fiber frames have addressed this previous weakness.
Titanium frames are the diamond jewelry of the mountain bike world. They have a high "coolness" factor because they are pretty lightweight, offer a very supple ride (even better than chromoly), look really cool, oh yeah, and are costly! At some point, every mountain biker dreams of having a titanium frame.
The Components (the parts)

Regarding the components, you will generally be getting a mountain bike with either Shimano or SRAM parts. Those are the two big players in the mountain bike component market right now. Shimano has been around forever and consistently made excellent mountain bike components. SRAM is a relatively new company, and they make some significant parts that are very comparable to Shimano. You will get a very similar feel between these two brands so you should not get too hung up on the differences between them.
The Suspension
You will definitely want a front suspension fork. The only exception to this is if you are buying a mountain bike solely for city riding. In that situation, you can get away with a rigid front fork for riding around town, but even still, it would still be nice to have a front suspension fork for the bumps in the road.
For your first mountain bike, I would not recommend a full-suspension bike. Buying a "hardtail" (a mountain bike without rear suspension) is a better idea because you will get a better overall bike for the same amount of money, and you will learn better mountain bike techniques (like picking a good line in the trail), and the hardtail will not have additional suspension to maintain.
The exception is if you have back problems, then I would definitely recommend a full-suspension mountain bike. This could mean the difference between really enjoying mountain biking and not!
The Shifters
There are two different styles of shifters that you can get for your bike. One style is called the Rapidfire or trigger system, which is the most common. It has been around for a long time and works well. There is also the Gripshift system, which is sort of like a motorcycle throttle, where part of the grip rotates to shift your gears. Choosing one over the other is more of a matter of preference. When you test-ride some mountain bikes, see if you can try both shifter types to determine which one you like the best.
The Brakes
Generally, in lower-end bikes, you will find the cantilever brake system, a braking system that has been used for a long time. The higher price point bikes will have the disc brake system. Disc brakes are great because they offer a lot of power, even in wet conditions. Since they have their own rotor, you don't have to worry about them failing to work as well when your wheels are out of alignment like the cantilever system. Disc brakes are a great way to go if you can afford that option.
Time to Buy Your Mountain Bike!
These are just the basics of the different things to look out for in the different components. But you should still not get too hung up on the nitty-gritty of the bikes because many of the bikes will be very similar around the $350 price point and even the $1000 price point. What is most important is fit and if the mountain bike rides the way you want it to
Now the only thing left is to get out there and find the perfect mountain bike so you can get out on the trails! Please leave a comment or question below, and don't forget to provide your e-mail in the box on the right-hand side of this website if you want to get updates on articles like this.