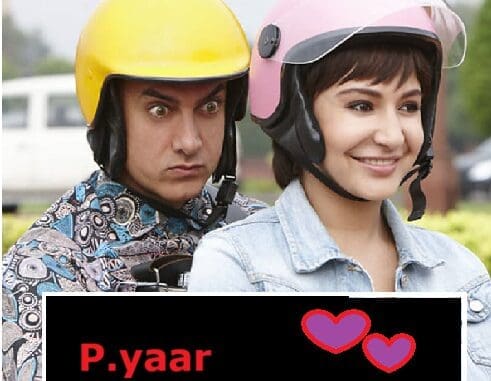 The following is a parody script of the 2014 blockbuster PK. The story is completely meddled with and apparently Jaggu and PK are in love.
Scene 1:   
Through the notes and voice cassettes, Jaggu realizes PK is in love with her. She cannot hold back her tears as PK is leaving for his planet.   
Jaggu: He did not even turn back once, but he might also be hiding his tears. Ours was the most beautiful kind of love. He loved me so much that he let me go. Or wait, PK AGAR TUM MUJHE SUN SAKTE HO TO MUDD KE DEKHO [Jaggu's telepathy is trying desperately to connect with PK]  
[P.K. stops walking, drops his luggage, and turns around with tear-filled eyes. He dashes towards her holds her head in his hand and wipes her tears away.]  
P.K.: Ro Kahey rahi ho Jaggu, Hum kahiyo nahi jawat rahe hain. (I am not going anywhere, Jaggu; don't cry; your makeup will go.)  
Jaggu: Pyaar karte hona tum mujhse P.K. [with tears in eyes]  
P.K: Haan karat hain hum tumse pyaar   
        (Oh, no exposed!)  
Jaggu: Why do you have to make it so hard for me, PK? I am going to be married to Sarfaraz in a week.  
P.K: I shook hands with him, and I am telling you he is not sure about the marriage because his father won't allow it.  
Jaggu: You are making things up, Jhoot mat bolo.  
P.K: I am telling you the truth. Now you will receive a letter confirming the same.  
Jaggu: What letter?   
We can see a postman coming into the frame, and he rings his bicycle bell to get Jaggu's attention.  
Postman: Letter for Jagat Janani. Pakistan se hai, madam. 
(Jaggu looks at PK in disbelief.)py
The letter opens, and we can see "ABBA NAHI MANENGE" written on Arial, size 72, on the paper.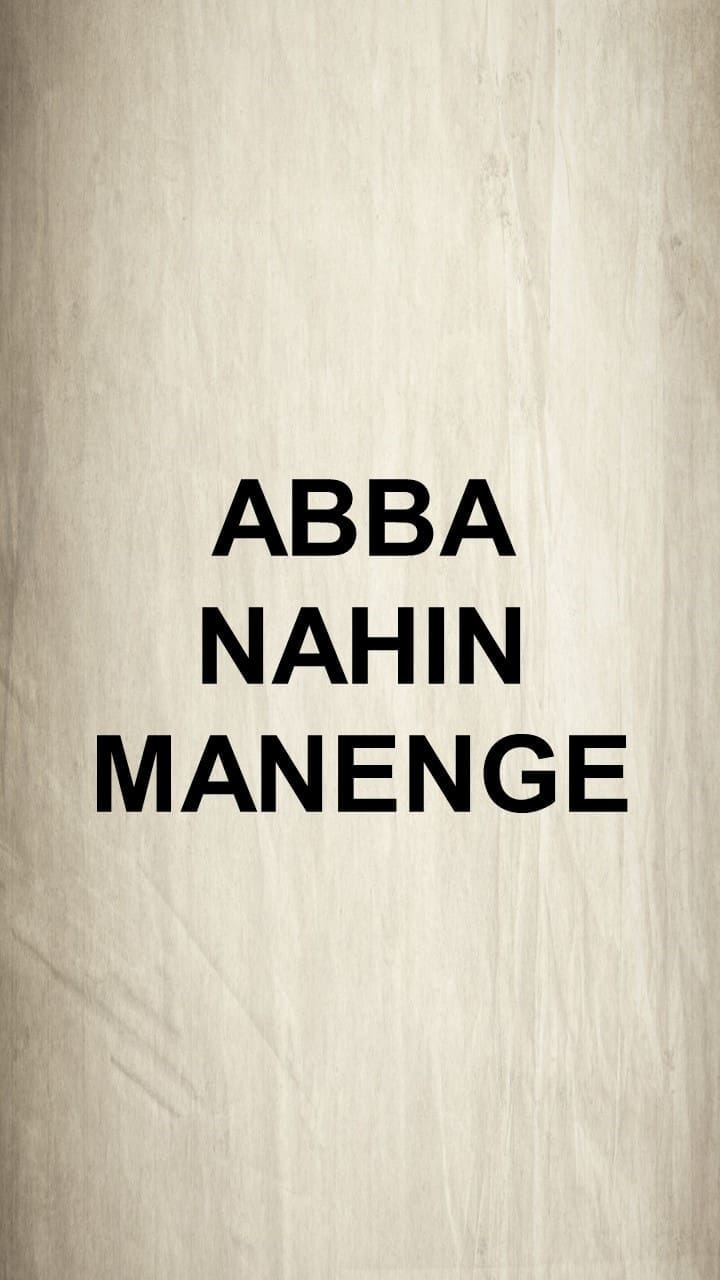 Jaggu starts crying, and PK starts sniggering.  
P.K: Hum toh tumka pehle hi bolat rahe  (I won the bet!)  
Jaggu proceeds to slap PK and catches his collar.  
Jaggu: Ab kya karu mai?  
P.K.: Shaadi karo mujhse.   
TITLE CREDITS ROLL  
P.yaar K.alyanam (Love Marriage)   
Scene 02  
Jaggu brings PK home, and the scene starts with both having an uncomfortable tea session with Jaggu's family. Mr Sahni, Jaggu's father, proceeds to make PK understand why he can't marry his daughter.  
Mr Sahni: See PK, if that is your real name, we are currently looking for suitors from Earth for Jaggu.   
P.K: Uncle, I really love Jaggu. Tell me what qualifications I need to marry her because we both are clear on this.  
Mr. Sahni: The world is going to laugh at us knowing we have an alien as our "Damaad." We know you don`t believe in religion, but what is your job?  
P.K: Hum interplanetary travel aur research karat hai. [Wow Astronaut]  
Mr Sahni: Arey bhai aakhir kehna kya chahte ho? [What do you want to say?]  
P.K: Hum ek gola se dusra gola ghumat hai aur apan gola ke logo ko uuha ke baare me batawat hai. [Basically, Travel vlogger]  
Mr Sahni: That is your hobby. You do that for fun. How do you earn money? That is a job.  
P.K: Paisaa to tum log insaan ka banaya hua cheez hai. Yaha par to hum aandha bhikhari se loan maang leta hai. [Concept of money is man-made; I beg in front of a beggar] 
Jaggu's younger sister Bharti Sahni enters the scene after a day in college.  
Bharti: PK! Jaggu! I am so happy for you two. I am so proud of you two. I have to call all my friends for the wedding. Everybody wants to meet you, PK!.  
Mr Sahni: Bharti apne kamre me jao, koi nahi aaega iss shaddi me kyonki ye shaddi ho hi nahi sakti. [Every angry Indian Dad ever]  
Jaggu: Papa zyada kya hoga mere pass gaadi ki jagah spaceship hogi, but atleast I will be happy Papa.   
Mr Sahni: Film dekh ke aayi ho? Drama kar rahi ho?   
Jaggu: Haan, Papa 3 idiots.  
Mr Sahni: Chup!!    
Mr Sahni gets agitated and gets up.  
Mr Sahni: Ye mera ghar hai! Jaggu, are you out of your mind?? I already had to hear so much about yours and Sarfaraz`s wedding, and now you are bringing an outsider, an alien. What is his qualification? What is his caste? [Hmm, caste. Finally, Uncle came to the point.]  
P.K: I am human; I have lived here for almost a year. If you ask me to become a doctor or an engineer, just make me hold hands with one of them. In our planet, we do everything; we do it as our duty. We don`t do it for money. We do it for survival. Someone created all these things to survive, but you put a price on it.   
Mr Sahni: Get out of my house! Go back to your home, and stop messing around with my daughter. You are not welcome here.    
DOOR SLAMS ON PK DRAMATICALLY     
Scene 3  
P.K. is sitting with Jaggu, both disappointed that it didn`t work out. P.K. stands up to leave.    
Jaggu: Stay here and fight your way.  
P.K: But what do you want me to do?  
Jaggu: Mai chahti huun ki tum mere maa baap ko ye prove kardo ki tum ek zimmedar aadmi ho jo apni aur apno ki zimmedari utha sakta hai. [Prove my parents that you are a responsible person.]  
P.K: Jaggu ham tumhra ke liye bhikhari se Doctor tak sab ban jaega. [Anything for you dear]  
Jaggu: I want a Doctor ……… My parents need a doctor.

P.K: Par tumhre maa baap to healthy and fit hai.   
Jaggu: Nahi P.K., yeh kaafi izzatdaar naukri hai.  
 P.K: Achaa tumhara koi doctor dost hai kya?  
Jaggu: Haan ek ladka hai jisse mere maa baap mere shaddi ke liye dekh rahe hain. He liked my profile twice on shaadi.com and created 3 Tinder accounts just ki match ho jae. [Sigh… got away from a creep]  
PK becomes sad and looks at Jaggu   
Jaggu: Humko uska dimag chahiye wo nahi. [We need his brain, not him]
P.K: To kya karein?  
Jaggu: Wait and watch!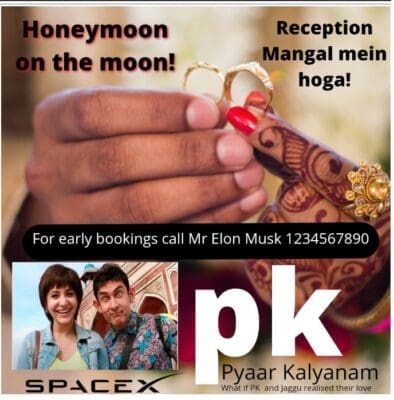 Scene 4  
The scene starts off with Jaggu sitting nervously in a cafe. Dr Gajodhar enters the scene and instantly waves at Jaggu, who wants to run out.    
Gajodhar: [Looking at his phone to read out a pickup line]: Hey Jagg, are you Appendix I don`t know what you do or how you work, but I feel I should take you out.
 [Try this at your own risk.]    
Jaggu: What??  
Gajodhar: Kuch nahi Mausam acha hain na? [Every icebreaker ever]  
Jaggu: It`s going to rain any minute.  
Jaggu holds her disgust and waits patiently for P.K., who has knocked out the waiter. P.K. arrives with the coffees as Gajodhar sits down.  
P.K: Sir, your coffee.  
Gajodhar: Coffee order kiya? So romantic, Jaggu. But I am very specific with my coffee. I want black coffee with whipped cream on top with Stevia dairy whitener.  
Jaggu: But I ordered this cappuccino for you Gajjo. Please drink.   
Gajodhar: Sure, Jags, you are the spice to the curry of my rice. [Damn Gajodharr!!] 
Gajodhar drinks the coffee and falls flat with P.K. and Jaggu carrying him into a lodge. P.K. holds his hand and gets all the information about becoming a doctor from Gajodhar, who was the university topper.