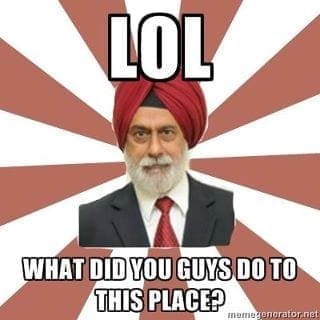 MUTV executives Monday unveiled their latest reality-TV venture, "Appointed by the Students", a new series in which contestants vie for the top spot in MIT's post revolution administration.
"Get ready, MITians, because you're about to choose the man–or woman–who will lead MIT into an exciting democratic future," said MUTV reality-programming chief Repaid Keg Men, introducing the show at a press conference. "Will it be Brigadier Dr. S.S.Pabla, leader of the ex-exiled Free Patriotic Movement? Or Captain Kulwant Singh, Ex-commander of the allied forces of MIT Hostels? Or maybe Chase Ram, the current commander of MIT Hostels, with big dreams and an even bigger heart? Tune in daily at 9 to see."
Describing the new show as "Superstar meets the reconstruction of MIT," Repaid Keg Men said Appointed By The students will feature contestants squaring off in a variety of challenges, including a democracy quiz, a talent competition, and college-building activities that will demonstrate their ability to lead a vandalised, voice-ravaged south Indian college.
A panel of celebrity judges will help eliminate two contestants each week, leaving one lucky winner the undisputed director of MIT at the end of the season. Viewers can participate by casting phone-in votes, although Repaid Keg Men noted that voting is restricted to calls originating from within MIT.
Gag KrumKum (after resigning) will host the show under the auspices of the campus patrol. The three celebrity judges, Repaid Keg Men said, will be choreographer and former recording artist R.K.Hasmukh, internationally renowned hairstylist Towel Khan, and television star Rahul.
Audience members eagerly await the start of a live taping of Appointed By The Students.
"They really get into it," Repaid Keg Men said. "Just wait until you see the fur fly between Pabla and Kullu."
MUTV entertainment president Mr. Luview said the network was inspired to create the show after witnessing its news division's ratings success over the past few months.
"MUTV did such huge numbers with its recent events coverage, we figured, 'Why not find a way to keep this good thing going?'" Dakhalo said. "I'm confident that our loyal MUTV News viewers will find that reinstating can be just as thrilling as resignation."
The first episode has already been taped in front of a live studio audience, though results will remain classified until airtime. The winner of Appointed By The Students will be sworn in as Director of MIT on April 1st in a gala two-hour season finale broadcast live from the Quadrangle.
According to Mr. Luview, MUTV received more than 3,000 applicants for the show during an open casting call. While most of the hopefuls were MITians, some 600 aspiring directors from more than 100 colleges auditioned for the coveted 20 finalist spots. Contestants included an IIPM reject, a Southern inner-city schoolteacher, a fighter from the University of Lovely Punjab and MIT's very own TimmyAnna & OM Xerox Akka!
At a briefing Monday, the Chancellor gave his blessing to Appointed By the Students.
"It is great that MUTV will play a vital role in post-revolution MIT," Dharamdas said. "Heck, we didn't really know what we were going to do."
P.S: All the facts in this article are made up! But you already knew that didn't you?