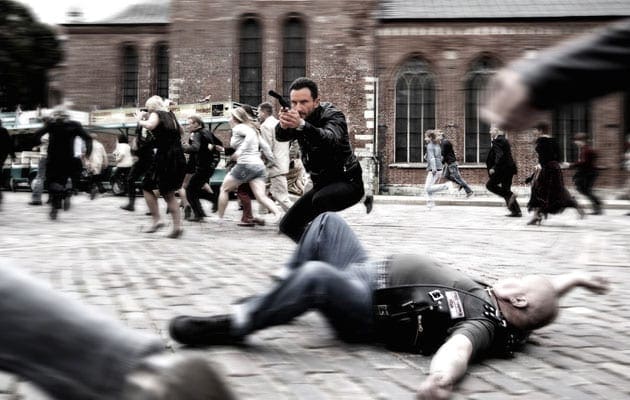 Cast: Saif Ali Khan, Kareena Kapoor, Prem Chopra, Ram Kapoor, Gulshan Grover
Directed by Sriram Raghavan
The best way to diffuse a bum is through butt crunches. Unless one is referring to the Hinglisized word for a bomb. – Kunal Guha's movie review of Agent Vinod
This in a couple of sentences sums up Agent Vinod! A cheap imitation of many a Hollywood movie of the past few years.
What you expect a spy thriller from Sriram Raghavan of the Johnny Gaddar fame is something similar if not better than his début movie, however it is the exact anti-thesis of a spy thriller. The moment it started to play a hindi song in Russian night club, I knew it – this is not going to be !
Agent Vinod starts well, the action scenes are nicely done, but then the build up to the plot slows down and loses the viewer's interest. The one-liners that were promoted in the trailers,are too few and too far apart and that further locks out the viewers. Half an hour in to the movie, I started checking the time and was wondering why there was no interval yet! The editing or lack of, is a big negative point for the movie, there are a few scenes that are long drawn up and needn't have been there in the first place. These scenes unnecessarily add up to the length of  the movie! 2 Hours and 40 minutes for a thriller? I would go for an IPL game anytime!
The movie is well produced though and that is the only plus point in the entire movie. The story though is another matter! The camera goes globe-trotting from obscure locations in the popular countries, to places like Somalia and this kills the interest of the audience as the scenes are very poorly inter-linked.
Saif and Kareena together, reminded me more of Angelina Jolie and Brad Pitt in Mr.&Mrs. Smith – jaded and without chemistry. In trying to be suave and sophisticated, Saif has forgotten to show any expressions on his face! And the less said about Kareena the better, her Mujra in the movie appears to be an android dance straight from the sets of a Sci-Fi movie of the late 70's!
Agent Vinod runs around aimlessly with a collection of goofy premises. But that would have been fine had the film completely devoted itself to being a tacky tongue in cheek garish comedy thriller the way the 1970's film of the same name was. Unfortunately this film seems like an unappetizing byproduct oozing out of a blender stuffed with Sunny Deol's Hero: The Love Story of a Spy, Anubhav Sinha's Dus and Akshay Kumar's Mr Bond.
"Agent Vinod" is everything that you wouldn't want an agent to be like. Summarizing the movie as a cheap and disturbing imitation of the Hollywood spy thrillers would be an understatement.
Save your time and energy by involving yourself in more productive activities like finding out whether the egg should be given the credit for bringing the chicken into this world or not.
I give it a rating of 1/5.