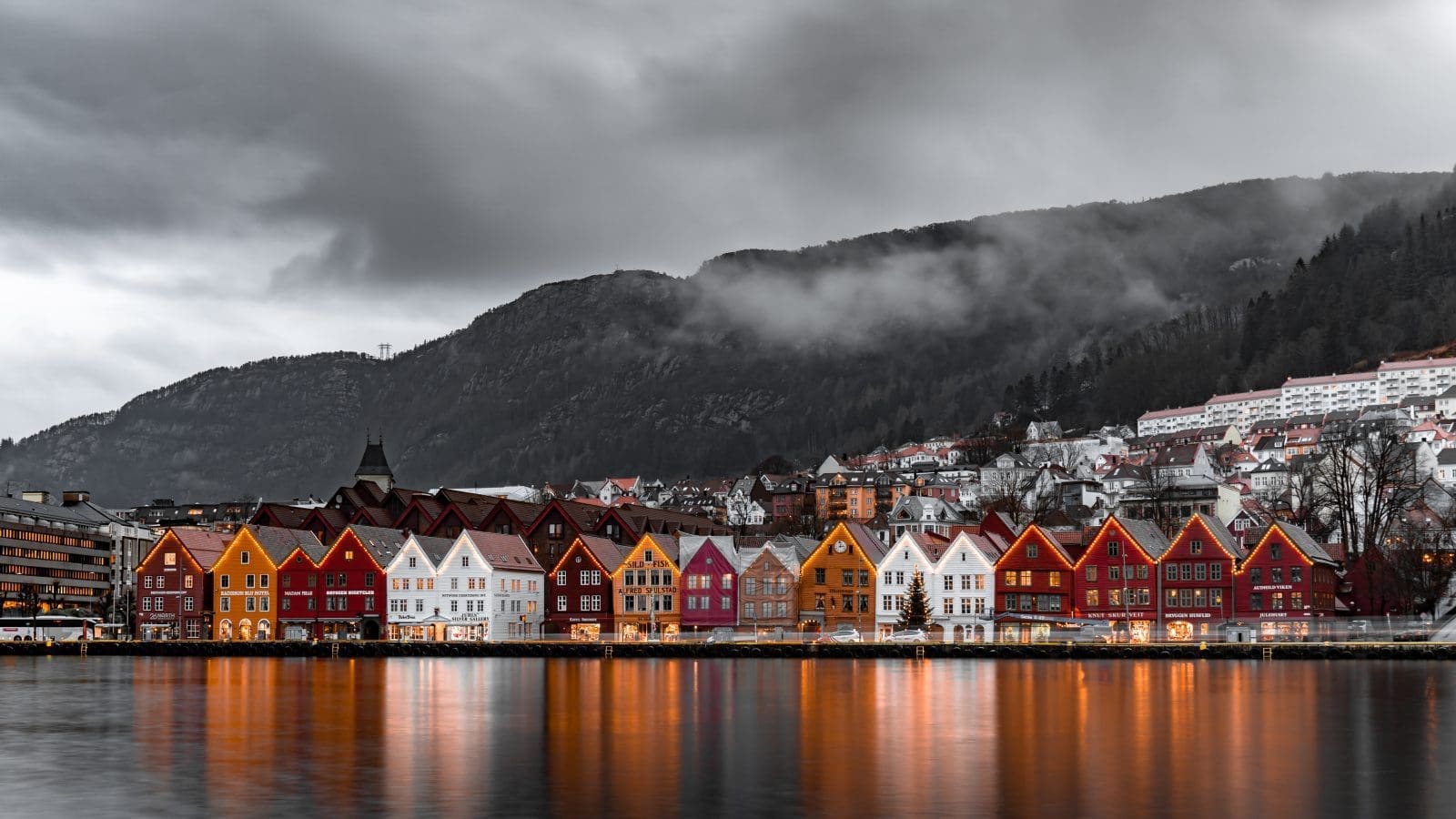 According to the World Happiness Report compiled by the United Nations back in 2013, Norway was ranked as the second happiest country across the world. Norway has been drawing the attention of travelers and explorers all over the world due to its beautiful landscapes and a clean and untouched environment.
Norway gained its popularity after the movie Frozen was acted there. And this has increased travels and bookings in Norway by approximately 40%.  Since you are reading this article, you are probably thinking about visiting Norway very soon. Today, we are going to share with you the top eighteen places that you need to visit while in Norway. Let's get started!
01. Alesund
Alesund is a thriving town that has been scattered over several islands on the west coast of Norway. The majority of people in this town do fishing. The town had a devastating fire incident back in 1904. A few years later, it was rebuilt in a colorful Nouveau style. I think it's one of the best places to visit during your stay in Norway due to its vibrant culture, amazing view from Mount Aksla and tons of shopping opportunities. Alesund offers the best environment.
02. Lofoten Islands
The beautiful and untouched archipelago is one of the best natural places to visit in Norway. Although most of the islands are located within the Arctic Circle, they all have a warm temperature thanks to the Gulf Stream.
It is a stunning traditional place where people live simple lives and tourism is at a minimum. Most people visit these islands to watch whales and other spectacular scenes. You can rent out the comfy fisherman's cabins which are surrounded by water and stunning landscapes.
03. Oslo
Oslo, Norway's capital is a beautiful and one of the most popular places not only in Norway but also in the world. You can argue that Oslo is expensive and it's the home to some of the world's most famous attractions.
However, Oslo is a sparkling clean city that is naturally laid back and surrounded by beautiful acres of woodland. The architecture mixes the old and the new in a beautiful way. The city is home to some of the best museums in the world such as the National Gallery which houses a painting of the famous Edvard Munch.
04. Skudeneshavn
Skudeneshavn is Norway's most preserved sailing ship. It is located in the southern areas of the island of Karmoy. It is a port that has been thriving since the 19th century and this makes it one of the best places to visit while in Norway. It is a lovely town full of wooden houses, café, galleries and narrow roads.
05. Fjords
Fjords are on the bucket list of most travelers across the world because it's one of the most stunning landscapes Europe and a top attraction site across the country and the world. The valleys are surrounded by waterfalls and mountains which make the area quite captivating. The area is close to Jostedalbreen glacier which is one of the largest ice sheets in the world.
06. Bergen
Bergen is a beautiful and chilly city that inspired the fictional animation Frozen. The captivating city is one of the most beautiful cities to visit in Norway. It has colorful medieval buildings, timber houses and churches. The relaxed environment makes it ideal for museums, cafes and independent stores.
07. Fredrikstad
Norway has three fortress towns and Fredrikstad is one of the prettiest and most preserved towns in Scandinavia. The old town has an amazing mix of antique shops and traditional stores which are all framed within the stunning fortress walls. The fortress's exterior has a picture-postcard village with a cathedral that contains the works Emanuel Vigeland.
08. Jotunheimen National Park
According to rush essay writers, this national park boasts the largest concentration of centrally located mountains in Norway. The mountains. This park attracts hikers, climbers, alpine skiers and cyclists all over Europe because of the high peaks. You can also expect to see a wide range of wild animals which include fox, wolverines, mink and fox to name a few.
09. Svalbard
If you love beautiful untouched landscapes, you will definitely love the archipelago Svalbard. It is located between the Arctic Ocean, Norwegian Sea, Barents Sea and the Greenland Sea. It as It is a mysterious place that is filled with pristine glaciers and craggy mountains.
`In fact, it is one of the most permanently inhabited spots in the world however, approximately three thousand people live here. Svalbard is an ideal destination for spotting with a wide variety of wild animals` – says Dilan Audley, the travel expert at HR software.
10. Reine
Reine is a fishing village located at the mouth of Reinefjord towards the western side of Lofoten. In this mountainous region, you'll find local fishermen relaxing while trying to trap fish in the oceans. If you love kayaking, this is one of the best places to visit.
11. Mjelle beach
Mjelle Beach is a paradise that welcomes you with the fresh air of seaweed and seawater. The beach is one of the best places for photographers because of its natural scenery. The beach is a few minutes' drives from Bodo town and the locals will be more than happy to help you out.
12. Rondane National Park
If you love adventure, Rondane National Park is a perfect place for you. The mountain ranges are ideal for hiking, skiing and climbing all year round. Rondane is one of the oldest National Parks in Norway.
13. Trondheim
Trondheim is the third-largest city in Norway. In fact, it was the capital of Norway some time back. There are several landmarks that you should try out when you visit the area. They include the robust Kristiansten Fortress and the medieval Nidaros Cathedral.
14. Flam
Flam is a beautiful village located in Fjords. It is one of the best places to explore in Norway. It is home to several museums that highlight the city's history. As a visitor, you'll be able to explore the journey with the Flam Railway which will help you see the city in ways that walking can't.
15. Stavanger
Stavanger is a city located towards the southwest of Norway. It is an attractive area and home to the 10th century Stavanger Cathedral and beautiful houses. Stavanger has breathtaking surroundings with white beaches and mountains.
16. Nigardsbreen Glacier
Nigardsbreen is a natural wonder with experienced guides who will be more than happy to show you and your children around. You can gaze into the ice closely and get into one of the most spectacular realities. You'll get the chance to walk on an ice structure encompassing a large area.
17. Femundsmarka national park
Femundsmarka is one of the largest and stunning areas in Norway. This destination has miles of land waiting for you to explore. It is also a great spot for fishing and canoeing. It's one of the best spots for hiking, relaxing and self-discovery.
18. Solund
Solund is an amazing place to explore in Norway. At the moment, it has about two thousand islands with boats that you can hop into to get to the place you want. Solund is a great place for kayaking, boating and fishing.
Conclusion
The extensive transport infrastructure in Norway makes it easy for you to get into Norway using trains, ferries, buses or airplanes. If you are thinking of going for a vacation, Norway is the perfect place for you.
About the Author: Kurt Walker has been working as an editor and a copywriter at Brill Assignment in London for 3 years. He is also offering thesis help and assignment help. Kurt loves writing and is a professional content writer and journalist in topics such as inspiration, productivity, education, and technologies.