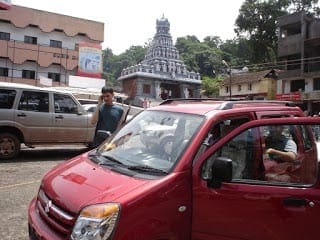 Theme: I was about to cross the road when
I was about to cross the road when, I heard "Excuse Me" from somebody behind me. I turned back and found two girls fashionably dressed. "Do you study in this college?" asked one of them. She was dressed in a white kurta and had a lively face. I would not call it beautiful.
"Yes" I replied.
"Then can you do me one favor? Can you buy the prospectus for this college as I have heard it is cheap for those already studying here?" She said.
I did not know what to say as I was not prepared for this type of request. I was in a hurry to go to a movie with my friend and going back to the college, standing in the queue and buying the prospectus would delay matters.
Seeing my hesitation, she said "Please, we wish to join this college for MBA and would like to submit the application form. Today is the last day, you see".
Waiting till the last day was one thing. And spoiling somebody's' movie program was yet another.
I came back after 15 minutes and handed over the prospectus to her.
"Thanks a lot", she said with genuine enthusiasm. She seemed really glad and at that moment I did not regret that I couldn't go for the movie.
"Is this college good"? She asked.
"Ya good. We have very good facilities here." I answered.
"How are the placements here"?
"Good. We had 100% placements this year".
"Do you have a canteen?"
"Yes"
"Is the food good?"
"Yes"
"Do they serve healthy food?"
"Yes"
"Did anybody have a problem eating that food?"
"No. Not that I know of."
"Are the toilets clean? Do they clean regularly?"
The 'toilet' part was my addition. But she was quite capable of asking that question.
I did not know her name until then. She was Priya. And even I forgot to tell my name. I am Deepak.
"Can I have your mail ID or your mobile number"?
I hesitated for some time. I was not used to sharing numbers with the girls I knew well, leave alone strangers.
Stranger..she somehow did not seem a stranger to me, although she was.
I shared my mail ID.
"If I have any questions, I will mail you", she said.
I smiled. I knew she will have many questions.
I could not go to the movie that day. I got a mail from her the next day. There were questions. And more questions. She added me in her Yahoo communicator and we started chatting.
She was annoying and caring at the same time. She was child-like. She had great maturity. She irritated you. She charmed you. She had 'magnetism' and anybody who knew her invariably fell in her spell. And I was no exception. I only denied the reality.
A change had come over me. I was not able to concentrate on my studies. I had always been a topper and never had this happened to me. I was not myself.
I DID NOT LIKE IT.
The next few days I avoided connecting to the internet. I tried studying hard. I spent most of the time in the library. But just couldn't concentrate. What had come over me?
My best friend, who was with me the day I met Priya suggested that I was in love with her.
I waved him off saying that we were just friends. Of course she was just a friend, somebody whom I knew for just two months now. How could anybody fall in love with somebody whom you knew for just two months? I did not know anything about her. I did not even remember her face well.
Days went by and I got selected for TCS for Mumbai location. It was my last day in college when I saw Priya again. She joined our college.
"Heyy how are you doing"? she almost exclaimed to me. Anything and everything excited her.
"Good. So you have joined the college. When are you giving a treat"? I asked her.
"Now, let's go" she said.
The canteen was a few yards away and I kept walking beside her. I did not know why but I found myself looking keenly at her face. Immediately I felt embarrassed and turned away. What if she caught me staring at her? It was something I couldn't explain.
It was not a beautiful face. But I found it beautiful now. At the canteen we ordered coffee and sat at a corner table. It was about 12 noon and the canteen was not crowded. She seemed to be enjoying her coffee with a "Mmm" very often.
I had to make a decision. If not now, then maybe never. My gut feeling told me that it was going to be 'THE DECISION' of my life. And I knew I was right. No, I felt I was right. I shut down my rational mind and allowed my heart to take over. As I was searching for words to convey my feeling, Priya sensed the discomfort in me and asked me
"Deepak, what are you thinking about"?
I thought of a thousand things to say. But my mind just went blank. Finally, my practical side took over.
"Priya.."
"Yes Deepak?"
"Will you marry me"?
If I said she was shocked, I was understating.
"Well.."
"This is all too sudden. I have never had such feelings for you.."
"No Deepak, this cannot happen"
If there were anybody else in her place, they would have said "I need some time to think over"
But this was not just anybody. This was Priya. The arrogant, embarrassingly straight forward Priya. Maybe that was the reason I had loved her so much.
I left after completing my food. I did not feel embarrassed or rejected. I felt vacant. I felt something missing. The 'life' she added to life. I felt as if a vital organ were taken away from my body.
I joined TCS, Mumbai. I took things practically and went about my work. No. Life is not a fairy tale where only the right things happen at the end. I went about my work alright, but it took a lot of effort. I had always this question in mind "Why did she reject me? I was always a topper. I had a good job. I was not a play boy, falling behind girls. I neither smoked nor drank alcohol"
And she knew all this.
It was July 25th. Her birthday. I called her. Her mother lifted the phone and gave it to her.
"Hello" She said.
"Hello" I said.
She was silent for some time. Neither of us spoke.
"Happy Birthday" I said.
"Thanks" she replied.
There was some bitterness in her voice as if she were crying.
"So tell me, how are you?"I asked, just to keep the conversation going.
"Good" I got the answer after sometime.
"Where have you been all these days?"
"What happened to you?"
"No call. No mail."
"You didn't even leave a number for me to call back".
She was in sobs by then and made no attempt to control her tears.
It was as if she was pouring out all the feelings that were suppressed for so long.
"I am in Mumbai. Joined TCS", I said.
"But why didn't you call back"?
"I was a bit busy. Anyways what happened"?
"I was worried like hell…."
"Why"? I asked
There was a silence for so long. She was breathing very hard. I could hear it. Probably she was in a struggle with her pride and her true feeling.
"Why Priya"? I asked, this time with mock concern.
"How does it matter to you as to what happens to me"? I asked her.
After a very long time, she said those three words for which I could have given up anything in the world.
"Because I love you" she said with finality.
June 2nd 2005
"Am I looking fat in this dress?" Priya asked for the 50th time that day.
I sighed and rolled my eyes.
"Ok, ok, let's go" she said.
We got wed at St. Patrick Church at 11.21 a.m that day. If I said that we have lived happily ever after, you know I would be lying.
We had our constant fights over paying the bills, giving clothes to laundry and even about who would switch off the light in the night. But yes, we have some real great security that no matter how much ever we fight, it can never get serious.