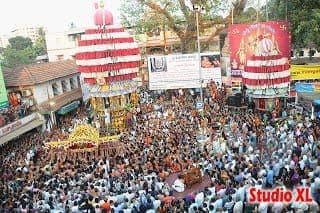 All Photos with the StudioXL watermark courtesy मन्जु नीरॆश्वाल्य and Mukesh Kini. Rest are from our personal files. Enjoy.
A beautiful composition of the Abhishekham of Lord Veer Venkatesh, the presideing deity of the Sri Venkataramana Temple , Mangalore. The Abhishekham is a traditional ritual of Bathing the gods, prior to performing any offerings.
Prior to the ascenscion on to the chariot (teru/car) pradakshine (circumlocution) is performed. This is paying respect to the seat (asana), where the lord is to be placed.
All devotees partake of the meal on all five days of the car festival. There is a rich feast, with many varieties of cooked rice, veggies, sweets and many types of bhajjis. Almost 3000 devotees are fed daily for each of the five days of the festivities. The numbers increase on the day of the bigger car festival.
Children love the festivities everywhere around the world. Here a young girl is enjoying being the center of all eyes, sitting next to a silver idol of Hanuman, being taken out in a procession.
The sea of Humanity witnessing the pradakshine prior to the ascension on to the chariot. People from all over the world visit the festivities, which is not restricted only to the Gowda Saraswat Brahmans or Hindus. People from all walks of life take part.
Huge caricatures/dummies mark the traditional festivities. These are called the Tattirayas (Bamboo/Coir Kings) or Kaladka bombes. As a child I was very much fascinated by them and scared too 🙂
All devotees rush forward to help lift the palanquin carrying the idols of Shri Srinivasa and Shri Veera Venkatesha prior to Ratharohana (Ascension into the chariot). The fervour of the devotees is to be seen to be believed!!
Everyone wants to pull the chariot. Children are allowed to pull only under guidance.
There is a lively band performing on all utsava nights. They play various religious songs and traditional bhajans.
Devotees pray to the lord as he is taken up the chariot and placed in one of the Rathas or Terus for the night.
A beautiful image of the alankara for the lord.
Another image of the decorations around the idol. Flowers and Gold !!
Prior to the chariot being pulled, final touches are applied to the lord's alankara and everything is made ready for his procession along the car street.
A head on view. This was taken prior to the Ratharohana.
An up he goes!!
Prior to the Car Procession, the temple idols are taken around in a silver palanquin daily for 3 days.
The Kodial Saan Teru
The young and the old, all witness the fervour surrounding the festivities.