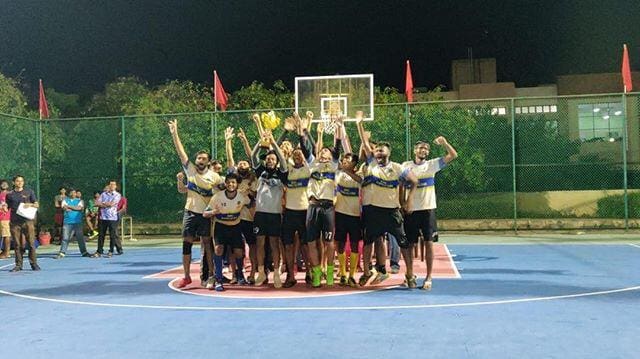 Shreya Srivastava | Staff Blogger
It would be an agreeable task to open this article with the utterly harrowing description of the spike of adrenaline in the blood that if not controlled makes the heart whimper like a piece of staunch silver oak cork on a bottle of champagne that anticipates its flight into the rest of the world.
This article is about SPANDAN (which literally translates to thrashing, beating or simply vibrating in one to multi-dimensional motion), organised by JIPMER, Pondicherry, held from the 26th of August to the 2nd of September which was an inter-collegiate event that compered sports and cultural competitions in its wake. It was an event as massive as the projectile of a Punjabi aunty's paw that is launched in sweet assertation for KMC Mangalore because it saw the gargling victory of all netty (not that toilet) sports, hysterical cultural events and some late-night drinking by the picturesque beaches of Pondicherry.
The men's football team in the words of the great Wodehouse became a plunderer of gold in the class of Californian miners and possibly Genghis Khan. Captain Elmer Rodrigues, to whom much of the victory was allocated, said in a personal interview that—"Practice for Spandan was a little more intense compared to what we used to do before. It was not just about running rounds and drills anymore, it involved various sequences and transitions that worked out well for us in Pondi. We focused on teamplay and synchronisation. It's better to have 1 team instead of having 11 talented individuals playing together.
 You cannot be an athlete and not be fit. There was no workout routine as such but there was not a single day that the team did not practice irrespective of the conditions. Consistency is the key and also not drinking throughout the tournament already gives you an upper hand cause the other teams already have!"
The women's basketball team, which is basically a cluster of outrageously attractive and appallingly talented madams, brought home the silver egged on by the beautiful team captain, Mridula Sharma. These outstanding women with defined airs of quiet efficiency dunked several balls and stole hearts in Pondicherry. Aishwarya, who is known for gliding like an eagle across the court all the while dribbling the orange ball in her commanding wake told us a few key facets of their training program. "We practiced every day from 5:20 to 7:30 in July and August. Initially it was focused on improving individual skills and later on moves as a team. We looked up drills on YouTube and included them in our practice. We mastered new moves such as off the ball screens. Personally, I tried learning the euro step and playing low post. Warm up included 10 laps of jogging around the court, followed by exercises. We worked on our passes, defence shuffle, dribbling, lay ups and shooting, following which we practised our moves. The routine ended with multiple exercises for the abdominal muscles and stretching." They also danced to Tamil and Punjabi songs before the workout that helped them stay at ease.
Madhavi whose badass skills at baddy stunned numerous onlookers said that— "Practice was pretty hard, we drilled twice a day. We had to work on our quadriceps and calf muscles. Also, what happens in Spandan, stays in Spandan." Beach banter that couldn't beat the high winds and sail back to Mangalore included drunken dancing, crazy stalking of the other gender (of much importance in the animal world), secret betrothals, clean bowling and siyappa in general!

Overall, every squad including the volleyball, the table tennis and the throw ball teams played with the essence of sport and liveliness that SPANDAN (the thrashing of the fluttery beast of the mediastinum) instilled in them. It brought laurels and accolades to the name of our college, adventures and memories for students to carry in their hearts forever.
with key inputs from Aishwarya, the Basketball Team, Madhavi, Rachel and Elmer