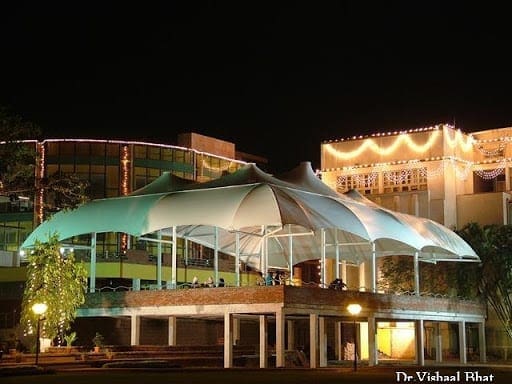 Manipal is never a dull and boring place. The place is usually buzzing with activity and this week wasn't any different. This was the week leading to the grand Convocation and the place was lit up in an extremely beautiful, though environment-unfriendly way.
Food Court Manipal
The Tent shaped dome of the food court defines the Malaysian student presence at the Campus. It houses a dining mess and has various food chains holding court inside the building.
Magnificient eh?
Isn't this a magnificent picture? The old heritage building next to the Biochemistry block was lit up beautifully. It is also called the Hening Botham building and presently houses a book store. the lighting on the trees have transformed the site beautifully. I was pleased that the picture came out so beautifully.
Inspiring Life
This is at the KMC Greens. On other occasions this looks like just another structure without any significance. But this week as it was all lit up, it appeared as though, the sun rays were beaming onto the onlookers and carrying out the propaganda of Inspiring life.
Finally there were fireworks at the end of the convocation function and a new batch of Doctors were sent out into the world to hopefully alleviate the pains of their fellow human beings. God Bless…