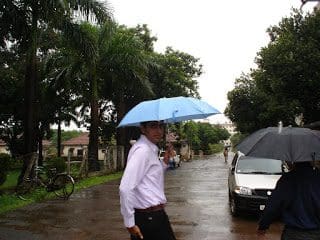 The Monsoon has started bombarding Manipal. It's highly unpredictable. Sometimes it just gives a sweet KISS and goes away and more often tries hard to perforate the umbrellas and raincoats and even the skin (Okay! That's taking it a bit far) !!
So those who want to test their Raymond shirts and Rayban sunglasses and Woodlands shoes are welcome here!! Though I'm enjoying it since I've never experienced it in my hot hometown of Ahmedabad.


Just today I enjoyed a heavy bout of rainfall while returning from The Department. Infact it played games with me. Stopped immediately after I reached the Hostel as if knowing that i didn't take bath today morning!!
There is a beautiful place in the campus known as Endpoint. My next post will bring to you the details of it.