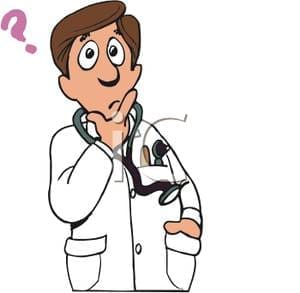 3rd floor! General Male ward. Attavar Hospital. 9:25 AM. There I was, in front of bed no. 4 with stethoscope hanging on my shoulder, the 'medicine kit' consisting of knee hammer, tuning forks , measuring tape, etc  in my apron's  huge pockets, clinical medicine book, and a tiny Kannada translation book, trying to start the conversation. "Nimage hesaru enu?", I asked the lean life in front of me.
"Venuappa "
"vyasa?"
"_____"
"okay! Relax chill, skip it for now, you can figure it out in the end", my mind reassured me, "umm,  anna nimage enu thondare?".
"____ jwara___kemmu________"
Okay! so he had fever and cough, that's the only word I actually understood in the whole story which he recited out at that moment; "jwara and kemmu…estu samaya?"
"____" –well that was totally Greek and Latin!
Now trying to get that number counted on my fingers, okay, 1. no.. okay 5; since 5days and okay 2! Yeah! Finally got it! Chief complaints-fever since 5 days and cough since 2 days- Feels like a battle won.
While underlining the next subheading in my notebook-"History of presenting illness", one part of my motor cortex whispered,"Dude what now, there's a lot to ask?" While the other side encouraged me, "Chill, see the subheadings and try; its simple". "jwara…aa….jaastiiiii from the starting or like….kammi…umm" –(actually I was trying to ask if the fever was like high from the beginning or did it gradually increase in these five days meaning to find out whether sudden or insidious in onset). The patient had that perplexed stare while trying to figure out those half-questions. I couldn't handle it, just then my partner, next to me, took over the awkward situation and she started explaining along with actions, "jwaraa kami kammi then jassttii in 5 days or jaasttii on the first day?" Maybe he understood something then and he said "jaasti", finally yes fever sudden in onset. His wife was constantly staring and grinning at both of us. We like helpless creatures, were hunting through the pages of those tiny 'kannada book' in order to find and ask a meaningful question so that we don't
appear more stupid and brainsick in front of them but in vain.
Well this was the story of my first day of medicine postings when we were allotted the respective beds for everyday checkup of our patients. My group of 7 people back then, had no localite or Kannadiga to help us with the translation during the case-taking. Actually even in a span of around 20 students around my serial no. taken together, there are no Kannadigas (such a funny coincidence).
Language being the biggest barrier here, people like me make a fool of themselves infront of the patients. Our so called 'fishy kannada' is like a live entertainment show that everyone enjoys even without popcorn. Yes it took around 20 mins to complete just the 'HOPI' part of the history. But anyway everyday is a challenge and we have to face it, be it like an action hero or a comedian. Just then, in the midst of such terrible hopelessness, my joy knew no bounds when a 'Hindi-speaking patient' was admitted one day on my allotted bed. Oh yes! Finally someone with whom I can communicate well. All 7 of us, crowded around him and talked like some long lost friend, even he had a beaming smile over his face while he told us all about himself. It was then that I realized that unless you and your patient are comfortable with each other there's no point in struggling through to know his problem.
Being in the medical profession, one has to learn to communicate well, and yes for that there can't be an excuse like the language. My present condition lies still on the same track as last year's. Not that I never tried, each of us tried to learn the language but South India is a place where you need to know more than one language. Attavar has patients speaking a variety of languages-Kannada, Tulu, Konkani and Malyalam. Even if Kannada is somewhat familiar to us now, we have that blank looks each time we encounter any Malyalam or Konkani patient. Here I am still wondering about the language barrier that I have to overcome. 1 year over and feels like I am standing on the same point as last year, perhaps because 4th semester postings were manageable.
The major concern is the upcoming 5th semester medicine and surgery postings that demand attention and sincerity from our side. As far as my present medicine group is concerned, all five of us are back to square one with the "jwara…kami kami jaastttii or jaasttiii  jaasti ". Our language learning process is still in progress and anyway, the wards are all set for another fun-filled comedy show this September, this time as seniors! 😉
Send me all your comments and contributions at [email protected] or [email protected] 🙂