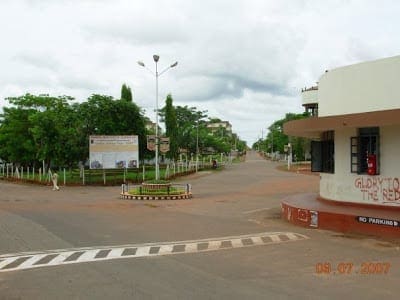 These pics courtesy the Kamath Circle page on Facebook.
Addendum and Errata:

The Holi Celebration pictures are from the blog "Tobi Goes India". Please pardon us for not identifying the correct source. We blindly added these images from the Kamath Circle page on Facebook, without verifying the original source. Please have a look in the comments section why we are clarifying this point.
Kamath circle is named after the honorary director of Manipal Institute of Communication and Ex-chairman Prasar Bharati, Doordarshan.
Kamath Circle in the Manipal Institute of Technlogy Campus – Circa 2007
This Picture is so nostalgic. There is no wall and looks so deserted!! Bikes and automobiles were still allowed and it used to be so much fun!!

Kamath Circle Part Deux- MIT Circa 2007
And this is the approach road to Kamath Circle in the Golden Jubilee year of Manipal Institute of Technology!! Can we such deserted roads today!!
Stationary Shop, 5th Block, 6th Block as seen from the Kamath Circle – This is in July 2009!
The Monsoons in Manipal lend a romantic touch to the ever favourite haunt of the MIT student!!
K.C. – Once Upon a Time!!
Most of the present batch might find it difficult to identify with this picture. This is what K.C as it is called, looked like before Deewar came up!!
And let the Celebrations Begin
This is how Manipal celebrates the festival of colours! Imagine if all the students come together, the hues and colours would create an awesome image!!
Kya Senior, Kya Junior!!
The festival of colour is the right time to blend in with the crowd!! Awesome scenes at Kamath Circle Manipal!!
See someone you know??
And this is how it ends!!
Girls are obviously exempt from this phenomenon unique to the Manipal Institute of Technology campus!! After the celebration of the festival, the high electricity wires are were the garments of the unfortunate male members end up on!!
This video gives an idea of the Holi celebrations!!