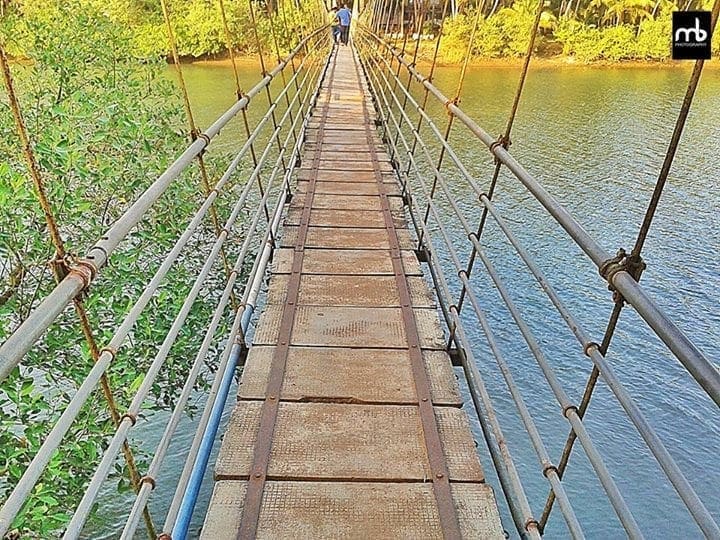 For days on end I was wondering where I should take my girlfriend on a Valentine's date and frankly, I was not in the mood for dining at some fancy place, everybody does that! I wished for some time alone, somewhere we could spend time and admire scenic beauty. Yes, I wanted a picnic. And after some research, I chanced upon a name: The Hanging Bridge. 'That's it!', I exclaimed and with the zeal of light adventure tingling inside, we boarded the bus to Kemmannu from Udipi. It took us a bus ride and a 20 minute trek from where the bus dropped us off to get there, and there it was…
The Hanging Bridge, as you might have guessed it, is a suspension bridge which connectsPadukudru toThimmannakudru villages(nearKemmannu) over the meandering backwaters of the river Suvarna and the Arabian Sea. It looks ever so elegant when one sees it from a distance against the beautiful backdrop of palm trees, forest cover and the traversing waters; but crossing it is really something different. It creaks and crackles when you get on it, not to mention it sways,yaws and heaves as you walk forward. But, that is the beauty of old suspension bridges. If it was your adventurous spirit that got you here, your fear should start to shed away as you gain confidence in the steel ropes which bear the weight of the bridge. Although, if you get a little too enthusiastic and try to test the limits of the bridge, its your risk.
Now, you might say: 'Why should I travel so far just to cross a bridge and come back?'. The Hanging Bridge isn't all about the bridge. When you go there and take a look around, I'm sure you shall be struck at awe with the beauty that surrounds you. The area around the bridge has many small islands (kudrus as they are locally called) and the water flowing around them, encircling them, creates a really amazing landscape. There are many interesting spots around there which you can discover and once you find a spot you like most, its funny how time flies by!
I suggest you go there early evening and notice the moods of nature as dusk settles in.