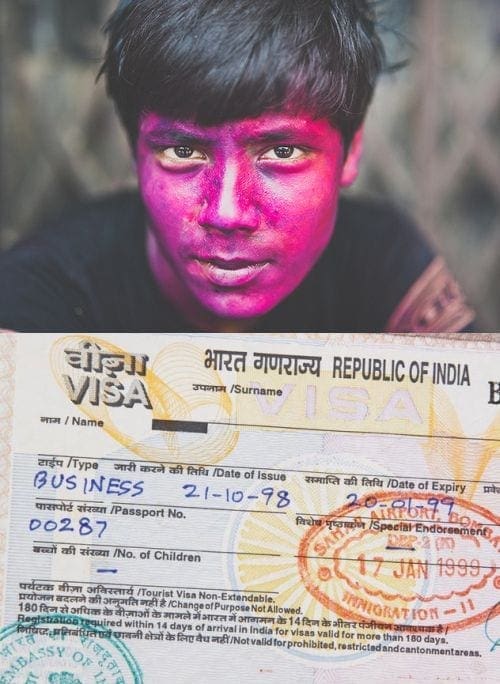 "The photo does not match your face, specially the skin color. are you brown or pink" said the immigration officer.
"I would like to explain Holi to you", said I.
"Holi is a religious Hindu festival played on a day determined by the moon movements indicating the start of summer and a day when Holika burned, saving Prahlad. Since the Holi day changes every year, Holika must have burned on different days in the past."
I already see a glazed look in the officer's eyes.
"Why are you pink in the photo", he asks.
"I know it is confusing but in India we celebrate the festival of colors to welcome summer", I said
"Oh, then it must mean that in India, you would have had a long cold winter, and people are happy that it is finally over", he said as if he understood the idea behind Holi,
"No, there is no winter in India. We only have one season, summer". I said.
The glazed look came back.
"So you celebrate Holi day to welcome summer which was always there anyways.", he said.
"Yes, you got it. And since all of us are also confused about the real reason for celebrating Holi, we declare a holiday on Holi day", I clarified.
"Why declare holiday on Holi day. Once Holi day is declared, it is Holi day, why declare holiday again?, he said getting even more confused.
"Why are you pink in the photo, you have not even begun to explain that", he asked showing anger.
"The reason I am pink, is that on the holiday for Holi day, we play with beer and colors. Since it is quite unnatural for anyone to enjoy putting colors on their faces, we tend to get drunk before Holi celebrations begin. Beer, bhang and high sugar content drinks help in getting drunk. I must have been drunk when somebody painted me pink", I explained.
"What is Bhang", he asked
"Bhang is a funny thing. You put it in cold milk and suddenly you become happy.", I said.
"Do you have to drink the milk", he asked.
"No, just the idea that there is bhang, makes people become happy. In fact, this year, I fooled everyone into thinking there is Bhang". Saved some money.", I said.
"How expensive is Bhang. I want some." he said.
I ignored his request. Our conversation continued for some more time. Next time onwards visa before Holi or no Holi. But both require tremendous planning and self-control. I, planning, self-control have not gone out since I was two days old.
Happy Holi.
About the Author: Ashwini Mathur is a resident of Hyderabad. In the past he has worked at GSK Pharmaceuticals as a Senior General Manager and at Novartis after that. He has a Master's degree in Mathematics from IIT Delhi, a PhD in bio-statistics from University and College Berkeley, California and an executive MBA from IIM Bangalore.