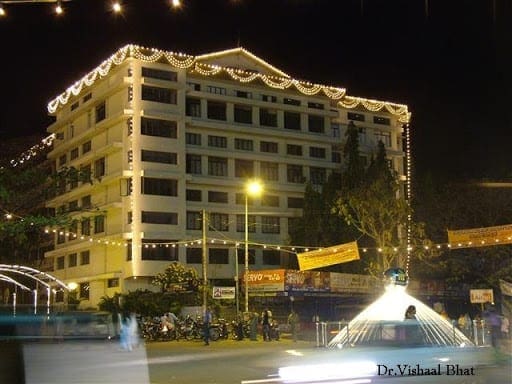 The University convocation was held last evening and the days prior to it the whole campus was lit up and wore a festive look. I captured a few pictures using my trusted digicam and these are some of the photographs.View from Tiger circle of the KMC office building.
The grand function was held last night but the preparations began almost a week ago. New paint was applied and electric lamps were draped over the buildings. A lot of cleaning was done. After all this is an opportunity to impress the parents of prospective students.
Welcome Ye.. to the hallowed lands of Manipal
The archway at the main entrance to the college was lit up and one felt as though the lights were embracing him and egging us on. Diwali was back for a few days again, without the accompanying noise.
Light and Water Show at the Manipal Campus Entrance
With all the lighting, the fountain at the entrance to the campus looked very beautiful. The interaction between the colorful lights and the water was absolutely marvelous. Water has that effect on people and this interplay really cheered a depressed soul.
Malaysia in India?
Apparently the food court in the campus is similar to the one in Melaka, Malaysia. Probably it is to appease or pacify and create a homely atmosphere for the significant student population from Malaysia that resides in Manipal. Next to it is the Physiology block, which also houses the Pharmacology Department where I study and work.
Girls hostel manipal
Next to the Physiology Block begin the Girls Hostels' and obviously they were very well lit up. I wonder how they could sleep for the past week as the lights were simply blinding. Apparently only the girls who were facing the greens were affected 🙂
The Indira block lies adjacent to the Physiology block and is one of the largest hostels for the girls. It lies facing the Greens and was very well lit up. Apparently the girls were asked to keep the lights on in their rooms so that it would glow in the dark ;).