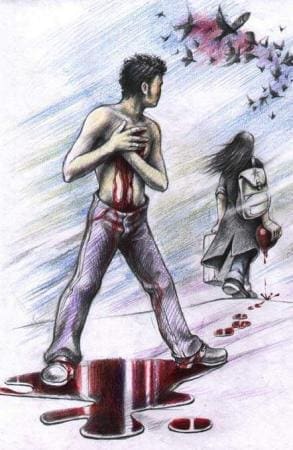 The worst part when you love someone is that when you realize that they don't love you back. Forget love they don't feel anything for you. The painful moment is when you have to accept that
They never had,
They still don't
And they never will feel the same way about you.
It's better to expect nothing from anyone and accept the fact that you're meant to be alone.
Letting someone in is easy but letting them go is like going back in time and removing them from the time you first met them till the time you felt that they would never understand you.
Why … did they make you feel that they like you and when they realize that you have fallen for them they flee? Why make you feel that way in the first place… Is it wrong to yearn for some affection? I don't want anything … but turn around at least say sorry I don't feel the same way about you.
Instead, they watch as I suffer in silence pretending to be oblivious to the fact that such feelings even exist. I choose to let it go … I never shall tell I'd rather be sorrow and silent. Bear the pain that feels like you want to rip your chest right open. I wish we never crossed paths …
I wish to forget you, but I know that I never can… the wound I bear caused by the pain you have caused has left a scar behind, too deep to fade away into oblivion."
P.S: This is a submission by one of our readers, who wishes to remain anonymous and wants to be identified only as DJ.