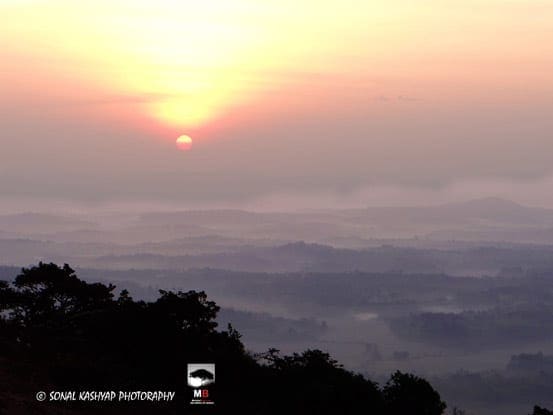 Kundadri Hills is a picturesque hill station that is not often visited by tourists. So, if one really wants to refresh the mind from a busy routine and relax, then Kundadri Hill is the best place to visit. Kundadri is located around 15kms from Agumbe and is a huge monolithic rock formation with various outgrowths.
It is about 3200 feet above sea level and surrounded by dense evergreen forest. The hill is situated in a remote area so common facilities are not available there. Kundadri Hill is famous for its 270 degrees panoramic view of the surrounding valley and for watching sunrise and sunset.  An ancient Jain temple is situated at the top of hill along with a huge pond which is full of fish throughout the year and this will leave one wondering about its presence at this height.
History:
The Jain Temple was built in the 17th century. Kundadri was named after the Jain priest, "Kundakundacharya" who is said to have performed penance here.
Kundadri offers a beautiful scenic view of sunrise where the sun can be seen rising behind the mountains and through the clouds thus presenting a visual treat.  All the clouds hover just above the trees and reflect a golden hue at sunrise and creates a mystical scene. It is a unique experience to watch clouds above the rain-forest. The chirping birds, cold breeze and the golden rays of sun mix together to create an experience which can never be forgotten.
Travelling during heavy monsoon should be avoided as roads become dangerous due to fallen trees, rock slides and thick clouds which block vision.
Route:
The best means of transport to reach Kundadri Hill is a bike/car. The road is smooth all the way from Manipal to Kundadri Hill top via Agumbe. It takes around 2 hours to reach Kundadri from Manipal.
It is preferable to leave at 2.30am. Make sure that to carry driving license and necessary papers for the bike. After reaching the top of hill enter your information at the Udupi-Shimoga border.  Continue on SH 65 after Agumbe Police station for 16kms, then leave SH 65 and turn left.  After 8kms turn right for another 6.6kms then take slight left towards Kundadri Ghat for 900meters. Then follow the 4km steep road all the way to the top. Make sure to check Google maps once before leaving as there will be no one around to act as  guide. Network is weak to unavailable after Agumbe.
So the next time you plan a trip, don't miss the peaceful and refreshing beauty of Kundadri.