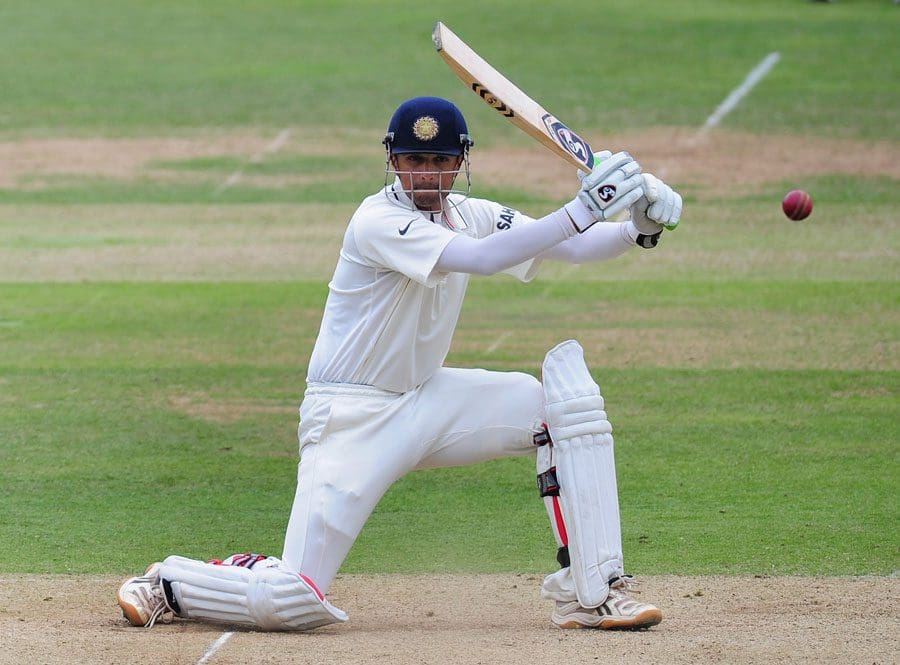 The final of CLT20 was the last time Rahul Dravid stepped on a Cricket field as a player. Dravid, often referred to as the Wall is an epitome of determination, spirit and dedication. He is one of the most accomplished and greatest cricketers of his generation.  In a career spanning 18 years at the top level, he played many unforgettable knocks for his club and country. He has rescued his team on countless occasions, standing tall and calm, facing world class bowlers on some of the toughest strips in the world. Though always remembered for his text book cricket and classy knocks in Test matches, Rahul Dravid rose above expectations to become one of the most consistent performers in the shorter format. Here are his three memorable innings across formats:
180 v Australia, Kolkata, 2001:(Test)
The innings was overshadowed by a historic 281 by VVS Laxman. But Drvid was one-half of the partnership that propelled India to one of their most memorable  Test victories. The partnership turned the series, a 376-run stand that helped India bounce back and win – only the third time in 1535 Test matches that a team won a Test after following-on. On day four, the duo went for the kill and frustrated the Aussies by batting the whole day. Dravid was battling cramps and dehydration even as he played an excellent support role for the classy Laxman. Later, when he reached his well-deserved hundred, he gestured towards the dressing room to show how important the inning was. The then Indian coach, Kiwi John Wright in his book, "Indian Summer, referred to the Kolkata test as "The Greatest Comeback since Lazarus".
233 vs. Australia, Adelaide,2003:(Test)
Here Dravid, along with Laxman, had decided to inflict as much misery on the Australians, led by veteran Steve Waugh, as possible. The Australians had already scored a blistering 556, riding on Ricky Ponting's double century, and were firmly in control of the game. They made their dominance more prominent when India were reduced to 85 for four. However, Dravid had other plans and decided to take matters in his own hand. He was never bogged down and yet again displayed his class to the world. He reached his hundred with an emphatic six, and the double hundred with a four. His 233, along with Laxman's well-scored 148 took India within 33 runs of Australia's huge total. Later a dream spell from Ajit Agarkar rattled the Australian batting line-up and the hosts were held to a total of 196. The epic double-century in the first innings was backed up with a four-hour 72, capitalising on a rare Adam Gilchrist drop, which took India over the line for their first victory in Australia in 23 years.
145 vs Sri Lanka, Taunton,1999:(ODI)
For many, this is Dravid's finest ODI innings. In terms of sheer class of batting, it probably is. During a crucial World Cup group game, India met the World Cup holders, and were put in by Sri Lanka. In the first over after Ramesh got out Dravid joined Ganguly at the pitch. What transpired was significant for the careers of both these men, and laid the foundation in some way for the next decade to follow, when both these would be giants of the modern game. Dravid, on whom there was still a question mark as far as ODI cricket went, started the assault, with a flurry of beautiful cricket shots, all along the ground. Ganguly gradually followed, inspired by his fellow-Test-debutant from 3 years ago (who out-scored him right through this innings), and both tore the bowling apart on a good pitch. The Sri Lankans lost their nerve and bowled poorly consistently enough for their captain Ranatunga to famously denounce the bowling as "rubbish" during the post-match presentation. But you couldn't take anything away from that memorable morning/afternoon of batting – as the 318 runs they put on in 44 overs was a world-record ODI partnership at that time. . With valuable contributions right through the tournament, Dravid went on to become the highest run scorer in that tournament.
Send in articles, photographs and your contributions at [email protected].