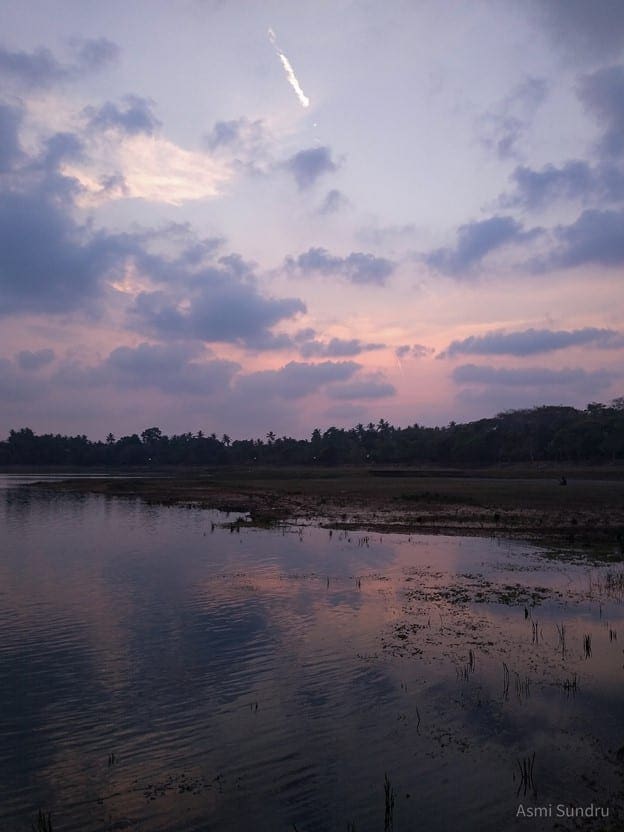 It had been months of waiting to ultimately visit the campus and catch up on college life that we'd been missing out on enormously. The waiting period gradually ended as I marked my entrance into the vast, coastal campus of MAHE in the middle of March. (Quite ironically, that day happened to be the Ides of March.)
We stumbled upon the campus when the first wave of COVID-19 cases had subsided, and the threat of another was unknown. My first day was over from a drowsy-eyed, early morning journey from Delhi to lively afternoon arrival in the sweltering wet heat of Manipal. It was a significant change in scene after having spent precisely an entire year locked away at home.
I never imagined that just about two semesters would be spent in front of my laptop, which resulted in unanticipated naps every so often. A year was expended isolated within the precincts of my home. As a fresher, that fact left me constantly yearning for my nonexistent college life. And so, when I stood gazing and absorbing my Block 13 hostel room nestled on the basement floor, I realized that this was going to be my haven for the next ten weeks until I return home during summer break.
Where to Travel and Watch the Sunset?
To commemorate our arrival on the campus, which had been overdue since our first years' orientation last September, I, along with my roommate and a few newfound friends, planned on visiting Delta Point soon. When we sauntered to the auto stand near Student Plaza in the hopes of seeing the beach, we met a few batchmates who'd also wanted to tour around. Other batchmates planned on spending their evening at Bacchus Inn, one of the popular bars in Manipal. As the others set off their ways, the rest of us remained rooted at the spot for an extended time, momentarily dazed and confused. Being indecisive, we incessantly racked our brains for sight-seeing opportunities that excluded the beach as it was nearly sundown and a little late in paying a visit.
The lively discussion ended as a batchmate suggested we visit the well-known Manipal Lake. It's the very same lake synonymous with the name of the university town. Interestingly, the term "Manipal" was derived from the Tulu words manna, meaning mud and palla, meaning lake. And that is the legacy left behind by this lake.
Photo by Asmi Sundru
Marching to the Lake the Town was Named After
Moving on, we walked down the road to reach our destination. Already everyone coalesced into smaller groups, occasionally letting out a loud chortle in between spirited conversations. We wandered the streets at different paces: some had raced ahead, a few got stuck in the middle, and the rest were left behind. Halfway through our walk, we gaped at our college premises and a couple of other buildings in childlike wonder.
The lake came into view at last, after we covered a reasonable distance of 1.5 kilometers. We moved over to a dirt road and started trekking downwards. The path to the bottom was steep and muddy. We trudged until we stopped by the lakeshore. Oh, what a beautiful sight to behold! The pristine surface of the water reflected the glorious sunset sky doused in pastel shades of violet, pink, blue, and orange. All the tension left my body as I soaked in the view. It was such tranquility that I hadn't felt in months. For a moment, I forgot that there were even people around me.
Of Lakes and Levity
A few climbed atop and sat on the crest of the hillock by the lake, shielded perfectly under colossal tree branches that spanned over their heads. It was a marvelous spectacle, like a painting that had a moment frozen in time. I soon discovered that sitting on the hillock offered a picture-perfect vista of the lake and a great space to unwind and watch the sunset. We remained seated for a while, drinking in the sight. Someone even played music on their phone, and a few joined in to sing along. All of it just complimented the serene, cozy ambiance of the lake.
To immortalize the magnificent scene before me, I clicked a few terrific shots of the lake, which I kept tucked in my phone and memories forever. It was the ideal opportunity to live and enjoy the moment before it slipped away from my grasp. My short-lived experience at Manipal Lake impeccably illustrates the phrases carpe diem and Hakuna matata in motion. Although it was only once that I'd visited Manipal Lake, time and again, I keep visiting the place which has occupied a corner of my mind and a piece of my heart. Till this day, there hasn't been a day where I didn't miss Manipal and its splendid lake.